Beijing Cracks Down on Cities Abusing Slum Initiative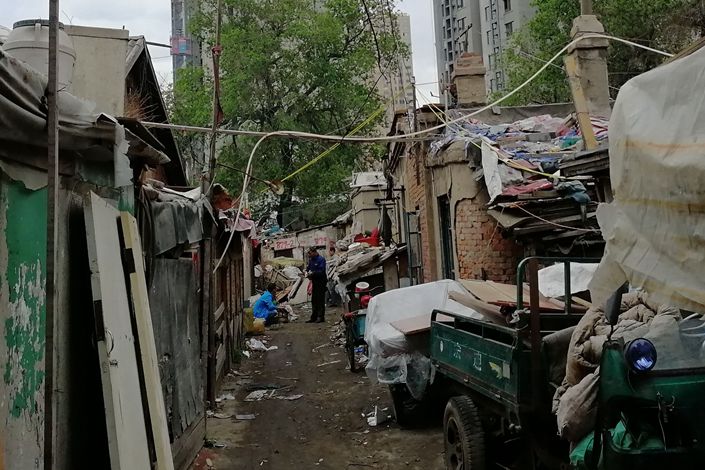 One of China's largest shantytowns, in Heilongjiang province's capital Harbin, prepares for redevelopment on May 27. Photo: VCG
China's housing ministry has threatened to bar local governments from receiving low-cost loans for projects to rebuild run-down neighborhoods if they continue to compensate displaced residents in cash.
The move signals that policymakers are tightening control over the so-called "shantytown renovation" initiative due to rising concerns that local governments in some cities have been abusing it to take on additional debt to fuel a continued property boom.
In regions where the housing supply is tight and prices are rising, local governments must change how they compensate residents who have been relocated, the Ministry of Housing and Urban-Rural Development announced Thursday.
The ministry said the governments of these cities will not be granted preferential loans by the country's policy banks to fund new redevelopment projects if they compensate relocated residents with cash.
Launched in 2005, shantytown redevelopment in China aims to replace run-down and even dangerous residences in urban areas with modern homes through projects run by local governments. Residents displaced by these projects are usually compensated with new housing, but cash reimbursements have become an increasingly popular option since 2015, when the central government started allowing them in a bid to support the cooling property market and shore up falling land prices. Land sales are a crucial source of local government revenue.
Cash reimbursements can drive more property purchases than giving out new homes because buyers can use the money for down payments on multiple homes.
However, this option and the lax control over the use of the policy loans have allowed some local governments to fund ineligible projects under the guise of shantytown redevelopment to take advantage of the cheap funding, exacerbating their own debt problems.
"The ministry's stance shows that cash compensation is gradually being reined in," said Zhang Dawei, chief analyst with real estate agency and consulting firm Centaline Property. "The number of shantytown renovation projects may decline and their cost controls will likely be tightened."
Last month, rumors emerged that China Development Bank, a major lender in the initiative, had suspended loans for shantytown redevelopment projects due to growing central government concerns about the risks of such debt. Despite an immediate denial by the bank, the rumors sent the domestic stock markets down for two straight days as property and steel stocks plummeted, underlining the crucial role that the government's shantytown redevelopment program plays in the country's real estate industry.
Contact reporter Fran Wang (fangwang@caixin.com)
You've accessed an article available only to subscribers
VIEW OPTIONS
Share this article
Open WeChat and scan the QR code