As Market Sinks, China Plans to Boost Stock Buybacks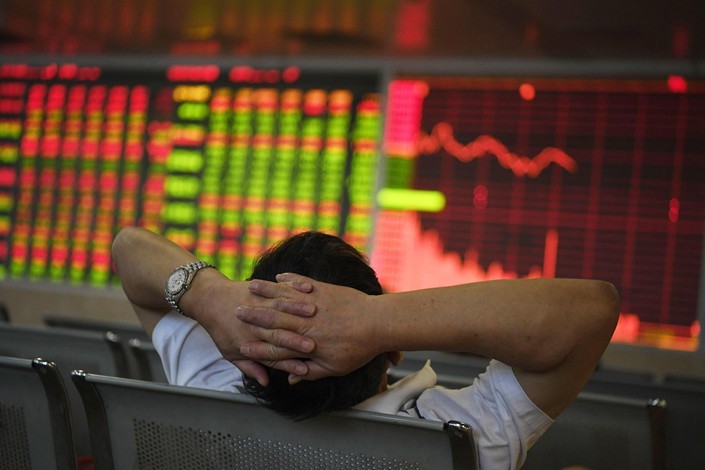 China's securities regulator has proposed revisions to the Company Law to allow listed companies to buy back shares in an apparent move to bolster the stock market. Photo: VCG
China is planning to make it easier for listed companies to buy back their shares, a potential boost to a struggling stock market that's already slumped nearly 20% this year.
The securities regulator said on Thursday that revisions to the Company Law are being proposed that will broaden the circumstances under which companies can repurchase their shares, and simplify and speed up the process for obtaining shareholder approval for buybacks. The proposals will also give companies more flexibility in how they deal with the shares by allowing them to set up a treasury stock account to hold the equities, according to the statement posted on the China Securities Regulatory Commission (CSRC) website.
Currently, repurchased shares have to be canceled within 10 days or six months, depending on circumstances, or used for stock option plans to reward employees within a year. But under a treasury stock account, companies will be able to keep the repurchased shares for up to three years. These treasury shares will not carry any voting rights and will not be entitled to receive dividends.
The draft revision will limit buybacks to 10% of a company's total issued share capital.
Buying back stock reduces the number of shares, which improves earnings per share ratios and can lead to higher share prices.
Boost confidence
Compared with their foreign peers, listed companies in China are not as active in repurchasing their stocks due to legal restrictions that have "prevented share buybacks from effectively playing a role in stabilizing the market and rewarding investors," the CSRC said in its statement. Limits on the circumstances under which buybacks can be carried out have "prevented companies from repurchasing stock in a timely manner when the share price has fallen below its net asset value, an act that would help to stabilize market expectations and boost investors' confidence, it said.
The proposed amendments to the law are partly aimed at "promoting the stable and healthy development of the capital market," it added.
China has been one of the world's worst performing markets this year, as investors have fretted over escalating China-U.S. trade tensions and a domestic liquidity squeeze due to a government crackdown on off-balance-sheet banking activities. The benchmark Shanghai Composite Index has dropped 18.6% this year. On Aug. 17, it closed at 2,668.97, the lowest in more than two and half years.
The decline has led to growing concerns about the potential for a vicious cycle of forced stock sales as falling prices trigger margin calls on stakes pledged by shareholders of listed firms as collateral for loans. Margin calls compel borrowers to cough up more shares as collateral for their loans. Those who cannot do so and fail to repay their loans face the prospect of brokerages selling the pledged shares into the market, further depressing prices.
The slump has prompted many companies to announce plans for buybacks, in an effort to boost their share prices, and major shareholders have also signaled their intention to increase their holdings for the same reason.
The Shanghai Composite Index sank below its key psychological support level of 3,000 on June 19 for the first time in nine months. Within three days, more than 40 listed firms published statements regarding share buybacks or plans by shareholders to raise their stakes, the official China Securities Journal reported at the time.
The Company Law currently allows buybacks when companies want to reduce their registered capital, reward employees by granting them stock, merge with another firm that holds a stake, or when a shareholder requests their shares to be purchased because they object to a resolution put forward by the board regarding a merger or division of the company.
The draft revisions, which are open for public comment until Oct. 5, propose four other circumstances be added to the law, including the need to protect the company's reputation and shareholders' interests.
The CSRC is also proposing that share buybacks can go ahead with the consent of a certain number of company directors rather than needing approval by shareholders.
Contact reporter Fran Wang (fangwang@caixin.com)
You've accessed an article available only to subscribers
VIEW OPTIONS
Share this article
Open WeChat and scan the QR code