China Manufacturers Rush to Get Toys, Car Parts to U.S. Before Tariffs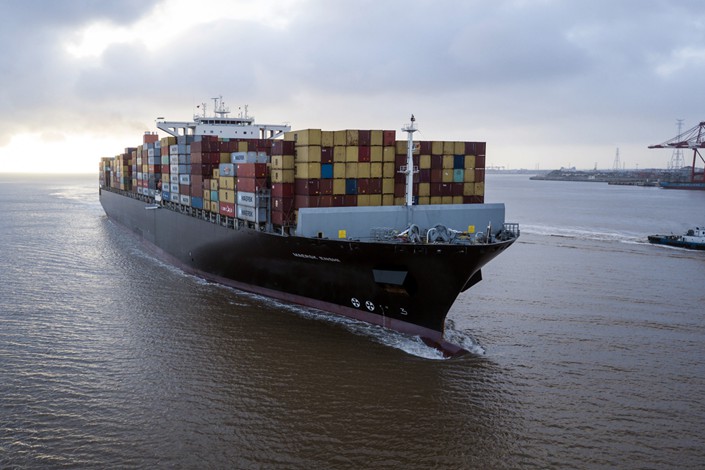 Chinese manufacturers are rushing to get everything from toys to bikes to car parts into American stores before tariffs hit. Photo: Bloomberg
(Bloomberg) — The race is on to get Chinese goods into the U.S. before U.S. President Donald Trump's tariffs bite.
At sea and in the sky, the U.S. president's trade war with China has ignited a freight frenzy. Hyundai Merchant Marine Co. Ltd.'s vessels leaving China for the U.S. are full, deliveries to California ports are surging, and cargo rates for journeys across the Pacific are at a four-year high.
The levies that kick in Monday have amplified the busy pre-holiday season as Chinese manufacturers rush everything from toys to bikes to car parts into American stores before tariffs hit. At Air China Ltd., freight to the U.S. is booming.
In East China's Jiangsu province, E.D. Opto Electrical Lighting Co. Ltd. dispatched a batch of car lights by sea to Los Angeles in late August, earlier than planned.
"It takes about 25 days, so I hope we can make it," said export manager Melissa Shu. The company is racing to complete an order for another U.S. customer who's prepared to pay extra for air freight if it means dodging the new tariffs, she said.
Consumer benefit
Starting Monday, a 10% duty applies to $200 billion of Chinese imports — Trump's biggest salvo yet in a trade war between the world's largest economies that now directly hits U.S. consumers. After that, American importers have until the end of the year to stockpile Chinese products before the tariff leaps to 25%.
As companies accelerate shipments from China to beat those deadlines, American consumers could get a leg-up: anticipated price hikes on household goods at retailers like Walmart Inc. and Target Corp. might be held off in the short term. In China, this front-loading of exports helped push China's trade surplus with the U.S. to a record in August.
Trump has threatened duties on a further $267 billion of made-in-China goods, which would hit nearly all other consumer products including mobile phones, shoes and clothes. That escalation could spur U.S. companies to preemptively load up on those goods, too, Deutsche Bank AG said in a report this week. The National Retail Federation in the U.S. warned that duties will lead to higher prices and even product shortages.
Toy shipments
In the industrial hub of Dongguan in southern China, toy maker Lung Cheong Group — which supplies Hasbro Inc. — is getting squeezed by American customers watching their calendars.
"More clients in the last two months are asking if we can deliver goods ahead of the scheduled time to avoid the upcoming tariffs," said Chairman Lun Leung. For small high-tech toys that have higher retail selling prices, some clients are willing to upgrade from sea freight to air, he said.
Such expedited orders are helping to fill ports along the U.S. West Coast. Imports to northern California's Port of Oakland surged 9.2% in August. That was the busiest August in the port's 91-year history. At the Port of Long Beach, imports of containers rose 9.4% this year through August. That comes after a record 2017.
Spot freight rates from Shanghai to Los Angeles, the biggest U.S. port, reached $2,362 per 40-foot container in the week ended Sept. 13, the highest weekly level since December 2014, according to the Drewry World Container Index.
The threat of the looming tariffs is supercharging business at Hyundai Merchant Marine, South Korea's biggest shipping company, and APL Ltd., one of the largest shippers on the trans-Pacific route, during the industry's peak season, representatives for the companies said.
'Rush game'
Concerns about the trade dispute is also spurring last-minute shipments across the Pacific for Ocean Network Express Pte., a combination of the container operations of Japan's three biggest shipping firms, it said.
"We have a rush game with the tariff," said Rahul Kapoor, an analyst at Bloomberg Intelligence in Singapore. He said he'd heard of cargo being left behind at Chinese docks because America-bound ships were so full.
While Monday's tariff may come too soon for some U.S. companies importing Chinese products, they still have a window of more than three months before duties surge on Jan. 1.
Ralph Bradley, chief executive officer of a small automotive lighting manufacturer in Fort Worth, Texas, has more than $300,000 of products coming to the U.S. on a boat from China. There's not much he can do about paying the 10% duty, or $30,000, on those vehicle-lighting parts.
But Bradley's firm, Jammy Inc., is considering bringing extra goods into the U.S. from China before the tariffs more than double, he said. "I'm anxiously awaiting any word that Congress might fix this situation," Bradley said.
For some businesses, there's no way to sidestep Trump. Hannah Kain, CEO of Alom Technologies Corp., which helps companies manage their supply chains, said clients have been fast-tracking orders for months in an effort to avoid the tariffs. Yet, many products have lead times stretching to two years.
"There is really no way to navigate it," said Kain, whose clients have included Ford Motor Co. "You just have to be very reactive, as far as you can."
Contact editor Yang Ge (geyang@caixin.com)
Read more about the China-U.S. trade war.
Share this article
Open WeChat and scan the QR code