Trump Slaps New Tariffs on $200 Billion of Chinese Goods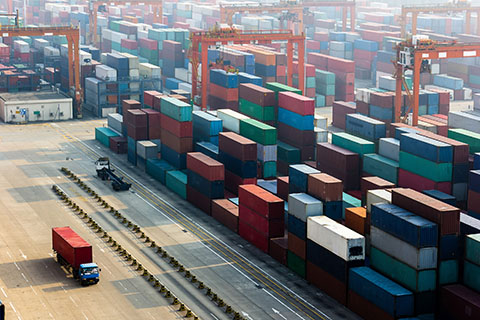 President Trump will put 10% tariffs on $200 billion of Chinese goods, which will go up to 25% at the beginning of next year. Photo: VCG
* Tariffs on $200 billion of Chinese goods will go up to 25% at the beginning of next year
* Tariffs on about $267 billion of additional imports will be pursued if China takes retaliatory action, Trump says
The Trump administration announced Monday a 10% tariff on another batch of $200 billion of Chinese imports, bringing the trade war between the world's two largest economies to a new level.
The long-threatened new tariffs will take effect Sept. 24 and will be raised to 25% at the beginning of 2019, according to a statement published by the White House late Monday.
The tariffs come on top of 25% duties on $50 billion of Chinese imports that President Donald Trump imposed since July. The levies now cover roughly half of China's shipments to the U.S. last year.
Tariffs on about $267 billion of additional imports will be pursued if China takes retaliatory action against U.S. farmers or other industries, the Trump administration said.
China has responded in kind to previous Trump tariffs and said it will retaliate against the latest levies by taxing $60 billion of U.S. goods, including liquefied natural gas and aircraft. That will put more than 85% of last year's U.S. exports to China under punitive tariffs.
The new tariff attack may make it more difficult for the U.S. and China to return to the negotiating table. Last week, U.S. Treasury Secretary Steven Mnuchin reportedly sought to restart trade talks with top Chinese officials. China's commerce ministry confirmed the U.S. invitation Sept.14 and said it welcomed further talks. The two countries have held four previous rounds of talks but failed to produce a breakthrough.
"I urge China's leaders to take swift action to end their country's unfair trade practices," Trump said in the Monday statement. "Hopefully, this trade situation will be resolved, in the end, by myself and President Xi of China, for whom I have great respect and affection."
Trump said on Twitter early Monday that tariffs have bolstered the American bargaining position.
"Tariffs have put the U.S. in a very strong bargaining position, with Billions of Dollars, and Jobs, flowing into our Country - and yet cost increases have thus far been almost unnoticeable," he wrote. "If countries will not make fair deals with us, they will be 'Tariffed!'"
The new tariffs will cover 5,745 Chinese products ranging from seafood to furniture. The final list removed about 297 goods from a previously proposed list of affected products based on comments in public hearings, including smart watches, bluetooth devices, some chemicals and bicycle helmets, according to the Office of the United States Trade Representative.
Some Chinese officials have suggested a harsher response to Trump's tariffs. Lou Jiwei, former finance minister, said at a forum over the weekend that China could ban exports of key components, intermediate materials and equipment that U.S. manufacturers depend on.
Businesses have criticized the tit-for-tat tariffs. Two-thirds of American businesses in China said they are feeling a pinch from the previous round of tariffs, with many saying things will worsen if the U.S. follows through on threats to tax even more goods, according to a new survey released last week by Beijing-based AmCham China and AmCham Shanghai, the two major groups representing American businesses in China.
"American companies are suffering both from China's retaliatory tariffs, and — ironically — from U.S. tariffs designed to harm the Chinese economy," the two chambers said in a joint statement.
Some American companies active in China are feeling a double whammy from higher costs of importing tariff-targeted goods to their Chinese operations and higher costs for exports from China their main U.S. operations, said the chief of China operations at a major U.S. industrial equipment manufacturer, speaking on condition of anonymity.
In a letter to U.S. Trade Representative Robert Lighthizer, Apple Inc. said the proposed tariffs on $200 billion of Chinese goods would cover a "wide range of Apple products" and said the burden of the proposed tariffs will fall much more heavily on the U.S. than on China. Apple's stock slumped 2.66% Monday on the new tariff concerns.
Several tech giants, including Intel Corp. and Cisco Systems Inc., are seeking to persuade the U.S. Trade Representative to drop the proposed tariffs on imported products they say could cost the U.S. leadership in fifth-generation wireless technology.
U.S. equities closed lower Monday ahead of the new tariff announcement. The Dow Jones Industrial Average fell 0.35% to 26,062.12. The Nasdaq Composite dropped 1.4% and the S&P 500 pulled back 0.6%.
Contact reporter Han Wei (weihan@caixin.com)
You've accessed an article available only to subscribers
VIEW OPTIONS
Share this article
Open WeChat and scan the QR code