China Announces Tariff Cuts Amid Trade War With U.S.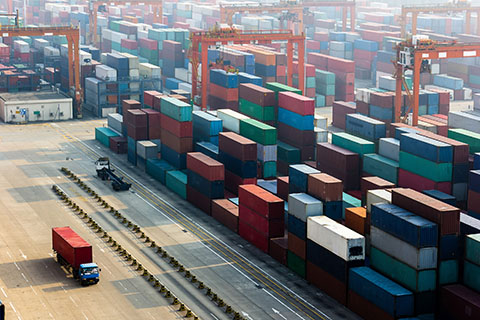 China has lowered the average tariff rate to 7.5% from 9.8% last year. Photo: VCG
China said on Wednesday it will cut tariffs on over 1,500 imported products to lower costs to consumers and businesses as the country's trade war with the United States continues to deepen.
The tariff cuts, which will take effect on Nov. 1, will cover 1,585 items, including machinery, textiles and construction materials, the State Council said in a statement (link in Chinese) published on the government's website.
The decision was made Wednesday at the cabinet meeting, chaired by Premier Li Keqiang, the statement said. It followed a previous round of tariff cuts, focusing on consumer goods, that went into effect in July.
The new tariff cuts will lower tariffs for electronic equipment and machinery to 8.8% from 12.2%, while duties for textiles and construction materials will drop to 8.4% from 11.5%. Tariffs for paper products and some other resource products to 5.4% from 6.6%, the State Council said.
The statement didn't say how the latest tariff cut will be applied on U.S. imports.
The world's two biggest economies have imposed rounds of new tariff hikes on each other's products since July in a worsening trade war. On Monday, Beijing levied new tariffs of 5% to 10% on $60 billion of American imports in retaliation for the Trump administration's latest 10% tariffs against $200 billion of Chinese products.
Despite the tit-for-tat tariff fights with U.S., Chinese leaders have pledged to further reduce tariffs as the country is trying to stimulate domestic consumption to support the economy.
"By further cutting import taxes, China is sending a message that it will keep opening up and reform no matter how the trade war goes. It's more like a commitment to both (the) domestic and international audience," Tommy Xie, an economist at Oversea-Chinese Banking Corp. Ltd. in Singapore, told Bloomberg last week.
The latest tariff cut, together with the July cuts, will lower China's average tariff rate to 7.5% from 9.8% last year. It will reduce tax burdens for Chinese companies and consumers by 60 billion yuan ($8.73 billion) this year, the State Council said.
The State Council also pledged measures to cut red tape and streamline customs clearing procedures as efforts to boost foreign trade. Measures include reducing documents required for customs clearing from 86 to 48, and slash administrative costs by $100, the cabinet said.
Contact reporter Han Wei (weihan@caixin.com)
Read more about the trade war with the U.S.
You've accessed an article available only to subscribers
VIEW OPTIONS
Share this article
Open WeChat and scan the QR code