Steel Giants Forge Merger as China Moves to Strengthen State Sector
A worker stands next to a vat of molten iron in July 2016 at a Wuhan Iron and Steel Group plant in Central China's Hubei province. Photo: IC
* Merger would reinforce Baowu's position as the world's second largest steel producer
* Deal would bring the industry closer to meeting the government's goal of getting 60% of China's production capacity in the hands of its 10 largest steelmakers
(Beijing) — The Chinese government's efforts to forge stronger state-owned champions appears to be proceeding undeterred by the wider economic slowdown, with China's top steel producer looking to gobble up the country's ninth biggest.
China Baowu Iron and Steel Group is in discussions for a mega merger with Magang (Group) Holding Co. Ltd., according to insiders with knowledge of the matter.
The move would see Magang's almost 20 million metric tons of steel production consolidated with Baowu's existing 65 million metric tons and reinforce the company's position as the world's second biggest steel producer with steel output surpassing that of the entire U.S.
While the company's press officer told Caixin said there is no news to report as of yet, sources said that discussions have been going on for two months and that the deal is part of a wider effort to rid China's bloated steel sector of money-losing companies and to foster more efficient national champions.
Baowu and Magang are already collaborating together along with Anshan Iron & Steel Group and China Orient Asset Management Co. Ltd. as part of a 2 billion yuan ($290 million) joint venture to fund consolidation efforts that were announced on Sept. 18. "China's steel industrial transformation and evolution will require financial support … and the company is to help with reducing excess capacities in the country's metallurgical industry," a press release said.
Analysts said the merger shows that the government is pushing forward with the goal outlined in the last five-year plan to consolidate the steel industry and have 60% of the country's capacity in the hands of its 10 largest steelmakers by the end of the decade. At present, it still has a long way to go, with the top 10 controlling just 48.8% of capacity by the end of the first half of 2018, according to data from the China Iron & Steel Association.
Yet Baowu is at the center of this consolidation drive, said Ming He, a principal consultant at Wood Mackenzie. The company was formed as part of a megamerger between Baosteel and Wuhan Steel. "There is always an ambition for Baowu Steel group to acquire other steel companies to get bigger and to secure more market share," Ming said.
The Baowu-Magang merger makes sense in terms of the government's wider clean up of the steel sector, said Li Hongmei, the head of content at metals platform Mysteel. "There are a few themes that Beijing is working on regarding the steel industry: excess steel capacity cuts, environmental protection and industrial consolidation. Both Baowu and Magang are state-owned, with the former belonging to the central government, and Magang to the Anhui provincial government, making it easier for the merger to proceed."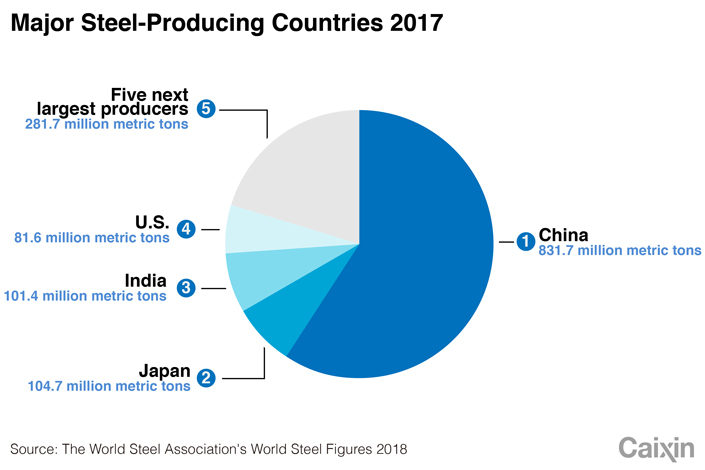 It is a good time for the merger as both companies are making money, Li said. In 2017 Baosteel recorded a total profit of 14.27 billion yuan and Magang 5.6 billion yuan. Both are in a strong position for 2018, with China's major steel companies seeing their profits grow by 151% in the first half of the year, according to the China Iron and Steel Industry Association. "Baowu will have the funds to complete the deal, and with Magang also making money, the provincial government will not be blamed for under-evaluating the state-owned assets," Li added.
State-owned enterprises continue to perform well amid difficult trade conditions. Their profits rose 26.7% between January and August from the same period last year, with mining and metal companies in particular experiencing strong growth, according to government data released yesterday.
Contact reporter Ke Dawei (daweike@caixin.com)
You've accessed an article available only to subscribers
VIEW OPTIONS
Share this article
Open WeChat and scan the QR code