Spy Camera Discovery Creates Outrage at Apartment Leasing Specialist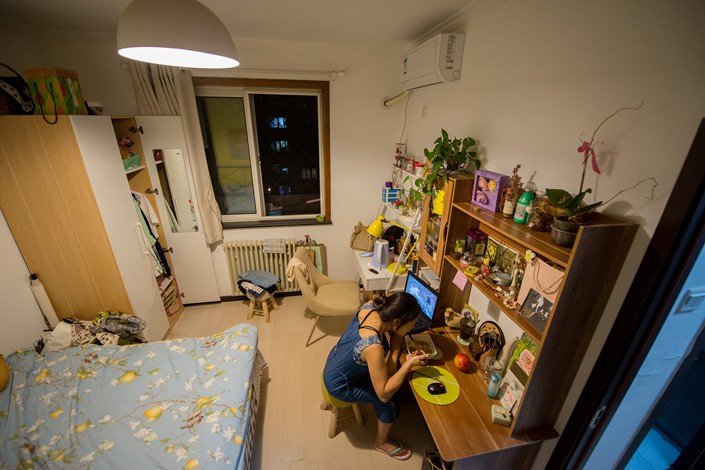 A woman eats dinner in a rented Ziroom apartment in Beijing on Sept. 4. Photo: VCG
A Beijing couple's discovery of a hidden camera in an apartment leased from rental agency Ziroom has prompted public anger at a time of widespread anxiety over skyrocketing urban rents and poor protection of tenants' rights.
An unnamed couple in Beijing's Chaoyang district discovered a suspicious-looking hole in a bedroom power socket across from their bed in September, according to a post published Sunday on Youyouluming, a blog reporting on social issues set up by a former reporter of China's official Xinhua news agency. They called police, who disassembled the socket to find a hidden video camera. Police are still investigating the case, according to the post, which gave no indication on possible sources of the hidden camera.
Ziroom leases apartments from owners and renovates them before subleasing to actual tenants. The company confirmed Monday that it had received a complaint about the pinhole camera, and said it had "set up a working group to coordinate with the police investigation into this case," according to a post on its official microblog.
Youyouluming described the couple renting the room as migrants who had faced all sorts of problems with previous landlords, including those who "didn't return the deposit after the contract was up," and "formaldehyde homes," referring to homes with poor ventilation and high air concentrations of chemicals from decorating materials. "In order to survive, we endured everything, but this time (with the hidden camera), we can't endure anymore," the husband told Youyouluming.
The case marks the second time in two months that Ziroom has found itself at the center of a scandal. In September, the widow of a former Ziroom tenant sued the company over excessive levels of formaldehyde in her husband's apartment, which she said caused his death from acute myeloid leukemia.
The latest case resonated with social media users, many of whom criticized Ziroom and other rental agencies, even though few blamed Ziroom directly for the hidden camera. "If there's only one case where a tenant's interests have been hurt, you can call it a one-off event. But two or three cases have come up, which shows there is something wrong with the company," Weibo user Zeng Pengyu wrote.
"The police should also carefully investigate Ziroom itself," user Qingfengbaiyu1508 wrote. "From formaldehyde to surveillance cameras, there are too many problems, how can the public defend their rights?"
A number of regional public security bureaus also chimed in, posting how-to guides for identifying hidden cameras.
Ziroom conducts "strict process inspections" when renovating homes, the company said in its own statement.
That earlier formaldehyde-related lawsuit prompted a similar outpouring on social media against rental agencies, which have been blamed for rapidly pushing up rents in Beijing by snapping up properties at above-market rates.
Ziroom, which was founded in 2011, raised 4 billion yuan ($578 million) from investors in January and was managing 500,000 rooms in nine Chinese cities by the end of 2017, according to figures provided by the company earlier this year.
Contact reporter Teng Jing Xuan (jingxuanteng@caixin.com)
Share this article
Open WeChat and scan the QR code