Who to Watch Among the Younger Generation of Central Bank Officials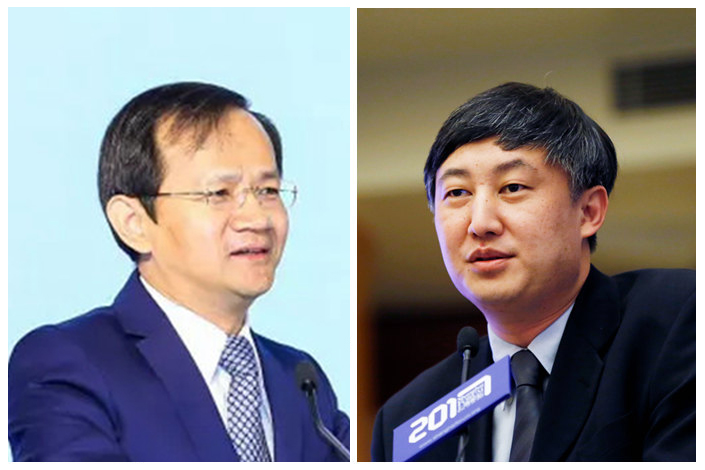 Yin Yong (left), a former vice governor of the People's Bank of China, and Sun Guofeng, head of the central bank's monetary policy department.
Editor's note:
This year marks the 40th anniversary of the launch of China's reform and opening-up policy that has transformed the nation into an economic powerhouse. As the world seeks to better understand the major reforms underpinning the country's rapid economic expansion, Chinese economists are a key group worth watching due to their role advising the country's top leadership and increasing public understanding of the market economy. By doing so, they helped reshape what was once one of Asia's most backward economies.
The historic turning point came in December 1978, when the ruling Communist Party called for "liberating thought," marking the beginning of the reform period.
Caixin has detailed the careers of some of China's most influential economists from the reform era. The five-part series examines their academic achievements as well as their impact on China's economic reforms to present readers with a clearer picture of what shaped the world's second-largest economy.
The following is the fourth installment in a five-part series about the economists behind China's reform.
Befitting its position as one of China's most important financial regulators, there are a number of highly professional officials and increasingly influential economists working within the People's Bank of China.
While the words of central bank chief Yi Gang are listened to worldwide, middle-echelon officials who draft and implement the monetary authority's policies are gaining more and more attention.
Under age 50, these officials and several others who have recently left the central bank all have strong backgrounds in macroeconomic research and extensive experience in financial market management.
Among them is former central bank Vice Governor Yin Yong, who was in charge of pushing forward yuan internationalization and keeping a lid on risks that threaten the financial system. He worked for the central bank for two and a half years before being appointed one of Beijing's vice mayors in January.
Yin, 49, has a good reputation for management of foreign exchange reserves. Before joining the central bank, he had spent around 17 years working for the State Administration of Foreign Exchange. He was a witness to the country's currency reserves hitting their peak of nearly $4 trillion in 2014 from less than $300 billion in the early 2000s.
Yin has also been praised for his timely initiation of crisis response mechanisms amid global market fluctuations, including the one caused by the European debt crisis. He holds a master's degree in public administration from Harvard.
Li Bo, 46, former head of the central bank's monetary policy department, worked for the central bank for 14 years before he was made a vice chairman of the government-backed All-China Federation of Returned Overseas Chinese in August.
During his tenure at the monetary authority, Li Bo was involved in multiple major financial reforms, including ownership reform at state-owned commercial banks, interest rate liberalization, and exchange rate marketization. He is also an Ivy League graduate, holding a doctorate in economics from Stanford and a law degree from Harvard.
Sun Guofeng, 46, was in September appointed head of the monetary policy department, one of the central bank's most important units. The department is responsible for researching, designing and implementing monetary policy. Before moving into his new role, he had been head of the central bank's Research Institute of Finance and Banking since 2016.
Sun is seen as Yi's right-hand man. He has worked for the central bank for 22 years, accumulating experience in monetary policy research and implementation. He was involved in pushing forward exchange rate reform, launching open market operations and designing monetary policy tools.
As a visiting professor at Princeton University in the 2017 fall semester, Sun taught a course called "Chinese Financial and Monetary Systems," elaborating the financial system's role in facilitating China's economic development. In 2003, he was invited to carry out research as a visiting scholar at Stanford University.
Li Bin, 42, one of Sun's deputies, is also seen as an up-and-coming official. Last year, he won the Sun Yefang Economic Science Award, which is considered one of the highest honors in economics in China, for a book he wrote with his former central bank colleague Wu Ge.
In "Money, Interest Rate and Policy Transition," Wu and Li Bin said that monetary policy can't fundamentally solve structural problems, and may be constrained by structural problems. The focus of monetary policy should basically be to maintain the stability of the monetary and financial environment, thereby providing time for economic structural adjustment, they suggested.
They elaborated by saying that an emerging and transitioning economy, such as China, often has obvious structural characteristics that can warp the regular operation of money, which in turn affects the relationship between money, economic growth and inflation. For example, it's easy for financial resources to flow to local government-backed financing platforms and the real estate sector due to government credit and sufficient collateral. This phenomenon often pushes up interest rates and leads to price distortions, thus crowding out other economic entities — under such circumstances, simply loosening monetary policy may further strengthen structural distortions in the economy, they said.
Guo Kai, 39, a deputy head at the central bank's international department, is another promising young official who has drawn attention, especially due to his overseas education. Guo's time in higher education — which involved a Harvard University doctorate — was spent studying the economic and financial issues of China and other emerging economies.
He joined the central bank in 2011 after three years of work at the International Monetary Fund. Guo was Yi's student when studying economics at Peking University in the early 2000s.
This younger generation of current and former central bank officials is seen as one that will play a major role in shaping the country's monetary and financial landscape in the future.
Contact reporter Lin Jinbing (jinbinglin@caixin.com)
You've accessed an article available only to subscribers
VIEW OPTIONS
Share this article
Open WeChat and scan the QR code