HNA Targets Tech Division for Downsizing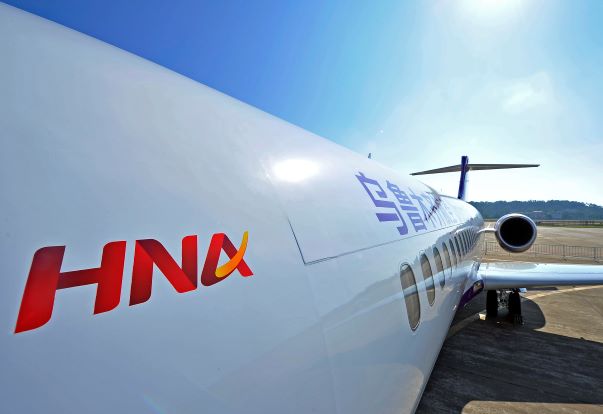 HNA has moved to sell billions of yuan of assets for debt relief. Photo: VCG
Debt-ridden HNA Group is trying to further slim down through internal consolidation focusing on its technology group while the company continues divesting assets to pay off liabilities.
Sources close to the matter told Caixin that HNA decided to scale down its technology business division with asset sales and job cuts in a further move to tighten its corporate structure.
HNA didn't respond to Caixin queries on whether the reshuffle means the long-rumored sale of HNA Technology Group's two biggest units, Ingram Micro and Pactera Technology International Ltd. HNA Technology, which has been one of the four remaining business pillars of HNA along with aviation and tourism, logistics and capital, will shrink to a 30-employee department, sources said.
The most valuable assets of HNA Technology are Ingram Micro, the world's largest IT distributor which HNA acquired in 2016 in a $6 billion deal, and Pactera Technology, purchased from the Blackstone Group for $674 million.
Speculation has surrounded HNA on the sale of Ingram Micro and Pactera Technology as the conglomerate's debt woes deepened. Caixin learned that Tong Fu, chairman of HNA Technology, at an internal meeting once suggested selling Ingram Micro to ease HNA's capital pressure. But such a sale won't be easy, said a person from HNA.
"There are few buyers that are capable of taking it over," the source said.
HNA has spoken with potential investors including Ant Financial Services Group about a possible sale of Pactera Technology, Reuters reported last month.
Earlier this year, HNA eliminated three other divisions through mergers and restructuring as the company shifts focus back to its core aviation business after years of debt-driven expansion.
The downgraded HNA Technology staff will focus on asset and financial management, business compliance and legal affairs, sources said. Subsidiary companies under the umbrella of HNA Technology will be merged into other HNA divisions or sold, sources said.
According to the HNA website, HNA Technology controls 40 companies with a total workforce of 70,000 people, including 33,000 overseas. As of December 2017, HNA Technology had assets of 230 billion yuan ($33 billion) and annual revenue of 340 billion yuan.
HNA Technology was established in 2016 as the parent company expanded into the high-tech sector. Other assets include Hong Kong-listed HNA Technology Investments Holdings Ltd., formerly known as Advanced Card Systems Holdings Ltd.
Started as a regional air carrier, HNA engaged in an aggressive global shopping spree and scooped up stakes in financial firms, technology companies, airports, real estate and other assets. The heavy spending pushed HNA's debt to $111.5 billion by last year and attracted the attention of regulators.
Over the past year, HNA has been shedding global assets, raising cash to pay down debt. In the first half of 2018, it disposed of assets worth about 60 billion yuan, including stakes in Hilton Worldwide Holdings Inc. and NH Hotel Group SA.
But the company's capital strain seems to be lingering. Since September, several HNA units were reported as missing debt payments. Its online investment platform Jubaohui said last month that it would spread out repayments to investors over 18 months or longer.
Contact reporter Han Wei (weihan@caixin.com)
You've accessed an article available only to subscribers
VIEW OPTIONS
Share this article
Open WeChat and scan the QR code