China's Average Mortgage Rate Stops Rising After 22 Straight Months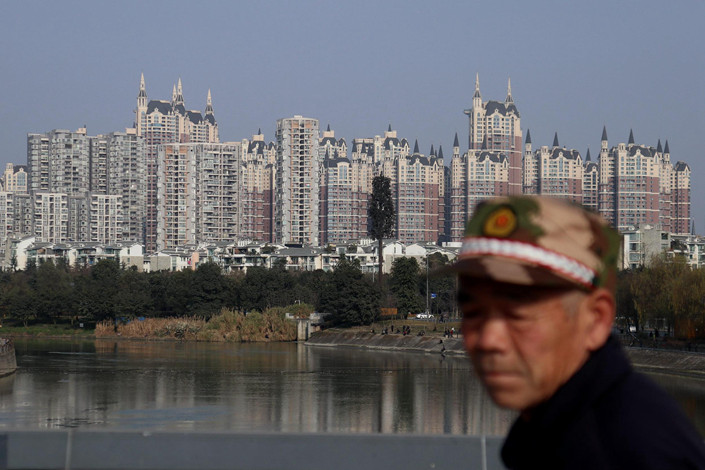 Analysts predicted that there is now less of a chance that mortgage rates will rise in the near future. Photo: VCG
China's average mortgage rate stopped climbing last month after rising for 22 straight months.
Last month, first-time homebuyers could borrow at an average interest rate of 5.71%, the same as in October, according to a report by online financial service platform Rong360. For mortgages on second homes, the average interest rate fell to 6.06% from October's 6.07%.
For each of China's four largest banks, the average mortgage rate for first-time home buyers was flat in November. The average interest rate on these mortgages at Industrial and Commercial Bank of China Ltd., Agricultural Bank of China Ltd., China Construction Bank Corp. and Bank of China Ltd. was steady at 5.7% last month, 0.8 of a percentage point higher than the five-year benchmark interest rate of 4.9% set by China's central bank.
The value of these mortgages serviced by the four banks accounted for over 70% of China's total in the first half of 2018.
The fluctuations of their mortgage rates are often considered indicators of the overall sentiment of the property market.
The trend indicates that the market is stabilizing and many speculative investors have left the market, said Li Weiyi, an analyst with Rong360. "Real demand for housing is now supporting the real estate market."
Analysts predicted that there is now less of a chance that mortgage rates will rise in the near future.
"It is expected that interest rates will be unlikely to rise in the future, and the industry will likely see a slight decline in interest rates in some regions," the report said. "The overall trend will remain stable within the current policy framework."
The government has put serious effort into reining in what had once been runaway property prices. The measures that the government has rolled out since 2016 to curb speculation in real estate have included price caps, reselling restrictions, higher interest rates and requirements that buyers make higher down payments.
Judging from previous cycles, policymakers usually begin to relax tightening measures after home sales have declined for six months, China International Capital Corp. (CICC) said in a research report. Based on that, CICC projected that the next round of policy easing may come at the end of the first quarter or at the start of the second quarter of 2019, but the fundamentals of China's real estate market will still face "a year of recession" in 2019.
Lu Ting, chief China economist at Nomura International, said in a commentary published by Caixin that a number of entrenched nonmarket-based property policies — such as restrictions on home purchases, sales and prices — are key hurdles to making timely policy adjustments. "Real estate market conditions could worsen significantly in the first quarter of 2019 before rebounding, and it will likely take Beijing longer than usual to come to the rescue," Lu said.
Analysts have also pointed out that mortgage lending has grown rapidly in recent years, reaching almost 50% of the value of new home sales in 2016, but later falling back to about 35% in 2017 due to regulatory controls, according to a report by economic research consultancy Capital Economics. "The structural transition toward a mortgage-based system for financing home purchases is likely to continue over the coming decade," the consultancy said in a report.
Contact reporter Timmy Shen (hongmingshen@caixin.com)
You've accessed an article available only to subscribers
VIEW OPTIONS
Share this article
Open WeChat and scan the QR code