Once Hyped, Overseas-Listed Chinese Stocks Come Back to Bite Investors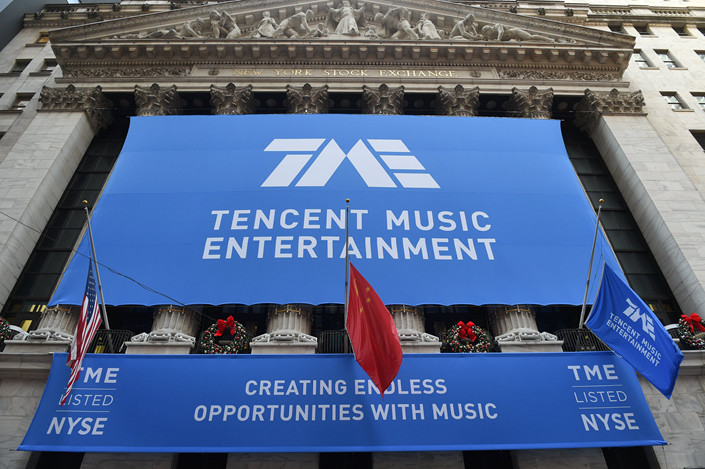 Tencent Music Entertainment listed on the New York Stock Exchange on Dec. 12. Photo: VCG
Struggling shares of newly listed Chinese companies in the U.S. and Hong Kong are saddling investors with unexpected losses this year, with more than two-thirds now trading below their listing prices.
About 72% of the Chinese companies that issued stock this year in Hong Kong have seen the shares fall below their initial public offering (IPO) prices, with some plunging within weeks of listing, including smartphone-maker Xiaomi Corp. and the online services chimera Meituan Dianping.
Some two-thirds of the Chinese firms that listed in the U.S. this year shared the same fate, including Tencent Music Entertainment Group, the music unit of tech giant Tencent Holdings Ltd., and Baidu Inc.-backed video site iQiyi. In one of the worst cases, shares of online home renovation service SSLJ.com collapsed by 94% from their debut in February to close at 30 U.S. cents on Monday.
The slump is raising questions about whether investors bought into bullish hype surrounding these Chinese companies without fully understanding what could derail their growth prospects.
Many Chinese companies without a strong track record of profit have been drawn to overseas markets as domestic regulators have tightened the review process for going public at home as mainland stocks have slumped into bear market. Compared with Chinese mainland stock exchanges, the bourses in the U.S. and Hong Kong have a lot less red tape for IPOs.
On April 30, Hong Kong instituted new rules that let biotech firms list on the city's exchange even if they had yet to make a profit. The exchange also rolled back a rule that barred companies with a dual-class share structure from listing, in an attempt to attract tech firms. The structure, which usually gives company founders a separate class of stock with greater voting rights, has been a favorite of tech startups whose founders want to remain in control after the IPO.
So far this year, 201 Chinese companies have raised HK$282.5 billion ($36.13 billion) in Hong Kong IPOs this year and another eight companies are lined up to list before the end of 2018, according to data from Hithink RoyalFlush Info. That more than double the HK$143.6 billion raised in Hong Kong IPOs in the previous year.
In the U.S., 38 Chinese companies have raised $8.2 billion via public listings this year.
In the Hong Kong market, companies tend to set high IPO prices to take advantage of investor demand, but the situation leaves them with little room to grow once trading begins on the exchange, a Hong Kong brokerage analyst in told Caixin. The situation is the other way around on the mainland, where newly listed shares ended up priced artificially low to comply with a rule that caps a company's price-to-earnings ratio at 23:1, but then surge once trading starts.
The downdraft in Chinese companies' overseas shares could hurt institutional investors who piled into private equity investments in late fundraising rounds, according to Ni Jingan, China's financial technology business partner at PwC China. Some investors have already suffered paper losses on holdings of overseas-listed Chinese firms.
The poor performance of these companies this year is teaching a lesson to executives who have demanded sky-high valuations in the private equity market, according to Zhang Li, a partner at the Chinese private equity firm CDH Investments.
"We have seen a few companies that have had their valuations lowered by a third," Zhang said, adding that it's time for Chinese CEOs to realize that high valuations are actually just a "delusion" driven by ample liquidity in the market.
Contact reporter Leng Cheng (chengleng@caixin.com)
You've accessed an article available only to subscribers
VIEW OPTIONS
Share this article
Open WeChat and scan the QR code