Cities Delay New Emission Standard as Car Sales Stall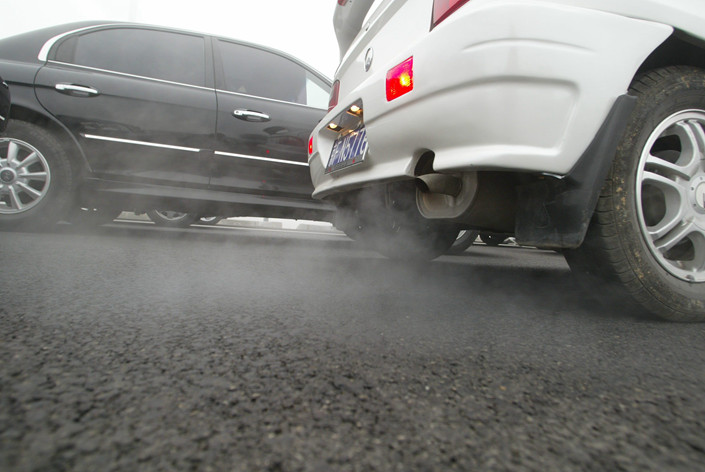 Shenzhen and Guangzhou have delayed the rollout of a new auto emissions standard designed to clean up the country's air. Photo: VCG
The wealthy cities of Shenzhen and Guangzhou have delayed the rollout of a new auto emission standard designed to clean up the country's air, following protests from dealers already worried about a rapidly slowing auto market set to post its first contraction in decades.
The pair of cities, two of China's wealthiest, were set to be among the first to implement a sixth-generation auto emission standard that will be phased in gradually starting Jan. 1. But officials in Shenzhen first asked for an extension on that date earlier this month, and this week the rollout was officially pushed back until July 1, according to a government documents. Guangzhou has also already agreed to delay its rollout date to March 1, though it has yet to formally publish the new policy.
China began implementing emission standards in 2001 in an effort to limit pollution at a time when the country was rapidly industrializing. The sixth-generation standard was initially set to be rolled out in phases starting in 2020. But the time line was moved up to July 1, 2019, earlier this year for some areas such as the Pearl Delta, where both Guangzhou and Shenzhen are located.
Guangzhou and Shenzhen had both initially planned to institute the policy even earlier than required, amid growing urgency from Beijing and local governments to clean up the country's polluted air. But push-back has come from the auto industry, which is facing major headwinds as the nation's economic growth slows rapidly.
China's car market experienced explosive growth over the last two decades, passing the U.S. in 2009 on booming sales to an emerging middle class. But a slowing economy has sent the growth trend into reverse over the last few months, and sales were down 1.7% in the first 11 months of the year, including a 14% decline in November.
In Shenzhen, car sales have fallen an average of 5% each month in the three months between August and October.
Once the new rules take effect, all vehicles will need to meet the requirements whenever a new owner takes possession of a car, be it through purchase of a new vehicle or transfer of ownership on the second-hand market. New car dealers in particular worry that they won't have a sufficient inventory of cars that meet the new standard in place by Jan. 1, which could further dampen sales.
"As the end of the year approaches, various factors are coming together that aren't good for the whole industry," said Liu Xiang'e, a top official at Shenzhen's main automobile dealers association. "Now it is delayed for half a year to give the industry a smooth transition period."
Contact reporter Yang Ge (geyang@caixin.com)
You've accessed an article available only to subscribers
VIEW OPTIONS
Share this article
Open WeChat and scan the QR code