Goldman, Citi Drop Online Lender IPOs Amid China Crackdown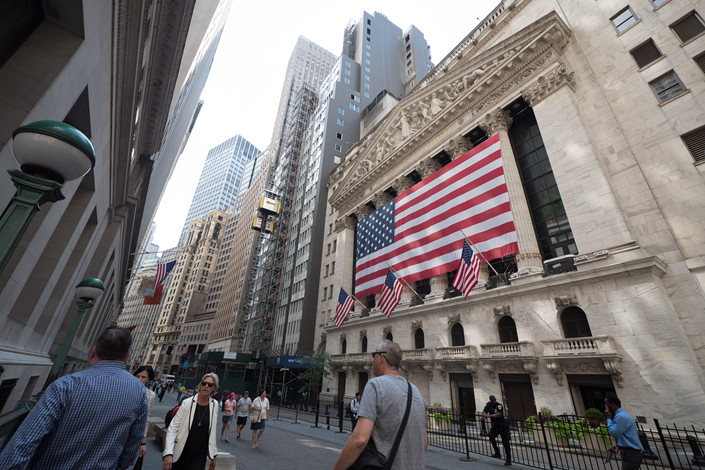 Wall Street firms including Goldman Sachs Group Inc. and Citigroup Inc. have walked away from U.S. IPOs of Chinese P2P lenders in recent months. Photo: VCG
(Bloomberg) — First came a sweeping government crackdown and a surge in defaults and failures at thousands of China's peer-to-peer (P2P) lenders. Now, in another troubling sign for the industry, some of the biggest investment banks have stopped taking them public.
Wall Street firms including Goldman Sachs Group Inc. and Citigroup Inc. walked away from U.S. initial public offerings (IPOs) of Chinese P2P lenders in recent months, people with knowledge of the matter said. Their concerns mainly stemmed from the timing of the deals, with an uncertain outlook for P2P companies and a slumping market knocking down valuations. In each case, the businesses went ahead with their offerings after finding new underwriters.
The rare show of concern by major banks highlights the plight of a sector that's already lost the confidence of lenders, investors and regulators. While underwriters occasionally walk away from deals, it's unusual for so many to occur in the same industry over such a short period of time. It's a dramatic turnaround for what was once one of China's hottest sectors.
"China's role as a fintech hub has changed dramatically since regulatory changes have been imposed, political relationships with the West cooled and its economy has slowed," said Mark Williams, a former Federal Reserve bank examiner who teaches finance at Boston University. "Investors who would have jumped at a fintech initial public offering opportunity in 2017 are now hesitant, as the odds of success have been lessened and uncertainty increased."
P2P lending in China grew from practically nothing in 2012 to become a nearly $200 billion industry. But firms were caught up in the government's push to de-risk the financial system, and investors rushed to pull out their money as credit tightened and the economy slowed. Authorities plan to wind down small- and midsize P2P lending platforms nationwide, people familiar with the matter said in November.
Goldman Sachs gave up the mandate for 360 Finance Inc. in November, after failing to persuade the company to delay the deal until China clarified regulations and investor demand recovered, one of the people said. Citigroup dropped its role on the IPO of Jiayin Group Inc., which runs Niwodai.com, because it disagreed with the company's aggressive listing timetable, another person said. The people asked not to be identified discussing private information.
Credit Suisse Group AG and JPMorgan Chase & Co. also walked away from P2P deals in recent months, giving up roles on CNFinance Holdings Ltd.'s November IPO, according to the people. The banks were concerned about investor appetite for the deal, the people said. The share sale ended up raising $48.8 million after pricing at the bottom of a marketed range.
Representatives for Goldman Sachs, Credit Suisse, JPMorgan and CNFinance declined to comment. A spokesman for Citigroup declined to comment on the Jiayin mandate, adding the bank continues to have a strong relationship with the company. A representative for Jiayin said she couldn't comment due to a quiet period, while an official at 360 Finance didn't immediately respond to requests for comment.
Weak demand
Credit Suisse's decision to drop the CNFinance deal was also influenced by concerns about the high proportion of so-called friends and family investors participating in the share sale, the people said. Goldman Sachs bankers had similar reservations about 360 Finance's IPO, one of the people said.
Friends and family orders come from buyers personally known to company founders, rather than the large financial institutions usually involved in share sales. For CNFinance and 360 Finance, the banks worried a lack of institutional demand would cause an unusually large slice of the offerings to go to such investors, which could lead to thin trading volumes, the people said. Friends and family buyers can also be harder to vet, according to the people.
360 Finance, backed by Chinese billionaire Zhou Hongyi, ultimately raised $51 million in a December U.S. IPO underwritten by firms including Citigroup. The U.S. bank worked on the offering because its dealmakers believe 360 Finance will be a source of repeat business, one of the people said. 360 Finance shares have fallen 26% from their offer price through Tuesday.
Cooling off
CNFinance's share sale was subsequently arranged by Roth Capital Partners LLC and Shenwan Hongyuan Group Co. Ltd. The pair also took over the Jiayin listing. Shenwan Hongyuan's only previous U.S. IPO experience came from two deals that raised $44.5 million total, Bloomberg-compiled data show.
Shares of CNFinance have dropped 14% from their offer price through Tuesday. Representatives for Roth and Shenwan Hongyuan couldn't immediately be reached for comment.
A string of bank resignations in the same industry could indicate a problem that's deeper than issues with individual companies, said Philippe Espinasse, former head of Asia equity capital markets at Nomura Holdings Inc. More clarity on the regulatory oversight of Chinese P2P businesses may be needed, he said.
"There probably have been too many IPOs in this sector trying to come to market at the same time, with the objective of raising too much money on the back of what are sometimes flimsy and opaque investment cases," Espinasse said. "A bit of a cooling-off might be a good idea."
Contact editor Yang Ge (geyang@caixin.com)
You've accessed an article available only to subscribers
VIEW OPTIONS
Share this article
Open WeChat and scan the QR code