China Cuts Local Government Bond-Rate Guidance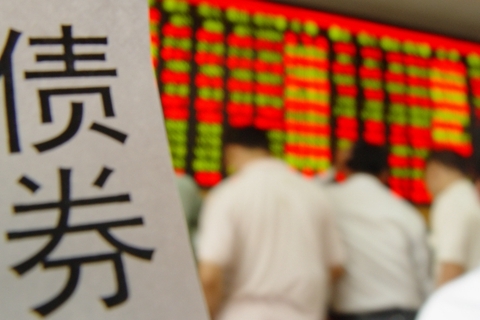 China's Finance Ministry lowered its guidance on interest rates for local government borrowing. Photo: VCG
As China's government presses local authorities to accelerate infrastructure projects to bolster the economy, the Finance Ministry lowered its guidance on interest rates for local government bonds, reducing their borrowing costs.
The Finance Ministry is requiring that government units issue bonds at a minimum spread of 25 to 40 basis points, or 0.25 to 0.40 percentage points, above the five-day average yield of central government bonds of the same maturity, people close to the matter told Caixin, citing a Tuesday notice from the ministry to market participants.
The move, which lowers the spread from the previous minimum of 40 basis points, reflects a recent surge in demand for local government bonds, a person close to the ministry told Caixin. The Finance Ministry currently doesn't plan to further cut rates on local government bonds, the person said.
In an unusual move in late December to help spur the cooling economy, the Standing Committee of the National People's Congress (NPC), China's top legislature, approved a 2019 quota for new local government bond issuance of 1.39 trillion yuan, enabling local authorities to start issuing debt this month. The NPC typically doesn't approve such quotas until March.
Local governments so far have borrowed more than 400 billion yuan through bond issuance, more than the total for the first three quarters last year. The bonds were generally oversubscribed by 40-fold. A three-year general local government bond issued by the Yunnan province was 70 times oversubscribed.
A person familiar with local government bond issuance said the new, lower minimum spread over treasury bonds is close to market pricing.
"Currently on the secondary market, the yield spread is about 30 basis points," the person said. "Local government issuers are expected to price their bonds at the lower end of the guiding range."
Data from chinabond.com showed that local governments of Jiangxi, Hubei and Sichuan provinces issued general and special-purpose bonds Monday. The coupon rates were all about 25 basis points over equivalent treasury bonds, with the three-year bonds yielding 2.99%; the five-year, 3.19%; the seven-year, 3.32%; and the 10-year, 3.38%.
While the lower rates will help reduce local governments' borrowing costs, they could also dampen the appeal of local government bonds to investors. Institutional investors will lose the risk-free arbitrage opportunity of profiting from the difference of 10 basis points between the primary and secondary markets, a market participant said.
"Due to the current lack of high-quality assets available, local government bonds are still attractive to investors," the market participant said.
The enthusiasm of investors to participate in the primary market has slightly cooled, according to a research note by Huatai Securities' fix-income team. The bidding for Jiangxi and Hubei's local government bonds issued Monday decreased compared with demand for earlier issues, the note said.
You've accessed an article available only to subscribers
VIEW OPTIONS
Share this article
Open WeChat and scan the QR code