Feb 12, 2019 12:57 PM
WORLD
Kevin Rudd Says China-U.S. Trade Deal Will Be 'Superficial'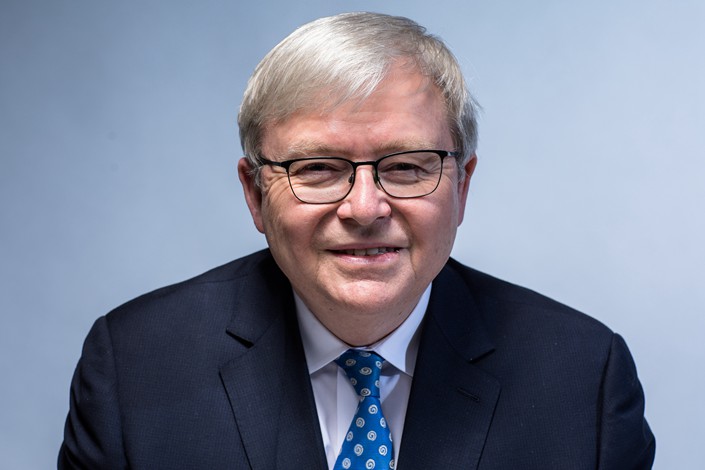 Former Australian Prime Minister Kevin Rudd says any trade deal between China and the U.S. will not be an end to the matter. Photo: VCG
(AFR) — A modest Washington-Beijing trade breakthrough won't defuse an intensifying cold war over technology that will hurt investors, says seasoned China-watcher Kevin Rudd after U.S. President Donald Trump ordered the US government to step up AI investment.
With both sides resuming talks in Beijing this week, financial markets are still wondering whether the US and China can resolve major differences ahead of the March 1 deadline, after which US tariffs on Chinese imports are scheduled to surge.
White House trade negotiator Robert Lighthizer and Treasury Secretary Steve Mnuchin will meet with top Chinese officials on Thursday and Friday as concern grows over the prospect of a deal that addresses only the trade deficit without tackling more challenging structural issues such as IP theft.
"I think it will be, as it were, superficial plus," Kevin Rudd, head of the New York-based Asia Society Policy Institute, told CNBC. "But it will not get into fundamental territory."
"Both leaders [Trump and Xi Jinping] want a deal; the negotiators, however, remain divided on the substance."
The talks coincide with renewed fears America is no longer keeping pace with China's technological surge.
Trump on Monday signed an executive order aimed at jump-starting development and regulation of artificial intelligence (AI), which is seen by many as the next technology frontier and one which will determine future productivity and living standards.
The US administration is regarded as a sluggish responder to the emergence of AI, with former Defense Secretary Jim Mattis warning Trump last May on the need for a national strategy on the issue.
The executive order, which doesn't set aside any additional funding, calls on better training for experts in AI, as well as improved access to cloud services and more work with foreign powers.
"The United States has been a bit slow on the uptake," said Rudd of the AI push, noting that China's research and development had been growing at a much faster rate than the U.S.
Rudd cautioned investors against trusting that some kind of deal between the U.S. and China would mark an end to the matter.
A trade deal of "some kind" was likely on or around March 1 because of the overwhelming "political will by the heads of government to get it done, whatever the hawks in their respective governments might want," he said.
But, even if the trade war is fixed, "whether we like it or not we're in an undeclared high technology war at present."
"You see that being manifest through the fight with what's happening with Huawei and of course across the whole range of artificial intelligence technologies," Rudd said.
Secretary of State Michael Pompeo said in Hungary on Monday that eastern European nations buying Huawei technology might be endangering their access to U.S. equipment.
"It makes it more difficult for us to partner alongside them," he said in comments seen as being almost an "us-or-them" ultimatum.
Stock indices on Wall Street were little changed on Monday as investors speculated on the prospects of any breakthrough, the chances of which diminished late last week when the White House announced Trump would not hold a summit with Xi before the deadline.
However, NAB economists noted a report in Axios that the two leaders could meet in Trump's Florida Mar-a-Lago resort in mid-March as "the one positive development" of recent days.
White House spokeswoman Kellyanne Conway said a meeting was still on and that China would make a deal.
SocGen China analysts Wei Yao and Stephen Gallagher said they were increasingly confident U.S. tariff increases against China would be delayed, but warned a broader agreement — even a framework deal — remains elusive.
"We should prepare for prolonged talks," they wrote in a note to investors.
This article was originally published in The Australian Financial Review.
You've accessed an article available only to subscribers
VIEW OPTIONS
Share this article
Open WeChat and scan the QR code