Investors Can Apply to Trade on New Tech Board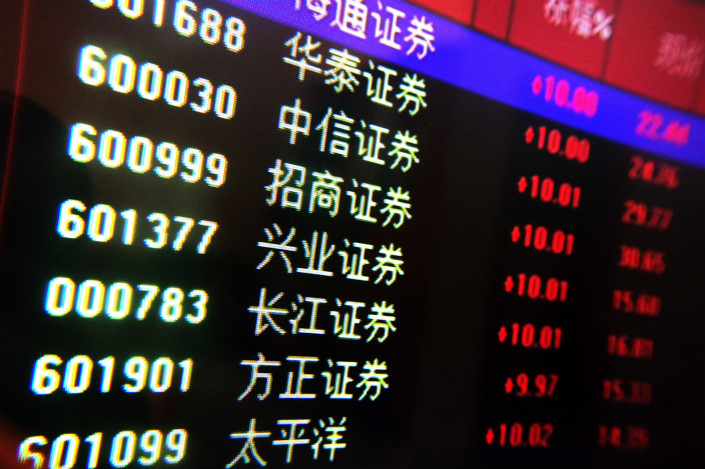 Photo: VCG
China's 3 million qualified individual investors can now apply to trade stocks on the coming Nasdaq-style high-tech board, which may open for business in Shanghai by mid-year. Brokerages are already gearing up to accept and process applications online.
The Shanghai Stock Exchange, where the new board will be launched, Thursday instructed investors to apply to their brokerage houses for authorization to trade in the new stocks. In a Q&A, the exchange said investors can add new-board trading rights to their existing A-share trading accounts without filing additional paperwork or opening new accounts.
The new high-tech board will focus on companies from the technology and other high-growth sectors like biotech, similar to the Nasdaq in New York. It would also mark a major shift from China's current existing boards by using a market-based registration system for new listings, aimed a shortening the current process that requires far more time and major regulatory vetting.
To trade on the new board, individuals must have had a daily average balance of at least 500,000 yuan ($74,460) in their securities accounts over the previous 20 trading days before applying, according to rules released by the exchange over the weekend. Investors must also have a minimum of 24 months of experience trading securities.
The Shanghai exchange clarified the basis of the minimum 500,000 yuan balance, saying it will be calculated based on all assets in an investor's securities accounts opened in China, including A-share and B-share accounts and closed-end and open-end funds, as well as stock options and wealth management products bought through the brokerage. The balance should be based on an investor's net assets, excluding borrowed securities and funds, the exchange said.
Previously, the exchange said 3 million individual A-share account holders meet the investment requirements. Institutional investors can apply directly for trading rights in new-board stocks, without the need to meet requirements on assets and trading experience, the exchange said.
Even before the exchange gave the green light, brokerage companies including Shanghai-based Guotai Junan Securities Co., Haitong Securities Co. and Chengdu-based Sinolink Securities Co. as early as Tuesday started providing online appointments for opening new-board trading rights for their clients.
Staff at Guotai Junan Securities told Caixin that investors can choose to add their trading rights online or at kiosks at the company's stock-trading halls. Investors need to complete a process including video certification, questionnaire and digital signature.
After obtaining trading rights, investors will have to wait before actually starting to trade in the new stocks. Neither the securities regulator nor the exchange has provided a clear timetable for the new board.
The high-tech board will be launched as soon as possible while ensuring the quality of listed companies, said Fang Xinghai, vice chairman of the China Securities Regulatory Commission (CSRC), at a meeting Thursday of the country's annual national legislative and government advisory sessions.
For listing applications, review by the Shanghai exchange will not exceed six months, and registration with the CSRC will be completed within 20 business days, Fang said.
The exchange plans to conduct an industrywide test of the new trading system at the end of this month and expects the trading system to be in place by the end of May.
Contact editor Yang Ge (geyang@caixin.com)
You've accessed an article available only to subscribers
VIEW OPTIONS
Share this article
Open WeChat and scan the QR code