In Depth: Frost, Fever and Worms Sow Inflation in China's Supermarkets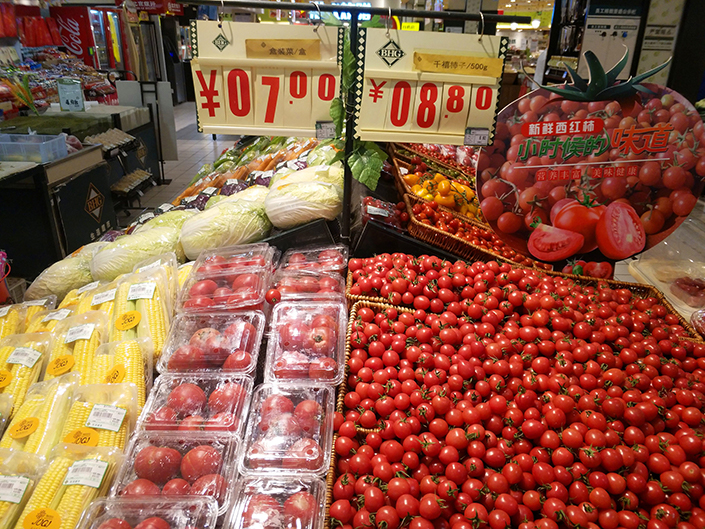 Produce sits on sale at a shopping mall in Beijing on May 31. Photo: VCG
A triple whammy of a fatal pig disease, low fruit stocks and a corn-devouring caterpillar are wreaking havoc on China food supplies, hitting consumers with some of the highest prices of the year.
Food prices rose 6.1% year-on-year on average in April, up from a 4.1% rise in the previous month, driving up overall consumer inflation to a six-month high.
African swine fever is a major culprit behind the spiking prices. The highly-contagious disease has spread to every province in the Chinese mainland over the past year, prompting the cull of over a million pigs so far to try and contain it. That led pork prices to soar 14.4% on average in April from a 5.1% rise the month before.
China produces and consumes nearly half the world's pork, according to the U.S. Department of Agriculture. Even after counting for the effects of African swine fever in the latter half of 2018, China still produced over 54 million tons of the meat that year, according to the National Bureau of Statistics.
But the fever is taking a decided toll on the industry. In the first quarter of 2019, 188 million pigs were slaughtered for human consumption — over 10 million fewer than the same period in 2018. That caused pork production to slip by 5.2% for the period, driving up prices as 800,000 less tons were produced.
China's domestic pork production is expected to decline by an even larger 10% for all of this year which could ultimately translate to a supply shortfall of about 3.3 million tons in 2019, estimated Zhu Zengyong of the Chinese Academy of Agricultural Sciences. Other estimates are much higher, with analysts at Rabobank, a Dutch financial services company, forecasting a 25% to 35% loss in China's pork production in 2019.
By the end of 2019, live pig prices are expected to reach 20 yuan to 22 yuan ($2.90 to $3.20) per kilogram, said Zhang Wenlang, chief macro analyst at Everbright Securities. If African swine fever continues to spread, in 2020 they might increase to 25 yuan per kilogram, and could reach up to 30 yuan if the situation becomes extreme, said Zhang.
The fruits of last year's frost
While the pork situation looks bleak, it isn't much better with fruits as China heads into the peak harvest period for many seasonal favorites like lychees, cherries and watermelon.
The average wholesale price of seven fruits was 8.23 yuan per kilogram as of June 3, a high not seen since 2011 and 42% higher than the start of the year, according to the Ministry of Agriculture and Rural Affairs.
The term "apple freedom" — the ability to buy an apple on impulse — is trending on social media, with complaints that such freedom is disappearing before the more luxurious "cherry freedom" period ever even arrives. "Two medium-sized apples cost more than 9 yuan," said an elderly man with a sigh in a Beijing food market in late May. "It's too much."
Supply is typically tight in the month of May just before the summer harvest, with most fruit at that time coming from the previous autumn's stocks, said Haitong Securities chief economist Jiang Chao. That often leads to similar rises in fruit prices in May and early June, according to figures from CEIC, a data compiler.
But the extent of this year's fruit price rises goes well beyond normal seasonal factors, added Jiang, who blames frosty weather early last year. The apple-producing powerhouses of Shaanxi, Shandong and Shanxi provinces, as well as the pear-producing cities of Shijiazhuang in Hebei and Korla in Xinjiang, were all hit by cold snaps in spring 2018.
Huatai Securities' Li Chao warned a year ago that those frosts could potentially lead to supply shortages down the road. Frost damages buds and blossoms, leading to fewer fruits that can be harvested months later. According to a report from Citic Futures, the amount of apples put into storage from the 2018-2019 season was down nearly 40% from the previous year.
Army of worms
Finally, there's the Fall Armyworm, a type of moth caterpillar originally from the U.S., that feasts on crops like corn, sugar cane and sorghum, but likely poses the biggest threat to corn.
As of June 5, armyworms had invaded 18 provincial-level regions, spreading out from China's warmer south, according to the Agriculture Ministry (link in Chinese). If prevention, control and warning mechanisms don't keep up with the pests, the effect on corn production could be "catastrophic," said Jiang Xingfu, a researcher at the Academy of Agricultural Sciences.
At present the caterpillars have yet to gain a strong foothold in China's major corn-producing regions in the north. But as summer sets in they'll move further in that direction, said Jiang. In the U.S. the caterpillars previously led to losses of about 20% of the corn crop, he added, noting that it reached as high as 70% in some areas where technology and preventive measures were lacking.
That means much will depend on how effectively China controls the pest. The Agriculture Ministry has already released lists of approved pesticides while warning farmers not to overuse them.
Formidable state corn stockpiles should also cushion the impact. In 2018, despite accelerating downstream demand and a smaller amount of planted area, prices did not skyrocket. State stockpiles at the end of 2018 were equivalent to about 30% of annual production, according to estimates by CHEM99.COM, a research firm specializing in commodities markets.
Despite all the challenges, most analysts still do not expect overall inflation this year to increase that much. They see CPI remaining in the 2% to 3% bracket, since monetary policy hasn't loosened very much, economic growth is muted, and pork, fruit and corn still add up to a relatively small part of overall inflation.
Yet food prices, particularly in some key staples like pork and fruit, will likely continue to increase at least for the short term. That will put pressure on Chinese consumers' pocketbooks.
Contact reporter Ke Baili (bailike@caixin.com)
You've accessed an article available only to subscribers
VIEW OPTIONS
Share this article
Open WeChat and scan the QR code