CX Daily: Cushioning Slowing Growth With Investment is No Longer Working
The ugly truth about China's investment funk
In the first half of 2019, fixed-asset investment (FAI) excluding spending in rural areas rose by just 5.8% YOY, less than the 6% increase in the same period in 2018 and down from an 8.6% pace in the first six months of 2017. The numbers were even worse for infrastructure – up only 4.1% YOY, down from a 7.3% pace in the first half of 2018 and 21.1% in the same period in 2017.
These numbers are a far cry from a 2013 peak, when investment accounted for 55.3% of real GDP. FAI with three pillars – infrastructure, manufacturing and real-estate – has traditionally been a key driver of China's economic growth, and during the 2008 global Financial Crisis even helped China's economy escape the worldwide slump.
A decade later, investment is not the sure-fire economic shot in the arm it once was. Companies and local governments are maxed out on debt, shadow banking and illegal local authority financing are being reined in, and fiscal revenue has slumped as a result of massive tax cuts. Simply put, with fewer good projects, investment, especially on infrastructure, has been a tough sell.
Check out our deep dive.
FINANCE & ECONOMICS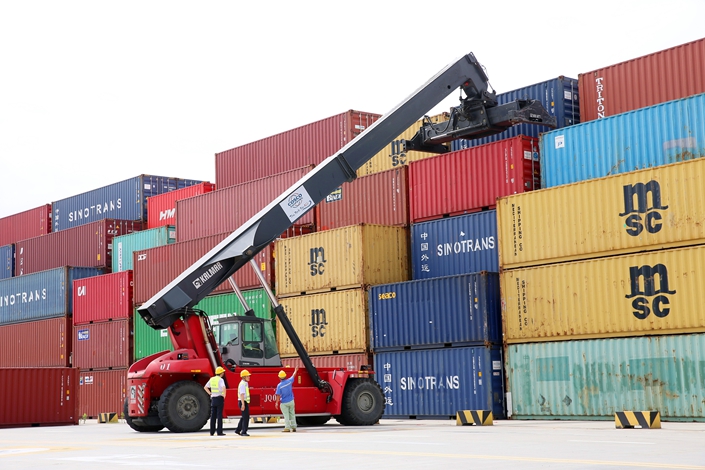 Workers move cargo containers at the Port of Nantong in East China's Jiangsu province on July 18. Photo: VCG
Trade /
China exports grow at highest rate since March
China reported better-than-expected export growth in July — back when it looked as if trade tensions with the U.S. were easing, government data showed Thursday. China's goods exports grew 3.3% YOY in dollar terms last month, the strongest growth since March and beating estimates, official data show.
Imports, meanwhile, declined 5.6% YOY in July, well below the Bloomberg forecast of a 9% decrease. China's overall trade surplus logged $45.1 billion that month, up significantly from $28.1 billion a year earlier. China's exports to the U.S. declined 6.5% YOY to $38.9 billion in July while its imports declined 19.1% YOY to $10.9 billion last month, the smallest decline since October.
Soy /
As China halts U.S. soy purchases, 'unknown' buyer steps up
While China announced it has halted imports of American soybeans, a mysterious buyer has stepped up. The U.S. Department of Agriculture announced Wednesday a sale of 165,000 metric tons of the oilseed to "unknown destinations."
Such unknown buyers often were thought to be China, which typically brings in about two-thirds of global soybean exports. However, the nation's government on Monday asked its state-owned enterprises to halt purchases of U.S. agriculture products as the trade war between the countries escalated.
Yuan /
Yuan's reference rate above 7 to the dollar for first time in 11 years
China's central bank set the midpoint of the yuan's daily trading range at 7.0039 to the U.S. dollar Thursday, the first time it has set the rate above the psychologically important 7-to-the-dollar mark since 2008.
The move comes after the onshore and offshore yuan weakened past the 7-to-the-dollar level during trading in the past three days. On Monday, the U.S. Department of the Treasury blamed China for competitive devaluation and branded the country a currency manipulator. The next day, the PBOC called the U.S. move an act of protectionism that violates international rules.
FDI /
U.S. set to overtake China as Malaysia's top investor
Malaysia has lost out to its regional peers in capturing investment fleeing from tariff-hit China, but U.S. companies have dived deep there, more than tripling last year's manufacturing investments in the first quarter of this year alone.
Malaysia recorded an 11.5 billion ringgit ($2.7 billion) inflow in manufacturing FDI from the U.S. in the first three months of this year, compared with just 3.2 billion ringgit for last year. Inflows from China paled in comparison at only 4.4 billion ringgit, which was below the quarterly average last year. Warm relations with Beijing formed by the previous Najib Razak administration were shaken by a new government that canceled pipeline projects and seized back funds already paid to a Chinese contractor.
Quick hits /
Former Huarong Investment chairman charged with corruption
Insider trading nets investor with staggering 394 million yuan fine
Rights lawyer loses appeal in license suspension case
BUSINESS & TECH
Boeing /
Boeing holds workshops with China carriers to bring back 737 Max
Boeing Co. invited pilots and engineers from China Southern Airlines Co. to a workshop about the grounded 737 Max plane in Guangzhou Monday, according to an emailed statement from Boeing. More such workshops will be held with Air China Ltd., China Eastern Airlines Corp., Xiamen Airlines Co. and Hainan Airlines Holding Co. in their respective hubs this week.
The gatherings are among the latest steps Boeing is taking to bring the plane back after deadly crashes forced its grounding, though the exact timing remains unclear. Boeing is redesigning the plane's flight-control system and aims to present a final software package to regulators by September, though the timeline could slip, a person familiar with the plans said.
5G /
China Tower secures 65,000 orders for 5G construction
Hong Kong-listed China Tower Corp. Ltd. received 65,000 orders by the end of June to build 5G base stations for the country's top three telecom carriers, the company said Wednesday.
This year's 5G construction focuses on upgrading existing base stations, and 100,000 orders can be expected, said Tong Jilu, chairman of China Tower, at a briefing on the company's half-year results. During the first six months this year, China Tower booked nearly 38 billion yuan ($5.4 billion) of revenue, up 7.5% from the same period last year. It operated 1.95 million telecom towers across the country by the end of June, up 4% YOY.
Oil / Venezuela
China comes to the rescue of Venezuela's run-down oil refineries
Wison Engineering Services Co. Ltd., a Shanghai-based chemical engineering and construction company, agreed last month to repair Venezuela's main refineries in exchange for oil products including diesel, sources say. The move to shore up the country's derelict refining network could potentially complicate the Trump administration's push for regime change.
U.S. financial sanctions aimed at starving the current regime of revenue contributed to the decision to revive a domestic refining industry crippled by years of mismanagement and under-investment, said one of the people, who asked not to be identified because the information is confidential.
Auto /
Dongfeng Motor is said to weigh options for Peugeot stake
Dongfeng Motor Corp. is exploring options for its 2.2 billion euro ($2.5 billion) stake in Peugeot owner PSA Group, including a potential divestment, people with knowledge of the matter said, as the companies grapple with a global slowdown in the auto market.
The Chinese state-owned automaker held talks in recent weeks with potential advisers about ways to monetize part or all of its 12.2% stake in the French carmaker, the sources said. As part of the strategic review, Dongfeng Motor has discussed possible transactions including a straight sale of PSA shares or issuing exchangeable bonds backed by PSA stock, the people said.
Quick hits /
Shanghai gigafactory on track to start production this year, Tesla says
Investors unimpressed by China Mobile's plunging profits, stagnant revenue
Baidu stakes out mini-program move with $30 million investment
Lagging sales force game studios to shoot for overseas high score
Samsung loosens Sony's grip on cutting-edge China phone cameras
Ping An Good Doctor expects national medical insurance coverage
Big battery maker's market share surges as bus makers race to place orders
Thanks for reading. If you haven't already, click here to subscribe.

Register to read this article for free.
Register
Share this article
Open WeChat and scan the QR code