Opinion: Warning Signs Point to a Looming U.S. Recession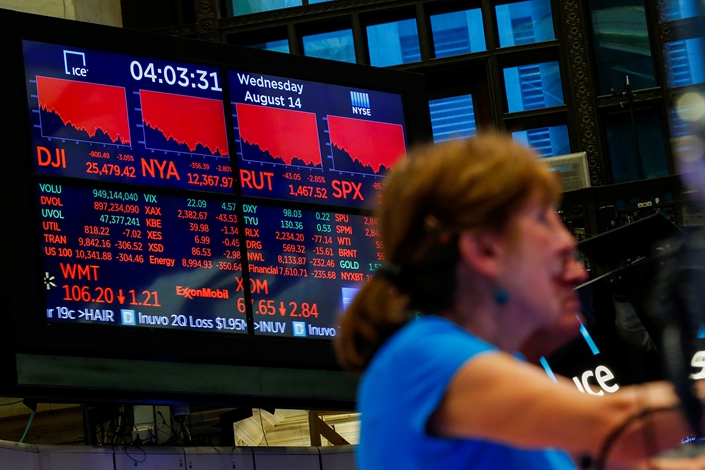 Photo: VCG
Washington is obviously alarmed by the talk of a looming U.S. recession. Inside the capital's beltway, Google Trends show that searches for the term "U.S. recession" peaked in August. The last time the search term peaked was in February 2010, in the wake of the recession caused by the financial crisis, during which the U.S. lost 8.7 million private sector jobs.
Now, a decade later, is the U.S. economy on the cusp of another recession cycle? Market indicators tell a different story, with robust consumption and spending, but weak exports and business investment. But it seems certain that Trump's trade war with China will continue to backfire and fuel a U.S. recession.
U.S. President Donald Trump has rejected the fear. "The Economy is doing GREAT, with tremendous upside potential!" Trump tweeted on Thursday, defending the economy under his watch, even as he continued to urge the Federal Reserve to continue cutting interest rates to stimulate the economy. "If the Fed would do what they should, we are a Rocket upward!"
Apart from Donald's nonstop-tweeting, what is happening on the ground?
In late August, I visited northern Virginia, a vibrant, densely populated suburban area across the Potomac River from Washington D.C. What I saw was not a textbook definition of recession, which requires an economywide decline and widespread drop in spending; it's more of an asymmetric scene.
For example, the now famous Crystal City in Arlington, Virginia, grabbed international headlines last year when Amazon picked it as the location of its second headquarters, bringing in 400 jobs by the end of the year and an estimated 25,000 over the next decade.
Amazon's move has already pushed up home prices in the area more than $100,000 from the year before and caused monthly rent to jump by $100 to $150 a month.
However, in Crystal City, I was surprised to find out that Starbucks has closed three stores in the last six months. The company said in June that it will close 150 stores in 2020 and expected same-store sales to grow just 1% for the quarter that begins next month, lowering its previous guidance.
Also in Washington's historic and fancy Georgetown neighborhood, the high-end grocery chain Dean & Deluca also closed its only store in the area "with great sadness" after 27 years in business. The company confirmed in July that it is closing three of its nine markets due to its debt problems, including a high-profile "concept" store in downtown Manhattan that opened just three months ago.
To sum up the asymmetry in the greater Washington area: employment is sure to grow, the real estate market is ready to soar while the restaurant industry is slowing.
Patrick Chovanec, a former business professor at Tsinghua University in Beijing who is now chief strategist at New York-based Silvercrest Asset Management, saw a similar asymmetry.
Bolstered by continued jobs and wage growth, consumption and a solid rebound in government spending drove the U.S. economy to grow 2.1% in this year's second quarter, he said in a note in August. Consumption grew by 4.3% in second quarter, its quickest pace in a year and a half. It was also a strong rebound from a sluggish 1.1% growth in the first quarter,
However, everything else was negative in the second quarter. Exports fell by 5.2% while imports were flat, widening the trade deficit. Perhaps daunted by the trade tensions, business investment fell by 0.6%, its first quarterly decline in over three years. The closely watched ISM Manufacturing Index fell to 51.2 in July, its lowest level since 2016, he added.
But David Dollar, an expert on U.S.-China economic relations at the Brookings Institution and a former senior U.S. Treasury official told me that a declining manufacturing sector does not necessarily lead to a recession. "U.S. manufacturing has started to decline for the first time in 10 years. This will not necessarily lead to a recession for the whole U.S. economy as manufacturing is a small share of output. But, still, it is the opposite of what President Trump was trying to achieve with his trade war," he said.
"What has happened is that U.S. exports have declined because of China's retaliatory tariffs and the appreciation of the U.S. dollar against most major currencies. More important, the trade war has created an environment of uncertainty and business investment has slowed sharply," he added.
The most explicit warning so far came from Morgan Stanley's chief economist, Chetan Ahya, who predicted that the global economy will fall into recession six to nine months after the U.S. and China's new round of tariffs take effect, CNBC reported. "Risks remain skewed towards further escalation at least until material market or economic weakness shows," Ahya told clients in a note. "Continued trade tensions, combined with reactive monetary and fiscal policy, mean that the risk of non-linear tightening in financial conditions, triggering a global recession, is high and rising."
In late August, a trio of central bank heavyweights, including Stanley Fischer, Philipp Hildebrand and Jean Boivin, had called for a global coordination of monetary and fiscal policies — "unprecedented policies will be needed to respond to the next economic downturn."
Yu Yongding, who served on the People's Bank of China's Monetary Policy Committee from 2004 to 2006, told Caixin that policymakers should be wary of the side effects of the trio's proposal, which could tip the balance between monetary and fiscal policies.
For China, Yu supported maintaining the stability of the yuan because currency depreciation is "a double-edged sword" that is good for offsetting damage from a tariff war but bad for shoring up China's domestic consumption.
On Sunday, Trump's new round of punitive tariffs on Chinese goods took effect. Beijing is sure to retaliate. There is no end in sight for this prolonged trade war. So dear readers, please buckle up and prepare for further impact.
Lu Zhenhua joined Caixin Global in August as senior editor after reporting on China, EU and U.S. affairs for more than a decade. He previously worked at the South China Morning Post and the 21st Century Business Herald.
Contact reporter Lu Zhenhua (zhenhualu@caixin.com)
You've accessed an article available only to subscribers
VIEW OPTIONS
Share this article
Open WeChat and scan the QR code