Architect Lilian Tian on the Benefits of Aesthetic Pursuit
Lilian Tian at her Shang-Lidou project. Photo: Courtesy of Lilian Tian
There is no doubt that the pursuit of aesthetic perfection both lifts up our quality of life and also furthers technological advancement and product innovation.
Both of these are the case in two recent real estate projects designed by talented young architect Lilian Tian.
Shang­-Xinyuanli and Shang-Lidou are the names of the two most recent successes of Tian, head of the WTL Design House. The hipster projects are now home to a vibrant community of gyms, stores and workspaces, attracting even the likes of global giant WeWork.
Take Shang-Xinyuanli as an example. It used to be a small motel left in a nearly deserted area. Tian and her team of 30 architects and designers came in a year and a half ago and rebuilt the six-story building with the most up-to-date technologies. Tian said the renovations increased the revenue per square meter of both Shang­-Xinyuanli and Shang-Lidou by 120% to 150%.
"The most beautiful experience working at Shang is all about the inspiring and fascinating story behind the founder Lilian and how she made her all-in-one concept come true," said Daniela Ling-Vannerus Cassmer, general manager of the Swedish Chamber of Commerce in China, also a largest owner of the projects' offices.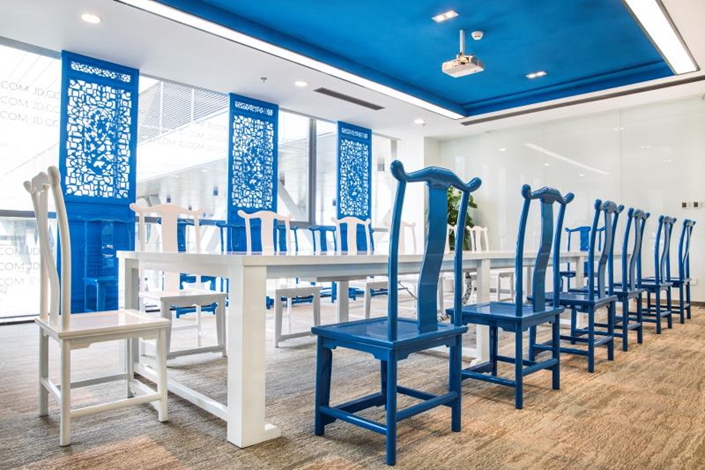 A meeting room in Tian's JD.com Beijing headquarters project. Photo: Courtesy of Lilian Tian
"I don't build things I already see in the world. I use those as lessons for the things in my heart yet to be built," Tian said.
At the age of 18, Tian enrolled in university to study English. Her father taught her to use this as a tool to shape her future and she said he always believed that she should "go out and put beauty into the world."
Tian would spend the next years of her life putting her own interpretation on those words.
She began to gravitate toward design and would spend her time soaking up as much knowledge about it as she could. Her mother would recall later when Tian was young that her parents would return home to find all of their furniture completely rearranged. This showed one of her key passions, aesthetic judgment and appreciation for environments — and more importantly, how humans both impact and are impacted by them.
Tian threw herself into travel and took lessons from around the world, observing designs in places like Milan, Paris and London. "Like in travel, there must be a starting point, and how it should proceed, up until a finishing point to end the journey," she said, describing her design process. When asked about her work process, she replied: "Unlike physical travel, you must get yourself used to travel in a metaphysical environment cutting across fragments of what you have seen, heard and smelled, and what you have learned, digested and understood."
A hotel room in Tian's Shang-Xinyuanli project. Photo: Courtesy of Lilian Tian
Like many other homegrown interior designers, Tian studied great talents such as architects Tadao Ando, Renzo Piano, Rem Koolhaas, Zaha Hadid, and interior designers Kelly Wearstler, Jean-Louis Deniot, and Philppe Starck. Despite the presence of many famous architectural works throughout China today, Lilian and others like her feel that there is still room for more homegrown architects and designers to have their voices heard.
As written by the 13th century Persian poet Jalāl ad-Dīn Muhammad Rūmī (1207-1273), one of Tian's favorites: "When you do things from your soul, you feel a river moving in you, a joy."
Amongst the giants in her field, the two that Tian hold in highest regard are Renzo Piano and Tadao Ando. In addition to Rumi, there are three other artists Tian feels are important to her professional evolution: Cao Xueqin, the author of Chinese classic "A Dream of Red Mansions," film director Woody Allen and Mozart. She said the one thing that these three artists have in common is their devotion and passion to detail in their work.
Over the years, Tian and her colleagues have completed more than 2 million square meters of interior design work commissioned by the likes of Microsoft Corp., Mercedes-Benz AG, WeWork, and Tesla Inc., as well as domestic brands like iSoftStone. One China CEO of a multinational corporation said of Tian's work: "We are much impressed by their undivided attention to details on the layout planning, materials selected, and the meticulous workmanship shown during the course of the project."
After Tian was asked to describe the impact she wants to create with such personal works, she explained: "When I was a young girl I would read poetry and it would allow me to imagine. When people see my work, I want them to feel as if they are reading poetry, I want my work to spark their own ability to imagine."
When asked about her ambition, Tian smiled and graciously sipped her coffee. After a pause, she said: "My grandmother, who I lived and grew up with, always told me that when our capability rises to a certain level, we need to share what we have with other people — first of course with family and relatives, then with people in the community and by and large to contribute to our society."
"My ambition now is that we are already doing good, but I want to explore and expand our network to cities such as Boston, Berlin, London and Tokyo. To explore opportunities and (collaboration) in new places is where I would want to begin."
Li Hong worked in the Ministry of Culture from 1983 to 1990. He was at public relations firm Ogilvy for about a decade, and then was managing director and president of FleishmanHillard for 15 years. He is now a freelance business and communication strategy consultant.
Contact editor Yang Ge (geyang@caixin.com)
Share this article
Open WeChat and scan the QR code

China Stories: Strict Rules at Home Push Chinese Metaverse Entrepreneurs, Investors Overseas