In Depth: Climate Experts Raise Alarm on China's Coal Power Plans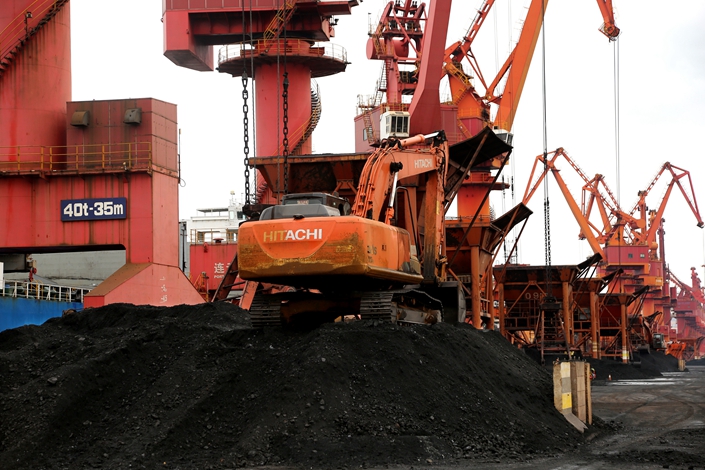 Thermal coal gets unloaded at Lianyungang, East China's Jiangsu province, on Nov. 17. Photo: VCG
Chinese environmental experts have warned that the country's planned expansion of coal power projects risks hindering global efforts to fight climate change even as the nation remains on track to meet its own international emissions pledges.
The assessment followed last week's publication of two reports savaging countries' continued reliance on fossil fuels and questioning China's credentials as a green leader.
On Thursday, environmental research network Global Energy Monitor (GEM) published a report showing that growth in China's coal-fired power capacity more than offsets reductions made elsewhere in the world.
The report also said that China's proposed coal power expansion through 2035 means that its coal power capacity alone could "far exceed" the total capacity allotted to the entire world under the Paris Agreement, which aims to keep global heating below 2 degrees Celsius above pre-industrial levels and shoot for a target of 1.5 C.
That conclusion echoes another report, published Wednesday and co-authored by U.N. Environment Program and other environmental organizations, which showed that the world's fossil fuel production plans mean that the amount of the polluting fuel produced by 2030 could be 50% greater than a figure consistent with the 2 C target and 120% greater than a 1.5 C pathway.
Under the terms of the Paris Agreement, China has committed to peaking carbon dioxide emissions by 2030, boosting the share of nonfossil fuels in its energy mix, and dramatically reducing the carbon intensity of its economy. Experts told Caixin that the country is currently on track to meet those targets, though other research suggests it would benefit from being more ambitious.
Li Shuo, a policy advisor at Greenpeace East Asia who was not involved in either study, told Caixin that last week's reports once again reiterated the need for China to rapidly wean itself off coal. "It is not an exaggeration to say coal is the source of all evil," Li said. "Unfortunately, after a few years of cleaner development, China is coming back to its old path of coal dependence."
China is the world's largest user of coal-derived electricity with a total capacity (link in Chinese) of 1,027 gigawatts (GW) as of July, according to the GEM report. Production dipped between 2013 and 2016 but has since edged back up, a trend experts say is exacerbated by pressure on the economy.
Its coal capacity is set to grow further over the coming years. According to the GEM report, China added 42.9 GW to its coal capacity between January 2018 and June 2019, and has a further 195.6 GW under active development. Over the same period, the rest of the world reduced total capacity by 8.1 GW, thanks largely to shuttering old coal plants and commissioning fewer new ones.
As part of its current five-year plan, China has capped total coal capacity at 1,100 GW through 2020. Climate experts say that if the world is to meet the 2 C target, China cannot increase its coal capacity beyond that point — indeed, the country should be sloughing off hundreds of gigawatts.
But researchers fear the government is eyeing even greater capacity rises. Powerful industry groups have estimated that 1,200 GW (link in Chinese) to 1,300 GW (link in Chinese) of coal capacity will be needed by 2030, while one has even suggested 1,400 GW (link in Chinese) by 2035.
The National Development and Reform Commission (NDRC), China's top economic planner, is currently considering the proposals as part of the next five-year plan, which will run from 2021 to 2025.
Li argues that the government needs to announce a total moratorium on new coal mines and plans to avoid pushing the climate toward catastrophe. "If the current expansion is further endorsed by the next five-year plan, it is literally game over for combating climate change," he told Caixin.
China's climate change office, which is under the Ministry of Ecology and Environment, declined to respond to emailed questions by Caixin. Two other ministries did not respond to faxed questions.
Other climate and energy experts contacted by Caixin said they agreed with GEM's conclusions and advocated a rapid reduction in China's coal use, but felt researchers overlooked certain aspects of the country's energy transition.
Parts of the report are "oversimplified," said Yuan Jiahai, a professor at North China Electric Power University. "First of all, China's coal targets for the next five-year plan are still under discussion. Those recommendations of 1,200 GW or 1,400 GW of installed capacity aren't official targets, they're just suggestions," he said.
"Second, you can't simply equate total gigawatts of coal capacity with coal-fired electricity generation and greenhouse gas emissions. A 2017 government strategy (link in Chinese) clearly requires the country to derive more than 50% of its power supply from renewable sources by 2030. So the next 10 years will very likely see the country either predominantly or completely satisfy new power demand from renewable sources," Yuan added.
Jiang Kejuan, head of an energy research center affiliated to the NDRC, said that the report failed to account for imminent technological tipping points with the potential to rapidly accelerate the transition away from coal.
"Even though progress has been made on carbon capture and storage, fossil fuels are unlikely to benefit from many of these breakthrough technologies," Jiang wrote in an email. "Instead, their competitors — photovoltaic, wind, and nuclear power — have seen astonishing development. Generally speaking, there is little hope for coal and other fossil fuels."
Yang Fuqiang, a senior climate and energy adviser at the Natural Resources Defense Council's China program, said the report ignored the forced elimination of some coal plants and the growing proportion of renewables in China's energy mix. "It might cause the misperception that China plans to expand coal consumption, when in fact the country is sticking to its coal reduction strategy to tackle air pollution and climate change," Yang said.
Additionally, Yang questioned the timing of the report, which comes as U.N. nations prepare for crucial climate talks in Madrid next month. "I think it's slightly problematic to publish it when climate negotiations are at a low ebb," Yang said. "China is comparatively active in seeing through its commitments under the Paris agreement, while the U.S. is preparing to withdraw from it …. Releasing this report now may have a negative impact on the Madrid negotiations and on global momentum to tackle climate change."
Contact reporter Matthew Walsh (matthewwalsh@caixin.com)
You've accessed an article available only to subscribers
VIEW OPTIONS
Share this article
Open WeChat and scan the QR code