Chinese Image Providers Shut Down for 'Illegal' Work With Foreign News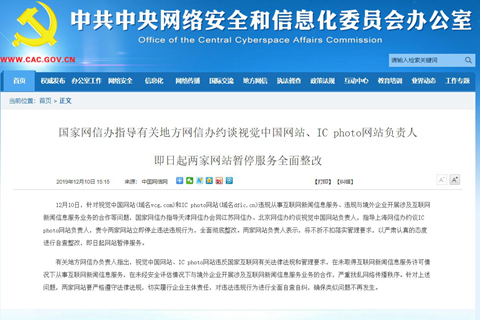 The website of the Cyberspace Administration of China
China's cyber authorities shut down two of the country's photo services, IC Photo and Visual China Group (VCG) — the world's third-largest image provider — in a rare case involving domestic companies censured for partnering with foreign news companies.
VCG and IC Photo provided online news services without a permit and "illegally" worked with foreign companies to conduct similar activities, the Cyberspace Administration of China (CAC), the country's internet regulator, said Tuesday on its public WeChat account (link in Chinese).
The statement referred to a 2017 law requiring all news outlets ranging from websites to public social media accounts to obtain government permits to disseminate information.
By partnering with foreign companies without first conducting "security evaluations," the companies "severely disrupted the social order of online information dissemination," the CAC said.
The CAC said regulators reprimanded the companies' legal representatives, who promised to temporarily cease site operations. Both websites displayed messages saying the companies were conducting internal investigations and rectification (links in Chinese).
In recent months China has been intensifying crackdowns on media companies. Last month, the CAC shut down the bilingual news website Business Times for conducting "unauthorized" reporting and slammed ByteDance's aggregator app Jinri Toutiao for displaying search results that "slandered" a 20th century revolutionary and military figure.
Earlier this year, VCG was under fire for trying to claim copyright to the world's first photo of a black hole. In April, Chinese internet users discovered the company appeared to also claim rights to images of China's national flag, prompting a 300,000 yuan ($42,618) fine from regulators and a similar shutdown and internal investigation.
The photo provider, China's largest, is the sole distributor of Getty Images' library in the country. The company owns the popular photo sharing website 500px, and an affiliate acquired the image licensing business of Bill Gates's Corbis Images.
Contact reporter Dave Yin (davidyin@caixin.com)
Related: Internet Regulators Shut Down News Site for Defying Desist Order