Apr 21, 2020 05:05 PM
WORLD
South Korea Rejects Reports Kim Jong Un Is in 'Grave Danger' After Surgery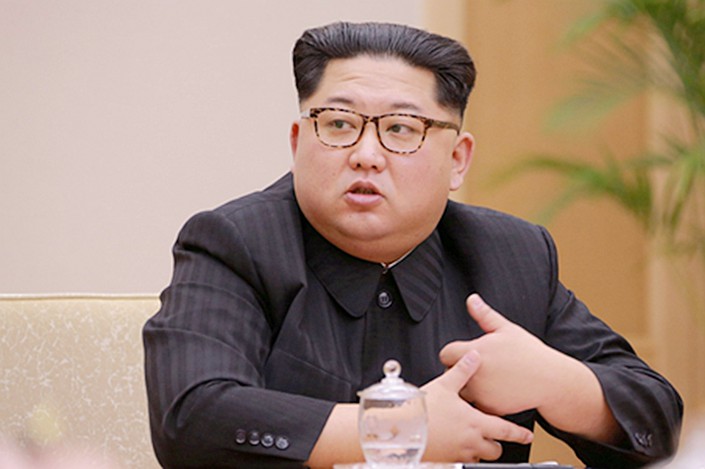 North Korean leader Kim Jong Un.
South Korean officials have rejected media reports that North Korean leader Kim Jong Un is in "grave danger" after a surgery.
"We have no information to confirm regarding rumors about Chairman Kim Jong Un's health issue that have been reported by some media outlets," Kang Min-seok, a spokesperson for the South Korean president's office, said in a statement on Tuesday.
"Also, no unusual developments have been detected inside North Korea," the spokesman was quoted by the Associated Press as saying.
Another official told South Korea's government-funded Yonhap News Agency that Seoul has seen "no unusual signs" with regard to the North Korean leader's health.
The unnamed official said on condition of anonymity that news of Kim being in critical condition "is not a fact."
South Korea's comments came after CNN, citing an unnamed U.S. official with "direct knowledge," reported that the 36-year-old head of state is "in grave danger after a surgery."
Another U.S. official told CNN that while concerns about Kim's health are credible, the severity of the situation is hard to assess.
Speculation about Kim's wellbeing began after he apparently skipped an annual visit to the Kumsusan Palace of the Sun last Wednesday on the 108th birthday of his late grandfather and founder of the Democratic People's Republic of Korea Kim Il Sung, according to Yonhap. The embalmed bodies of Kim Il Sung, and his son and successor Kim Jong Il, lie within the Kumsusan Palace.
Kim was last seen on April 11 presiding over a politburo meeting of the ruling Workers' Party according to North Korean state media reports, calling for "strict national countermeasures to thoroughly check the infiltration of the (Covid-19) virus," the news agency said.
Two South Korean government sources also told Reuters that Kim was not gravely ill and reports to the contrary are untrue.
According to Seoul-based website Daily NK, Kim is reportedly recovering in a villa in Hyangsan county after undergoing a cardiovascular procedure at a hospital on April 12.
Kim underwent the procedure to address health problems due to "excessive smoking, obesity, and overwork," according to the news site.
The country has not yet disclosed any information about its leader's health or the reported surgery. Kim took over as the country's leader after his father Kim Jong Il died in late 2011.
Contact reporter Lu Zhenhua (zhenhualu@caixin.com) and editor Joshua Dummer (joshuadummer@caixin.com)
You've accessed an article available only to subscribers
VIEW OPTIONS
Share this article
Open WeChat and scan the QR code