Exclusive: Luckin Prepares for the Worst in Face of Delisting Risk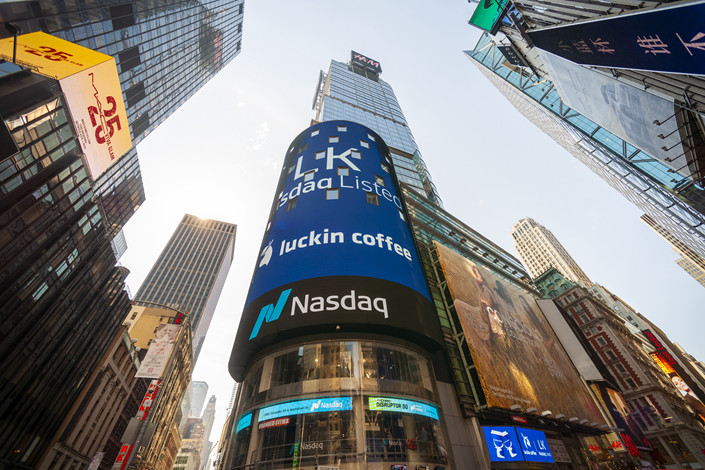 Luckin Coffee debuted on Nasdaq in May 2019 and raised $651 million in its initial public offering.
China's upstart Luckin Coffee Inc. will be delisted from the Nasdaq Stock Exchange following the company's revelation of a $310 million financial reporting fraud, Nasdaq told the company. Luckin said it will request a hearing while preparing for the worst.
Starbucks challenger Luckin said in a regulatory filing Tuesday that it received written notice May 15 from Nasdaq's listing qualification department that it would be delisted due to "public interest concerns" raised by the fraud disclosed in April in addition to Luckin's "past failure to publicly disclose material information."
Luckin said it plans to request a hearing before a Nasdaq panel. Its shares will remain listed until the hearing panel makes a decision. It usually takes 30 to 45 days for hearings to be held after they are requested.
Luckin is scheduled to resume trading Wednesday on Nasdaq, the exchange said late Tuesday. The shares have been suspended from trading since April 7.
The fast-growing coffee chain debuted on Nasdaq in May 2019 and raised $651 million in its initial public offering. The company attracted investors' attention with its high-tech business plan based on minimalist coffee shops that accept orders only by smartphone app and with the speed of its expansion. Luckin quickly blew past global coffee giant Starbucks in China to become the nation's largest coffee chain.
Luckin's shares surged to more than $50 apiece in mid-January, giving it a market capitalization of about $12 billion. But the stock took a nosedive after the company disclosed April 2 that nearly half the revenue it reported in the last three quarters of 2019, or 2.2 billion yuan ($310 million), was fake. Luckin was last traded at $4.39.
Luckin blamed Chief Operating Officer Liu Jian for the misconduct and said it initiated an investigation of Liu and several other employees. No result from the probe has yet been released.
On May 12, Luckin said it removed Liu and CEO Qian Zhiya, who also goes by Jenny Qian. The pair also resigned from the company's board.
Luckin named Guo Jinyi, a senior vice president, as the company's acting CEO and appointed two other vice presidents to join its board. Six other employees of Luckin have also been suspended or terminated for their parts in the scandal, Luckin said.
Luckin founder and Chairman Lu Zhengyao, also known as Charles Lu, also appeared to have left the company's nominating and corporate governance committee. He was listed as a member of the committee in a January filing, but his name did not appear among members in the latest announcement.
A person close to the company's board said removal of Qian and Liu was decided by the board based on advice from a special committee conducting an internal investigation. All board members approved the decision, the person said.
Another source close to Luckin said investigators found evidence of Qian's involvement in the alleged fraud, but it is unclear whether Lu was aware of the misdeeds.
Both Qian and Liu held previous positions in Lu's car services empire, centered on Hong Kong-listed rental car specialist Car Inc. and limousine services specialist Ucar.
The formal removal of Qian and Liu may be designed to assist the company's own internal investigation, a person from one of the company's institutional investors told Caixin.
"They've been investigating for a month without finding anything, which could be the result of these people not wanting to have things discovered," the investor said.
One person with knowledge said the investigation is still underway. The recent management overhaul was made to improve corporate governance and ensure the company's stable operation, the person said.
Luckin faces mounting pressure from Nasdaq and is preparing for the worst outcomes including a delisting, said a source close to the company. A delisting would mean Luckin would have to find alternative funding and put its expansion plan on hold, the person said.
Founded in 2017, the high-flying startup accelerated its expansion every time it received more money from investors. Luckin added more than 2,200 stores just this year, according to data from Thinknum Alternative Data.
The company's latest update Jan. 8 showed that it had 4,507 shops across China. Since late last year, the company has added nearly 100 new outlets every week. Luckin has targeted opening 10,000 shops by 2021.
More than 90% of Luckin's shops have resumed business after months-long closures during the pandemic. Business has recovered to the level of December before the outbreak, a company source said.
In reply to a Caixin inquiry, Luckin said March 15 that it is "optimizing outlet operations due to the pandemic and other impacts." Luckin will continue opening new shops while closing those with poor performance, the company said. News site Jiemian.com reported that Luckin plans to close 80 shops in Beijing, nearly 20% of the total in the capital city.
The scandal has rattled the company and triggered the departure of some employees, according to the source. Luckin has made efforts to stabilize the team including salary raises, the source said.
The scandal placed Luckin under the scrutiny of regulators in China and the U.S. Luckin said in May that it has been cooperating with and responding to inquiries from regulatory agencies in the two countries.
The company also faces risks of massive class action lawsuits from investors. Sources close to Luckin's board said the company has at least 9 billion yuan of cash in its accounts that was put under protection by the special committee after the scandal was exposed. The money will be used for compensation if lawsuits are triggered, a source said. But a person close to the company said responsible executives including Qian should shoulder the compensation first if the money is demanded.
The fallout from the Luckin scandal has spread beyond the company and its affiliates to a broader range of U.S.-listed Chinese enterprises. Several companies including Nasdaq-traded video streaming service iQiyi and GSX Techedu Inc. have been targeted by short sellers since the Luckin incident.
The Nasdaq Exchange is planning new rules that would make initial public offerings more difficult, Bloomberg reported Tuesday citing Nasdaq filings with the Securities and Exchange Commission. The proposed regulations, including minimum fundraising thresholds and stricter requirements for auditors, are seen as an effort to respond to recent accounting scandals and would affect many China companies considering U.S. listings.
Yang Ge contributed to the story
Contact reporter Han Wei (weihan@caixin.com) and editor Bob Simison (bobsimison@caixin.com).
You've accessed an article available only to subscribers
VIEW OPTIONS
Share this article
Open WeChat and scan the QR code