Sichuan Trust Mobbed by Investors Demanding Their Money Back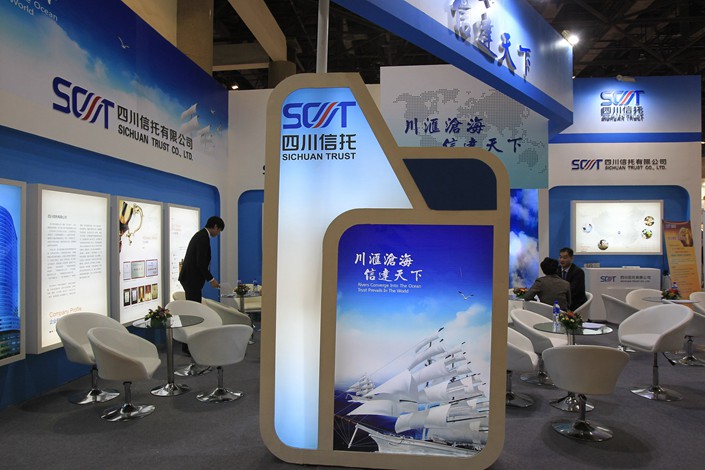 Hundreds of investors descended on the headquarters of Sichuan Trust Co. Ltd. in southwestern China on Monday to demand their money back after the company failed to repay principal and interest on investment products that matured last month, Caixin has learned.
The incident is just the latest blow to China's $3.1 trillion trust industry, which Chinese regulators have recently sought to bring under closer oversight.
Last year, regulators punished nearly one-third of the country's 68 trust companies for violations including conducting illicit off-balance-sheet lending and illegal real estate investments, levying 22.5 million yuan ($3.2 million) in fines.
The investors who showed up at Sichuan Trust's office building in Chengdu, Sichuan province, had put money into a type of investment product called a "trust of trust" (TOT), Caixin has learned.
In China, trust companies use the proceeds from selling trust products to invest in a wide variety of assets, including bonds, stocks and loans to private companies and local government financing vehicles.
A TOT is one step removed, with the proceeds from selling TOT products getting invested in other trust products. This structure creates an extra layer between TOT investors and the ultimate recipients of their funds.
TOT products have become a means of "hiding dirt" because they can be used to secure funding for trust products that have problems with their underlying assets, said one former employee of Sichuan Trust. In general, the contracts that investors sign do not detail the specific underlying assets of the trust products that a TOT product invests in.
Each issuance of a TOT product can draw about 50 individual investors who each pony up as much as 3 million yuan, the former employee said.
Sichuan Trust is currently running more than 10 series of TOT products, Caixin has learned. The outstanding value of these products is somewhere between 20 billion yuan and 30 billion yuan, Caixin learned from multiple sources.
"About 10 billion yuan to 20 billion yuan worth of the TOT products are at risk," a source with knowledge of the matter said.
On Monday, investors met with several of the privately owned firm's top brass, including Chairman Mou Yue and President Liu Jingfeng, Caixin has learned.
Liu said the company will do whatever it takes to solve the problem within one year, according to a video of the meeting seen by Caixin. The investors, however, did not seem to buy it and requested the firm immediately repay them.
Mou said that Sichuan Trust will look into a variety of ways to repay investors, such as selling its office building or liquidating its subsidiaries' shares, according to the video. He also said the company was seeking to raise at least 1.5 billion yuan in capital by expanding shares to existing shareholders or introducing strategic investors.
Sichuan Trust's problems go back to at least late 2019 when local regulators began "closely monitoring" the company, Caixin has learned. Since then, the local banking watchdog has sporadically sent staff to work onsite.
In October and November 2019, a team of inspectors from China Banking and Insurance Regulatory Commission visited Sichuan Trust and provided some rectification suggestions, the company said in its 2019 annual report (link in Chinese), without elaborating.
In May, the company denied rumors that its capital pool business had been frozen, and it would be taken over by regulators.
In 2019, Sichuan Trust's net profit shrank nearly 30% to 521.4 million yuan, according to the annual report.
Contact reporter Timmy Shen (hongmingshen@caixin.com) and editor Michael Bellart (michaelbellart@caixin.com)
Caixin Global has launched Caixin CEIC Mobile, the mobile-only version of its world-class macroeconomic data platform.
If you're using the Caixin app, please click here. If you haven't downloaded the app, please click here.
You've accessed an article available only to subscribers
VIEW OPTIONS
Share this article
Open WeChat and scan the QR code

Caixin-Sinica Business Brief: China Resumes Issuing Visas to Foreigners