Trending in China: Beijing's Covid-19 Testing – A Long And Winding Road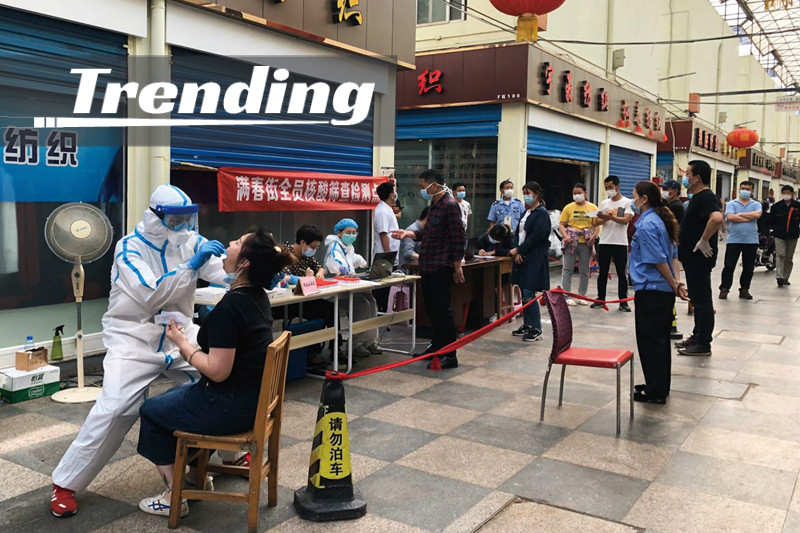 What's trending?
From June 11 to June 18, Beijing reported 158 cases of Covid-19. In response to the outbreak, the city has launched a mass testing campaign. People who are deemed to be high risk must receive mandatory tests at designated sites, usually converted parks and sports fields. Others can make reservations for voluntary tests at clinics across the city. Although testing efficiency is high, by international standards, the sheer number of tests needed has put a strain on the city's testing system.
What's the story?
Starting from June 14, Beijing committed itself to carrying out as many tests as possible. Several kinds of people are required to be tested at sites run by the government, including those who work in the healthcare and service industries, as well as those with direct links to Xinfadi Market, where the latest outbreak is believed to have begun. Other people who want to be tested can choose among 98 testing clinics and make reservations. Demand for voluntary tests is particularly high among people who want to leave Beijing for work or personal reasons as they need to provide proof of a negative test result up to 7 days in advance of being allowed to travel.
Beijing currently has the capacity to collect 400,000 samples and complete 90,000 tests per day. Due to the gap between sample collection and testing capacities, many people are experiencing delays in receiving their test results. With the surge in testing demand, numerous testing clinics have filled up all bookings for voluntary tests until the end of June, or in extreme cases, until September. Photos of testing sites show crowds of people lined up to get tested. The vast majority of them are wearing masks, but the size of the crowds sometimes makes strict social distancing difficult. Meanwhile, medical personnel must wear full personal protective equipment for hours at a time despite high temperatures.
What are people saying online?
Many people have expressed their approval of Beijing's swift and widescale action, while acknowledging the mounting difficulties in receiving voluntary tests. One user wrote that she is still waiting for her test results, five days after being tested on June 14.
Others thank medical personnel for their dedication and hard work. They hope that the government can furnish the testing sites with better working environments because of the hot weather.
Contact editor Marcus Ryder (marcusryder@caixin.com)
Related: In Depth: Controlling Covid-19 May Become Ongoing Game of Whack-a-Mole