Countries Can't Solely Rely on Help for Debt Relief, Former PBOC Chief Says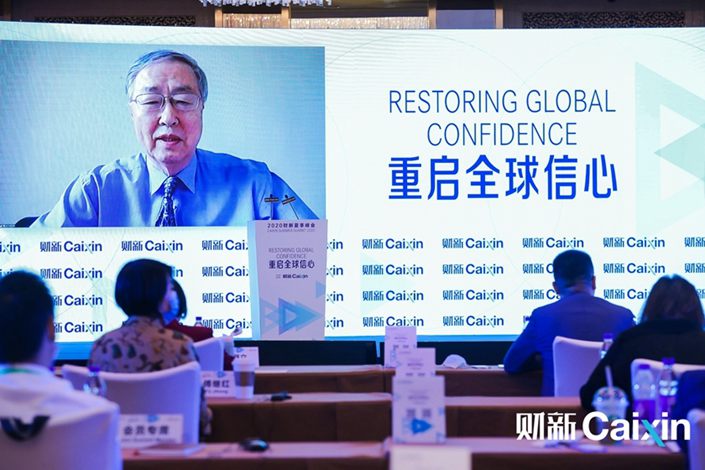 Former governor of China's central bank Zhou Xiaochuan. Photo: Caixin
Former central bank chief Zhou Xiaochuan said Monday that indebted countries have to find their own solutions for their debt problems and can't rely solely on assistance from the G-20.
The G-20's debt relief initiative can "alleviate the difficulties that have been caused and aggravated by the coronavirus pandemic, but we also need to recognize that there are a number of reasons for global debt problems, many of which have nothing to do with the pandemic," Zhou said at the Caixin Summit in Beijing.
"The epidemic, to some degree, has aggravated existing problems," Zhou said. "(Countries) have to find their own solutions and treat their problems with the right medicine."
The former governor of the People's Bank of China's statement followed news that China had suspended debt repayments from 77 developing countries and regions as part of the G-20 initiative to help them weather their financial problems amid the pandemic.
The initiative, also known as the Debt Service Suspension Initiative, was created at an April G-20 summit and freezes the debt payments of some of the world's poorest countries until the end of the year.
Zhou also said that international organizations should play a greater role in helping struggling countries increase productivity.
In May, President Xi Jinping pledged $2 billion in aid over the next two years to countries battling the pandemic, particularly developing nations.
Ingrid Luan contributed to this report.
Contact reporter Timmy Shen (hongmingshen@caixin.com) and editor Michael Bellart (michaelbellart@caixin.com)
Caixin Global has launched Caixin CEIC Mobile, the mobile-only version of its world-class macroeconomic data platform.
If you're using the Caixin app, please click here. If you haven't downloaded the app, please click here.

Register to read this article for free.
Register
Share this article
Open WeChat and scan the QR code