In Depth: A Remote Region's Fragile Victory Over Poverty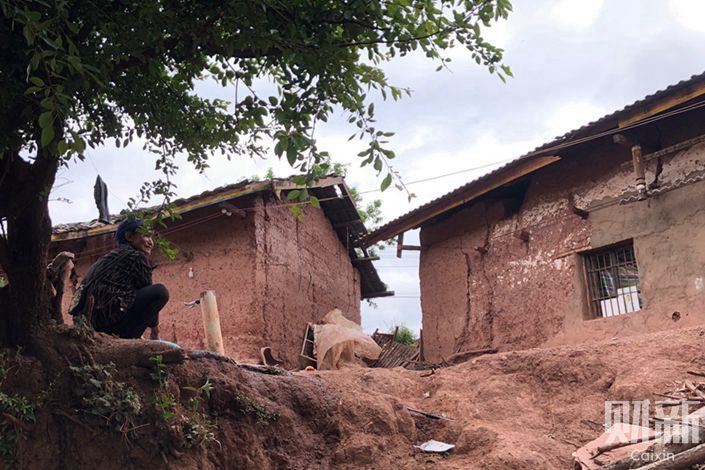 In Liangshan's Sanhe village, where President Xi Jinping visited in 2018, almost every family lives in rammed-earth houses. Photo: Wang Su/Caixin
High in the mountainous southern extremity of Sichuan province, a group of young adults gathered together to chat and play cards outside at noon on a weekday. The smartphone-wielding, Pepsi-drinking youths were accompanied by a chicken and a cow.
Dramatic changes have occurred in the Liangshan Yi autonomous prefecture in recent years, as Beijing's ambitious campaign to end absolute poverty by the end of this year has led to greater urbanization and generous subsidies being handed out to those deemed deserving. But some have asked what will happen when the campaign ends and warned that the economic transformation has not been built on solid foundations.
Liangshan is "one of the main battlegrounds in China's fight against poverty," according to provincial Community Party chief Peng Qinghua.
President Xi Jinping has made the anti-poverty campaign one of his signature policies since Beijing pledged to end poverty by 2020 in the 13th Five Year Plan, issued in 2016. The national poverty line is set at an annual income of 2,300 yuan a year at 2010 prices, which is about 4,200 yuan ($604) a year now. However different regions give different figures, and in practice the government also takes into account price variations in different areas, such as those for food, housing and health care.
Liangshan has seven impoverished counties — where the average income is below the poverty line — more than any other prefecture-level region in China. The remote, rugged region therefore poses a challenge to whether Beijing can truly meet its self-imposed deadline to abolish absolute poverty this year.
Government largesse
"Countdown: win the decisive battle to end poverty," blares an electronic screen outside a local government office in Shachahe township, which has seen an influx of cash and government workers since it hosted President Xi Jinping as the first stop of his tour of impoverished areas in 2018.
Most of the families classed as impoverished in the township's Sanhe village have been moved from the windowless cabins they shared with their livestock to new apartments around Shachahe, each costing just 10,000 yuan apiece. Around 42 billion yuan has been earmarked for spending on road and waterway construction in Liangshan from 2019 to 2020. Of the prefecture's roughly 5 million residents, just 178,000 are under the poverty line.
However a party official assigned to alleviate poverty in Liangshan said that most of the work being carried out is "for the short term" as the government's "priority is to meet the year-end poverty-free goals." Developing a sustainable and thriving local economy will take much longer, he said.
He worries about what will happen after thousands of poverty-alleviation officials like him leave Liangshan when the anti-poverty campaign is declared a success. Some 775,000 workers from governments, hospitals and universities have been dispatched to villages across the country. But fears are mounting that the villagers have become too dependent on cadres.
The Chinese government should "put a high value" on preventing poverty from returning and help cultivate the local workforce by training, to build a "taskforce that never leaves," said Liang Jing, a senior member of the Chinese People's Political Consultative Conference in a proposal (link in Chinese) to the top political consultative body in late May.
When one former village resident who had been relocated to a new apartment was asked about his plans for the future, he was blunt. "I don't know," he said. "The village used to be very busy at this time of year, but now we play cards every day."
National mobilization
Even amid the historic economic downtown in the wake of the pandemic, which saw the country's GDP contract 6.2% in the first quarter, China has continued the anti-poverty campaign. Premier Li Keqiang said in his annual government work report that "ensuring victory in the battle against poverty" would remain a priority.
To fulfill this task, besides the cadres dispatched to villages, private enterprises across the country have also been given duties.
Sanhe village resident Jihao Yeqiu's family, which was personally visited by the president, pushed their income over the poverty line by selling potatoes and livestock to companies based over 1,100 kilometers away in Foshan, South China's Guangdong province. At the central government's request, the authorities in the manufacturing hub asked companies to buy products from Liangshan at a few percentage points above market rates, for which the local government will provide indirect financial support out of a pot of 760 million yuan it has earmarked for supporting the prefecture.
In Foshan, South China's Guangdong province, workers from the Yi ethnic minority visit an assembly line, where they get to choose the position they like. Photo: Liang Yingfei/Caixin
However under this subsidized model, industry in Liangshan hasn't developed sustainably, which basically equals long-term failure, according to Luo Xiangyu, president of a local farming cooperative. He hopes the government will invest more in basic industries and infrastructure.
Companies in Foshan have also been asked to hire workers from Liangshan, but about half of the people taken on have since returned to their rural homes, village officials said. Some put that down to the hot, humid weather in subtropical Foshan. Others pointed toward the hard work and low wages on offer. Another factor is that most of the villagers are of Yi ethnicity, with their own language and culture, and can feel out of place in Han-dominated society.
E-commerce giant Alibaba Group Holding Ltd. also announced a plan to help villagers sell produce on its Taobao marketplace. But Liangshan's harsh climate means yields are far from plentiful and "it has almost nothing to sell," said Liangshan commerce official Bai Yu.
Human capital
Xiao Lixin, an economics professor at Liangshan's Xichang College, has been saying for years that the biggest problem facing Liangshan is its human resources. He argues that a lack of investment in Liangshan's people and talent-cultivation mechanisms has hamstrung the local poverty-alleviation campaign.
Nearly 19% of the local population could not read or write Chinese at the time of the sixth national census in 2010. The region has also experienced a serious heroin problem, with a local police official telling the media in 2015 that the real number of addicts in Liangshan was far higher than the official figure of 50,000.
Many pin their hopes on the next generation, who since 2016 have begun to enjoy free kindergarten and high school and are better adapted to the modern workforce than their forbearers. In a purpose-built compound for impoverished villagers, a man in his 40s said he moved to the town only so his daughter could get an education.
As cars drove by, the Yi ethnic children around would stand up, salute and laugh, as they were taught to do by their kindergarten teachers. When asked if she could understand Mandarin, one of them nodded in earnest. Jihao Yeqiu's child's room in their new apartment was covered with posters of celebrities.
But investment in education is still insufficient, a poverty-relief official said. While students don't need to pay tuition in many parts of the prefecture, some students go hungry on a meager food subsidy of 4 yuan per day. There is also a shortage of textbooks designed for language learners, and low teacher pay makes it hard to retain talent.
Li Xiaoyun, a senior advisor to China's poverty alleviation leading office and the World Bank, urged to invest more in education as a safety net to prevent poverty. The country has earmarked hundreds of billions to "poverty relief," but long ignored the mechanism of "poverty prevention." "If we don't solve this problem, poverty will still emerge despite our continuous support," Li said.
Left behind
On the walls of the now-quiet Sanhe village, the homes still occupied have pictures of President Xi hanging on the wall and "thanksgiving bags" stuffed with notebooks documenting the help that locals have received. When the last villagers registered as impoverished leave, a museum will be built to commemorate China's victory in its war on poverty. There are plans for the village to become a destination for "red tourism," where people can bask in the achievements of the Communist Party.
But the victory will likely not be celebrated so heartily by the families who just missed out on the largesse delivered to those classed as impoverished. Some say those whose income or assets placed them slightly above the threshold have been left behind.
When Caixin reporters visited a "non-poor" home in Riha township, which sits in the same county as Shachahe, they found a small girl wearing a mud-caked sweater. The home she shared with her family and a few roosters had no indoor toilet or windows and its cracked walls were covered with old newspapers.
"Sometimes, the difference between a household that was registered as poor and one that was not registered as poor was a single sheep or pig," said Peng Qinghua, Sichuan's party chief. "As soon as they were labeled, however, the difference between them became night and day because of the different levels of policy support they were afforded."
Contact editor Joshua Dummer (joshuadummer@caixin.com)
You've accessed an article available only to subscribers
VIEW OPTIONS
Share this article
Open WeChat and scan the QR code