Commercial Paper Exchange Issues $163 Million of Standardized Notes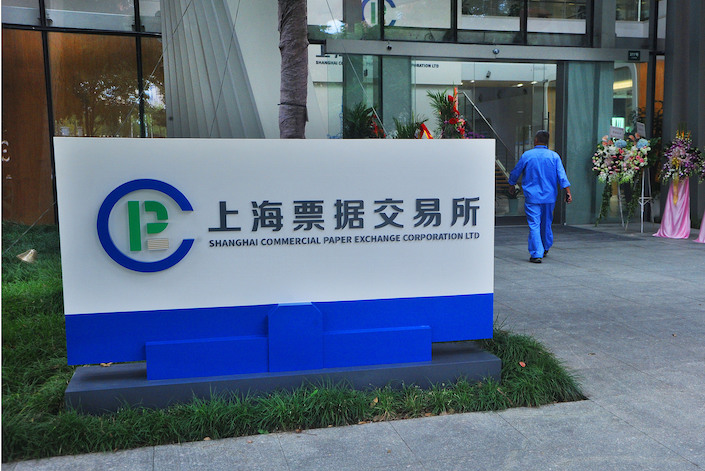 The Shanghai Commercial Paper Exchange
The Shanghai Commercial Paper Exchange Corp. Ltd. (SCPE) delivered the first batch of standardized notes under China's newly issued rules governing a new business designed to increase liquidity support for financial institutions and expand credit to small businesses.
The SCPE, which operates a national bill trading platform, issued 14 standardized notes with a total value of 1.14 billion yuan ($163 million) Tuesday, the same day that the central bank guideline on standardized notes took effect.
Standardized notes were created to expand financing channels for small and midsize enterprises and supplement financial institutions' business, according to the central bank regulation, which outlined requirements for the new products and for trading activities. The new regulation was listed as one of 11 major financial market reforms announced in May by the State Council.
Standardized notes are tradable beneficiary certificates backed by a pool of commercial paper or bankers' acceptances — funding instruments to facilitate commercial transactions — with similar maturities, which are restructured to have the same value per note. Many industry players said the standardized notes can be seen as asset-backed securities.
The newly issued products include 13 notes backed by undiscounted commercial paper from Datong Coal Mining Group, Gree Electric Appliances Inc., CRRC Corp., TCL Technology and Hengtong Group, among others. Another note is backed by bank notes accepted by Bank of Jiangsu.
Several industry sources said the launch of standardized notes will introduce more investors to trading in commercial paper and invigorate the market.
Commercial paper is a form of promise of future payment and a type of unsecured, short-term debt issued by companies. Compared with bankers' acceptances, which are issued by banks as a time draft to be drawn on a deposit, commercial paper has less liquidity in China, making it preferable as an underlying asset for standardized notes, a bank manager said.
The market has been discussing the standardization of commercial paper or bankers' acceptances since the establishment of the Shanghai commercial paper exchange in 2016. The discussion heated up after regulators introduced new asset management rules in 2018.
Since last year, the SCPE has been testing standardized notes to boost liquidity support to the economy. The first 500 million yuan of such notes were issued in August backed by discounted commercial paper accepted by China's Bank of Jinzhou. Four batches of notes with a total amount of 1.4 billion yuan were issued in pilot tests as of June.
According to Zhou Haibin, president of Shanghai Purang Financial Services Co. Ltd., the first-day subscription of the standardized notes indicated lower financing costs for companies. For instance, the yield for notes backed by Hengtong Group's commercial paper was between 4.3785% and 4.4823%, lower than other financing tools, Zhou said.
Ten commercial banks and securities companies became depository and underwriting institutions of the newly issued notes, including Industrial Bank, Shanghai Pudong Development Bank, China Merchants Bank, Citic Bank Guotai Junan Securities and Haitong Securities.
Timmy Shen contributed to this story.
Contact reporter Han Wei (weihan@caixin.com) and editor Bob Simison (bobsimison@caixin.com).
Caixin Global has launched Caixin CEIC Mobile, the mobile-only version of its world-class macroeconomic data platform.
If you're using the Caixin app, please click here. If you haven't downloaded the app, please click here.
You've accessed an article available only to subscribers
VIEW OPTIONS
Share this article
Open WeChat and scan the QR code