Cover Story: Why China Is Expanding Access to Duty-Free Shopping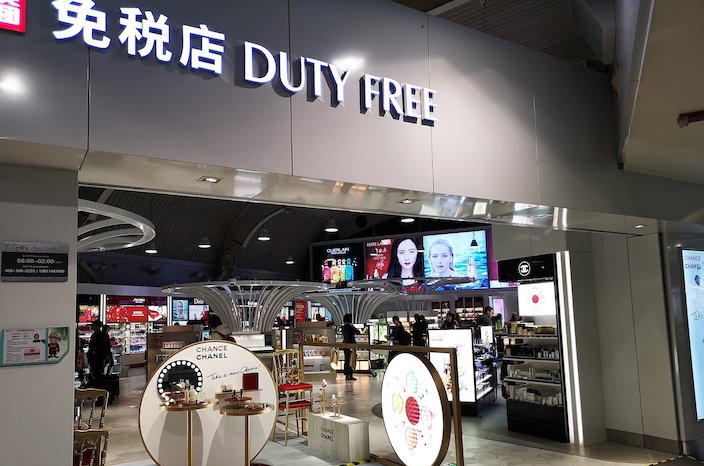 A duty free shop in Beijing Capital International Airport
While the Covid-19 pandemic disrupted global travels and shuttered shops, it hasn't changed many Chinese shoppers' strong appetite for luxury imported products. Now policymakers plan to tap into this huge unmet demand to help bolster the virus-hit economy's recovery.
As the domestic Covid-19 outbreak wanes, daily sales since July 1 at a duty-free shop in Sanya, the popular coastal resort city in the southern province of Hainan, surged above 100 million yuan ($14.6 million) as travelers flocked to the island for its unique tropical scenery and greater variety of duty-free products.
Sanya's Haitang Bay Duty Free Shop, operated by state-owned China Duty Free Group Co. Ltd., served 740,000 customers between July 1 and Aug. 18, 70% more than in the same period a year ago. They purchased 4.58 million items from fragrances to cosmetics to luxury watches and bags, 150% more than a year ago. The store set a global industry record with 5 billion yuan of sales in 49 days.
Fueling the shopping spree at the Sanya store are recent policy changes to increase duty-free shopping in Hainan, part of a broader strategy to develop the province into a world-class free-trade port.
The moves to invigorate Hainan's duty-free shopping followed several central government policy documents issued this year to encourage domestic consumption and drive recovery of the world's second-largest economy behind that of the U.S. The central government also made unprecedented moves to issue three new licenses this year allowing companies to operate duty-free shops. Previously, only seven licenses were issued over four decades.
"The industry expects China's duty-free retail market to expand to 200 billion yuan in three years," said an executive at Shenzhen State-Owned Duty Free Commodity Group, one of the country's duty-free retailers. That would be four times the current 50 billion yuan. China's retail sector totals 12.5 trillion yuan in a 95.8 trillion yuan economy.
On July 1 in Hainan, a set of new policies took effect allowing visitors to purchase more duty-free products with fewer limits. Under the new rules, the quota for individuals on duty-free purchases in Hainan was tripled to 100,000 yuan a year while the duty-free product catalogue increased from 38 to 45, adding new options from mobile phones and tablets to wine. Previous limits on the number of items that could be purchased per customer were increased or eliminated. More licensed duty-free retailers are expected to open shops in Hainan under the new rules.
The revamp in Hainan's duty-free retail sector is part of China's strategy of transforming the island province into a regional commercial hub that could compete with Hong Kong, Paris and London. It also reflects Beijing's efforts to bolster domestic consumption to counter economic challenges from pandemic fallout and escalating trading tensions with the United States.
With travel restrictions amid the pandemic, Chinese authorities hope to channel residents' desire to shop foreign products into the domestic market and are easing restrictions on the duty-free retail market as the easiest way to accomplish the goal, analysts said.
Although China has cut import tariffs on a wide range of products over the past few years, taxes and nontax barriers still cause large price gaps between many high-end consumer goods sold in China and abroad, encouraging Chinese consumers to shop overseas. Most of them turn to duty-free shops at airports, land border crossings or in cities during trips aboard. According to the Ministry of Commerce, Chinese residents spent more than 180 billion yuan on duty-free products overseas in 2018, about 4.6 times the volume of duty-free sales inside China.
Currently, China taxes imported daily consumer goods such as garments and beauty products by an average of 6.9% and high-end cosmetics by 15%. But tariffs for many luxury products, perfumes and watches exceed 30%. A beauty product with a price tag of 500 yuan in a department store could be purchased for less than 370 yuan at a duty-free shop.
Recent rule changes in the domestic duty-free retail sector will change consumers' behavior and may bring profound changes to the country's retail industry, said a China marketing executive of a global luxury brand.
While the new policies are designed to offer wider access to duty-free products and revitalize the market with more competition, they will also bring challenges to traditional retailers as well as e-commerce giants that in recent years profited from helping domestic online buyers shop overseas. A more vibrant duty-free market will also test brands' ability to manage the balance among different sales channels, industry experts said.
Affected by the new policies in Hainan, some taxed cosmetic products have suffered 20% to 30% sales declines in China, a Beijing shopping mall manager said.
The rise of duty-free markets will shake up the pricing system of many brands, the luxury brand executive said. She predicted that rising competition will gradually narrow the price difference between duty-free and taxed products.
Policy support to the duty-free sector is just one step in China's efforts to reduce tariffs, a duty-free company executive said. Licenses for duty-free business will become less and less significant as price gaps close, he said.
New incentives
Recent policies targeting duty-free retail are designed to lure Chinese consumers back to the domestic market, analysts said. China's domestic retail sector has slowed in recent years with cooling demand for housing and cars.
"The market needs new incentives," said an industry expert "Duty-free and cross-border shopping will be the new targets."
To avoid high import taxes, Chinese consumers in recent years have flooded abroad for shopping, especially for luxury products. According to Citic Securities, travelers from the Chinese mainland spent $277.3 billion overseas in 2018, including $110 billion for shopping. About 37% of the purchases were duty-free.
Since the country's first duty-free retailer appeared in the 1980s, China's duty-free retail market has remained a closely held sector shared by seven state-owned companies. The dominant player, China Duty Free Group Co. Ltd., controls nearly 90% of the market. Smaller rivals like Shenzhen State-Owned Duty Free Commodity Group and Sunrise Duty Free Co. Ltd. are restricted by business locations or product selections.
There are currently 18 duty-free shops in Chinese cities to serve foreign visitors or domestic residents returning from abroad. Duty-free shops at airports are also the main venues for Chinese residents to access nontaxed products. Hainan since 2011 allowed visitors to buy a certain amount of duty-free products under special policies for the free-trade zone, making the island a testing ground for offshore duty-free retail.
For those who can't travel frequently, cross-border shopping services offered by e-commerce sites and the unofficial shopping services provided by Daigou, small-time business operators who shop overseas then resell the products online, became the main source of cheaper products.
Chinese shoppers have become a major driving force in sales for leading global brands, even as the Covid-19 pandemic slashed demand significantly. Recovering purchases from China lifted the performance of luxury goods companies Kering and LVMH in the second quarter while revenue from most other markets declined. Bain & Co. forecast that Chinese consumers will account for half of global luxury sales by 2025.
People queue up outside a duty free story in Sanya in July
Wider access
Duty-free retail business is lucrative for Chinese companies. According to the China Commerce Association for General Merchandise the average gross margin of China's retail industry was 18.1% in 2019, with 11% of retailers booking losses. By contrast, China Duty Free Group maintained gross margins between 45% and 53% over the past three years.
"The gross margin of duty-free retail is more than double that of normal retail's 18% to 20%," said Yang Qingsong, secretary-general of the merchandisers' association.
Chinese authorities have long been hesitant to expand the number of duty-free retailers despite companies' growing enthusiasm. In June, Beijing-based shopping mall operator Wangfujing Group Co. Ltd. became the first to win a license since 2011. In August, two Hainan government-backed companies won licenses to operate duty-free shops on the island.
Between June and August, at least 11 other retailers submitted applications for licenses, public market records showed. Caixin learned that Hangzhou Intime Department Store Co., controlled by e-commerce giant Alibaba Group, is also seeking a duty-free license.
But there has never been clearly written criteria for who can win a license. Several retail companies told Caixin that they had no idea about the exact requirements. Sources said the Ministry of Finance is studying guidelines to regulate the duty-free retail sector, which will be released soon.
Yang said he expects no big increase in licensed players in the duty-free retail market as it will continue to be reserved for large retailing companies.
Hainan will be a main testing ground for duty-free shopping. The island province currently contributes 26% of total duty-free sales in China. CSC Financial Co. Ltd. said in a recent research report that the share may increase to 50% thanks to the recent incentive policies.
The province has benefited from duty-free retail as it attracted more tourists to spend on the island. In the first half this year, duty-free retail sales contributed one-third of Hainan's total tourism revenue of 22.8 billion yuan. In the first week after the new duty-free shopping policy took effect, average daily spending by visitors on duty-free products surged 58.2% from the same time last year.
The Hainan government said it will further boost the local duty-free retail market by inviting qualified retailers outside the province to open stores. The province plans to add three more duty-free shops in Sanya this year.
Industry shake-up
As competition heats up, the boundary between duty-free and taxed retail is blurring as retailers tap new business models to lure customers.
Since February, Sunrise Duty Free, one of the largest airport duty-free shop operators, launched an online shopping mall for members in Beijing and Shanghai in an unprecedented move to expand access for shoppers. Products sold by Sunrise's online platform are still taxed but are cheaper because of its cost controls and supply-chain advantage, analysts said. The new business is more like cross-border e-commerce as the store operator seeks to offset the sales slump amid the pandemic, they said.
According to Citic Securities, Sunrise's online sales in Shanghai totaled 4.5 billion in its first three months in business.
In the face of competition, cross-border e-commerce sites like Alibaba-backed Kaola are seeking to form partnerships with smaller duty-free retailers to offer cheaper products on their platforms. A person close to Kaola said the company is also in talks with the Hainan government for a business partnership.
Traditional retailers are also calling for policy changes to support their businesses. A Beijing shopping mall executive said nontax barriers such as a time-consuming review process for imported cosmetic products are key factors discouraging sales.
"It often takes more than six month for a new lipstick to enter the China market," pushing customers to foreign or unofficial retailers, the executive said.
Although the pandemic halted travel, Chinese consumers still spent $600 million to $700 million a month on South Korea's duty-free beauty products, mainly through private merchants that operate the Daigou business in a grey area, the executive said. Further market liberalization to unlock significant market potential, he said.
Contact reporter Han Wei (weihan@caixin.com) and editor Bob Simison (bobsimison@caixin.com).
Download our app to receive breaking news alerts and read the news on the go.
You've accessed an article available only to subscribers
VIEW OPTIONS
Share this article
Open WeChat and scan the QR code

Caixin-Sinica Business Brief: TikTok CEO Pushes Back on Security Concerns