KFC Operator Yum China's Hong Kong IPO Oversubscribed Dozens of Times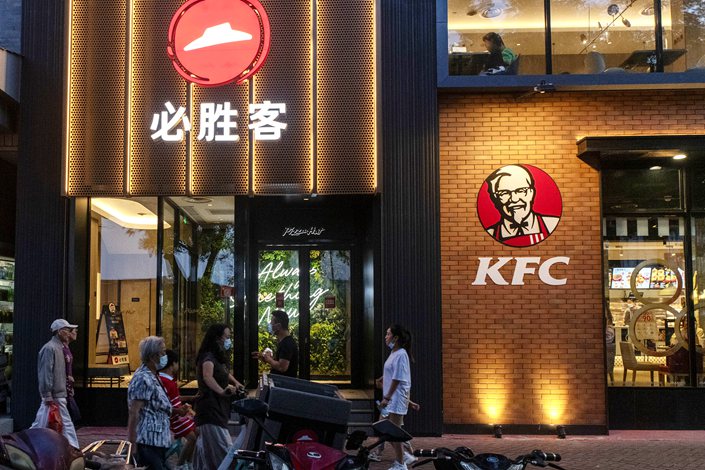 Yum China will be the fourth U.S.-listed Chinese firm to make a secondary share offering in Hong Kong since 2018.
China's largest restaurant operator, Yum China Holdings Inc., is riding high investor demand in Hong Kong with the retail portion of its debut oversubscribed dozens of times, one day before the New York-listed firm's secondary IPO.
The mainland operator of KFC, Pizza Hut and Taco Bell saw its retail offering overbooked by a factor of 51, while the portion set aside for institutional investors was 7.7 times oversubscribed, according to a company statement Wednesday.
In response, Yum China has decided to allocate more shares to retail investors, cutting the share for their institutional counterparts by 12.5 percentage points to 83.5% and leaving the remainder for smaller investors.
The company has set the price at HK$412 ($53) per share, putting it on course to raise at least HK$17 billion after expenses. But that could climb as high as HK$19.57 billion if the bookrunners exercise an overallocation option, releasing an extra 6 million shares to meet market demand, the company said.
Yum China will be the fourth U.S.-listed Chinese firm to make a secondary share offering in Hong Kong since 2018, when the bourse amended its rules to allow the practice. It follows e-commerce superstars Alibaba Group Holding Ltd. and JD.com Inc., and internet giant NetEase Inc. The trend is expected to continue if relations between the two largest economies remain frosty.
The company plans to use about 45% of the proceeds to expand its restaurant network, according to the filing. Another 45% will be earmarked for spending on technology, supply chains and product development, as well as investment in "high-quality assets" and brands that can bring growth opportunities, it said. The remainder will go toward working capital and general corporate purposes.
Yum China operates 10,000 restaurants in more than 1,400 cities across China, according to its website. The company reported a sputtering recovery from the effects of the coronavirus pandemic, with sales improving in April and May but weakening again in June, according to its latest earnings. It said comparable sales in the second quarter fell 11% from the previous year and it expects them to remain under pressure in the third quarter.
The popularity among Hong Kong investors of Chinese bottled water maker Nongfu Spring Co. Ltd., which raised HK$8.5 billion on its debut yesterday with shares closing up 54%, was magnified by the scarcity of shares on offer — around 3.5% of Nongfu's total stock. The institutional portion of the IPO was 60 times oversubscribed and the smaller retail portion was overbooked by more than 1,100 times.
The American investment management company Invesco Ltd. controls 10.8% of Yum China, and Blackrock Inc. owns 7.2%.
The firm's New York shares have closed down for four consecutive days, falling 10.24% to $52.32 from a record high on Sept. 1.
Bloomberg contributed to this story.
Contact editor Joshua Dummer (joshuadummer@caixin.com)
Download our app to receive breaking news alerts and read the news on the go.
You've accessed an article available only to subscribers
VIEW OPTIONS
Share this article
Open WeChat and scan the QR code