Related Parties Helped Luckin Coffee Fake 123 Million Transactions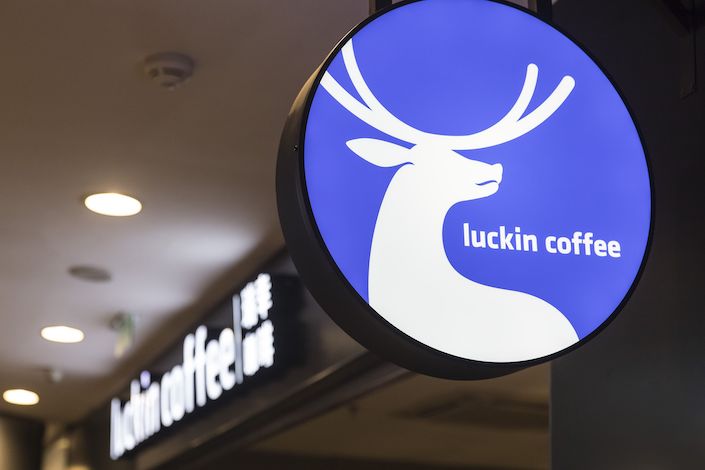 Five Luckin entities and related parties were each fined 2 million yuan for engaging in unfair competition.
China's market regulator disclosed details Monday of penalties levied against Luckin Coffee Inc. and related parties for engaging in unfair competition by fabricating sales.
The State Administration for Market Regulation first disclosed total penalties Sept. 22 of 61 million yuan ($9.04 million) against two domestic operating entities of Luckin and 43 related third-party companies that helped Luckin with violations, but at the time the regulator didn't specify the fines for each entity.
The market regulator said Monday it imposed the highest possible penalty of 2 million yuan each against Luckin Coffee (China) Co. Ltd., Luckin Coffee (Beijing) Co. Ltd., Beijing Chexing Tianxia Consultancy Co. Ltd., UCAR Technology Investment Inc. and Zhengzhe International Trade (Xiamen) Co.
From April 2019 to the end of last year, Luckin Coffee (China) and Luckin Coffee (Beijing) with the help of the third-party companies used fake client accounts to fabricate sales transactions and bank records, producing a total of 123 million fake orders for coffee using vouchers, the market regulator said. The third-party companies also helped Luckin to inflate expenses by making up raw materials purchase orders, delivery services, and nonexistent advertising, violating China's law against unfair competition, the regulator said.
The fines against the five companies were handed out by the national market regulator, while the 40 other companies were penalized by local market regulators in Shanghai and Beijing, people close to Luckin told Caixin.
Chexing Tianxia, UCAR Technology and Zhengzhe International Trade are affiliated with Ucar Inc., a limousine services company founded and controlled by former Luckin Chairman Lu Zhengyao, also known as Charles Lu.
The main shareholders of Chexing Tianxia — Chen Jiansong and Qiu Fengchun — were also senior executives at Ucar and its subsidiary. Shortly after the exposure of Luckin's financial fraud in April, Chen and Qiu resigned from Ucar.
Zhengzhe International is controlled by Wang Baiyin, who was a classmate of Lu and legal representative of a subsidiary of Borgward Automotive China Co. Ltd. Wang played a key role in Ucar's acquisition of a 67% stake in Borgward in January 2019.
The previously concluded probe found that the would-be Starbucks challenger inflated revenue by 2.12 billion yuan ($304 million) last year, while it inflated costs by 1.2 billion yuan and profits by 908 million yuan.
The Chinese coffee chain has since been embroiled in a number of investigations and lawsuits. The Ministry of Finance concluded a three-month investigation in July, but it hasn't disclosed a penalty. The punishment Luckin faces abroad is not yet clear.
The company has entered a temporary liquidation process, putting all other lawsuits on ice, a Luckin insider previously told Caixin. A creditor sued Luckin in a court in the Cayman Islands, where the company was incorporated. The court has started the process of "soft-touch liquidation," which is similar to bankruptcy protection in China, the source said.
Though Luckin's stores are still operating, the scandal has led to a delisting from the Nasdaq stock exchange and the ouster of a slew of executives and employees, including former Chief Executive Officer Qian Zhiya, former Chief Operating Officer Liu Jian and former Chairman Lu.
Contact reporter Denise Jia (huijuanjia@caixin.com) and editor Bob Simison (bobsimison@caixin.com)
Download our app to receive breaking news alerts and read the news on the go.
You've accessed an article available only to subscribers
VIEW OPTIONS
Share this article
Open WeChat and scan the QR code