TikTok Downloads Surge After Pakistan Lifts 10-Day Blackout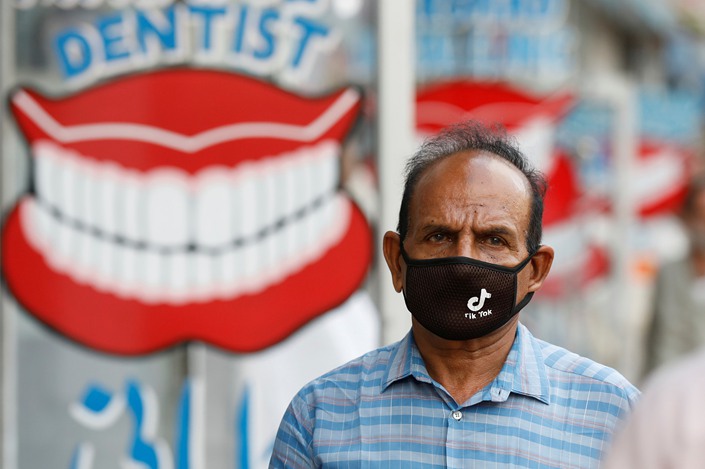 A man wears a face mask bearing the TikTok logo in Karachi, Pakistan, on July 14.
Ten days after blocking the popular short video-sharing app TikTok, Pakistan on Monday lifted its ban and set off a flood of new downloads that propelled it to being the country's third most popular app.
The Pakistan Telecommunications Authority (PTA) said it had restored TikTok's operations after the social media app pledged to block accounts featuring "obscenity and immorality" and to moderate content "in accordance with societal norms and the laws of Pakistan," according to its official Twitter account.
In response to the news, TikTok's downloads on Apple's App Store in Pakistan soared to third on the Sensor Tower ranking, after Likee, the short-video sharing subsidiary of China's Joyy Inc., and Facebook's WhatsApp.
The regulator had banned the app for unspecified complaints against immoral and indecent content and TikTok's failure to develop a "satisfactory content monitoring mechanism."
In doing so, Pakistan joined a growing list of countries banning or planning to ban TikTok, led by the U.S. and India, over concerns about data privacy protection and possible ties between its China-based parent company ByteDance Ltd. and Beijing.
But Pakistan was more concerned about TikTok's ability to police its content and filter out material that it deemed locally inappropriate. The company said it had taken down 6.5 million videos in Pakistan in the first half of 2020, 73% more than the second half of 2019, according to its transparency report.
"We are pleased to see the app has been restored in Pakistan," a TikTok spokesperson told Caixin. "We will continue building a safe internet environment that supports Pakistani users' ability to express and create."
TikTok, known for lip-syncing videos, has been downloaded 43 million times in Pakistan, making it the company's 12th biggest market for downloads, according to market research firm Sensor Tower.
The lifting of restrictions follows a virtual meeting between TikTok senior management and PTA on Oct. 12, during which the authority's chairman sought a timeline from the company for delivery of agreed actions.
TikTok is facing a ban in the U.S. in November if it cannot reach an agreement that sells its U.S. operation to an American company. India, then the company's biggest overseas market, banned the app in June along with dozens of other Chinese apps, citing national security concerns after violent clashes on the China-India border.
The action to block the Chinese social media app was more unusual in Pakistan, one of Beijing's closest allies, as the two enjoy warm economic, diplomatic and military ties.
Pakistan is part of China's ambitious Belt and Road infrastructure initiative, and a beneficiary of its investment in a series of construction projects in the China Pakistan Economic Corridor, a $10 billion strategy involving transport networks, energy projects, and special in-country economic zones.
Pakistan's record of blocking foreign internet companies predates its action against TikTok. In 2016, it enacted a controversial cybersecurity law that granted authorities broad powers to remove online content considered to violate the "glory of Islam or the integrity, security or defense of Pakistan."
In August, PTA issued a statement asking YouTube to immediately remove vulgar, indecent, immoral, and hateful content from view in Pakistan. The Google-owned video platform was blocked from 2012 to 2016 after authorities were enraged by an anti-Islam video.
Last month, a number of dating apps were banned by the regulatory body on the grounds of spreading "immoral and indecent content."
Although mired in uncertainty, TikTok was granted a last-minute reprieve from U.S. President Donald Trump's executive order banning its operation within the country when a federal judge last month temporarily blocked the ban from being implemented.
The social media app has repeatedly denied accusations that it shares infrastructure, user data and algorithms with ByteDance and its Chinese version Douyin. It has claimed that Beijing does not have a say in its content, which is moderated by a team based in California.
PTA said it still had the option to permanently block TikTok if it failed to deliver on its promises.
Contact reporter Anniek Bao (yunxinbao@caixin.com)
Download our app to receive breaking news alerts and read the news on the go.
You've accessed an article available only to subscribers
VIEW OPTIONS
Share this article
Open WeChat and scan the QR code