Huawei to Sell Budget Honor Smartphone Brand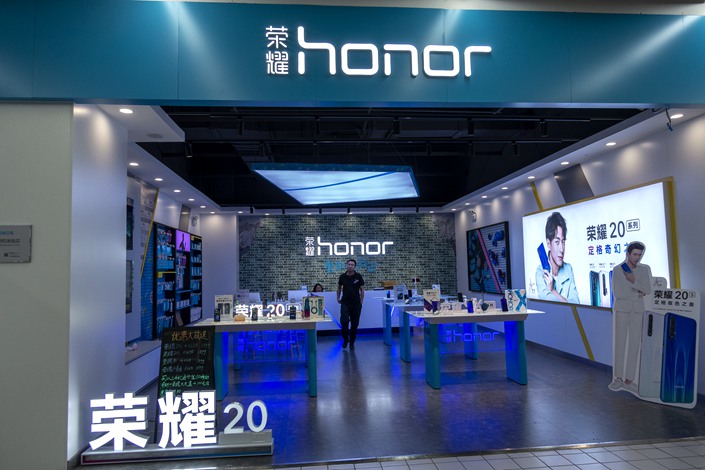 Huawei launched Honor in 2013 as a sub-brand targeting the low-end and midrange smartphone market.
Huawei Technologies Co. Ltd. plans to sell its budget smartphone unit Honor as the firm reels from U.S. sanctions that have throttled its chip supplies.
The Shenzhen-based technology giant has been in talks with potential buyers, including distributors and state-backed funds that Huawei does business with, sources in some of the companies told Caixin.
Honor's current management would continue to run the firm after it is sold, the people said.
The divestment plan comes after U.S. sanctions effectively cut off the tech giant's supply of high-end semiconductors, including Huawei's self-developed Kirin chipset that it makes with a third-party manufacturer, which are vital to its smartphones' competitive edge.
The U.S. rules, which were ratcheted up over the summer, require chipmakers to obtain a U.S. government license before selling products made using American technology to Huawei. Huawei is incapable of manufacturing its own chips, and previously used contract chipmakers in Taiwan to manufacture its chip designs, but those contractors use American technology.
The Honor smartphones use a tweaked version of Huawei's premium chips, a 5G executive at the parent company told Caixin. "There is no way to make profit when there are not enough chips to support the production of both (high-end Huawei and low-end Honor) lines," so it makes sense to sell off the low-end brand, he said.
Huawei launched Honor in 2013 as a sub-brand targeting the low-end and midrange smartphone market, while its main Huawei series remained focused on flagship phones meant to compete with high-end rivals like Apple and Samsung. Honor Terminal Co. Ltd., which is fully owned by Huawei, was only incorporated in April.
In 2019, Honor-branded smartphone sales accounted for 26.4% of Huawei's total phone shipments but faced stiff competition from hometown rivals including Vivo and Oppo, which have taken over some of its market share since the second quarter of last year, according to data from research institute IDC.
U.S. sanctions on the parent group cut further into its financials last year, IDC analyst Will Wong said. "As the brand is under the umbrella of Huawei, it could not avoid the impact," he said.
Huawei's total smartphone sales plunged 15% in the first nine months of the year to 156.6 million, out of which Honor's smartphones decreased a similar 15% to 42.2 million, according to data from IDC.
Firms apply to supply
American chip suppliers including Qualcomm Inc. have applied for licenses to continue shipping to the Chinese company, but it is unclear whether the U.S. Commerce Department will issue the necessary permits.
Guo Ping, the current rotating chairman of Huawei, said in September that Qualcomm was an important Huawei partner, and Huawei would seek to use the company's chips in its smartphones if a license is granted.
But company sources said that using Qualcomm's more expensive chips would further squeeze Honor's already tight profit margins.
Qualcomm's chipsets are more cost-effective for smartphone-makers looking at the high-end market while MediaTek Inc. has lower-cost chips for phone vendors like Honor, people close to Huawei's consumer business said, adding that it may take a long time for MediaTek to acquire the U.S. license, and for Honor to address associated supply chain issues.
Reuters reported Tuesday that handset distributor company Digital China Group Co. Ltd. and three investment firms backed by the Shenzhen government would get 15% and over 10% stakes in the company respectively in a $15.4 billion deal for all of Honor's assets, including the brand, its research and development resources and its supply chain management.
Shares of Shenzhen-listed Digital China surged to the upper trading limit of 10% on Wednesday, closing at 34.85 yuan ($5.27)per share, although Digital China said in a filing to the stock exchange that it had not yet reached any agreement with Huawei about an Honor sale.
The news came as little surprise to industry observers, with several phone distributors telling Caixin in recent months they expected the company to keep its Mate and premium P series phones while selling off the Honor smartphone lines.
Huawei declined to comment. Company executives contacted by Caixin said it was not convenient to discuss the matter.
Contact reporter Anniek Bao (yunxinbao@caixin.com) and editors Gavin Cross (gavincross@caixin.com) and Flynn Murphy (flynnmurphy@caixin.com)
Download our app to receive breaking news alerts and read the news on the go.
You've accessed an article available only to subscribers
VIEW OPTIONS
Share this article
Open WeChat and scan the QR code