Photo Essay: HIV Patients Live Quiet Lives in Fear of Discrimination
A folk dancer living with HIV rehearses for an evening party organized by a community in Shenyang, Northeast China's Liaoning province. Photo: Liang Yingfei/Caixin
When De Xiang, a pseudonym, first learned he was HIV-positive, his first reaction was one of despair. "All I thought about was when I would leave the world. Should I tell my family? I tried several times, but the words still wouldn't come out," he says.
De, a 59-year-old man who works as a caregiver in Shenyang, capital of Northeast China's Liaoning province, was diagnosed with HIV in 2010. After that he decided he would never go back to his hometown, keeping his condition a secret and planning to live alone in the city until he could work no longer.
About 38 million people in the world are currently living with HIV, including 963,000 in China, according to a report by the World Health Organization. Due to its frequent transmission through sexual conduct, it has become strongly associated with promiscuity and homosexuality. Accordingly, lots of patients spend years not only fighting the disease, but also suffering from psychological and social problems as a result of being stigmatized and discriminated against.
In a village located 40 minutes west driving from downtown Shenyang, HIV carrier Guo Xing, 51, has taken up residence, together with some stray dogs he adopted, in a run-down courtyard with four buildings, two uninhabitable. The walls are split by cracks, some as long as an arm-length, and parts of the roofs have collapsed.
"Living in the village is more comfortable than in the city," says Guo, referring to a previous experience when neighbors moved away after learning about his disease. Guo tested positive for HIV in 2011 and lost his job as soon as the news got out. He moved to the village four years ago to reduce his living costs.
Advances in medicine mean that HIV is no longer a death sentence, but instead can be managed similarly to less serious conditions like high blood pressure and diabetes. Patients can expect to live almost as long as people without HIV if they take regular medication. But other challenges like loneliness and isolation have taken the place of the more serious life-or-death threat, especially for those aged 50 or above.
Before his infection, De had already longed for someone who could spend a lifetime with him, even if that companion was wheelchair-bound or bedridden. But now his hopes are fading due to his infection.
"I don't want to hide my disease, but I'm still afraid that the companion I'm seeking won't accept it," De said, "I met a person of similar age and with similar interests and asked what he thought of people with HIV. He told me wouldn't dare to touch such a person. I got his point and gradually distanced myself from him."
As more patients learn to live longer with HIV, loneliness has become an urgent issue that needs to be addressed, experts say. Such negative feelings can lead some to stop treatment or fall into deep depression, said Li Xin, a doctor who has studied the matter. Every year, Li said she will see two or three deaths of patient related to such reasons. "I didn't think their lives should have ended this way, they deserved better choices," she says.
Several HIV patients make dumplings around a table, which has become one of their routines. Every Saturday morning, people living with HIV gather at a community center where they can dance, sing and drink tea. Photo: Liang Yingfei/Caixin
Guo Xing, a 51-year-old man who was diagnosed with HIV in 2011, rests in his room in a village near Shenyang. He lost his job as soon as news of his condition spread and moved to the village to reduce his living costs. Photo: Liang Yingfei/Caixin
Guo walks his dogs in a courtyard. After moving to the village four years ago, he began adopting stray dogs that have now become his only companions. Photo: Liang Yingfei/Caixin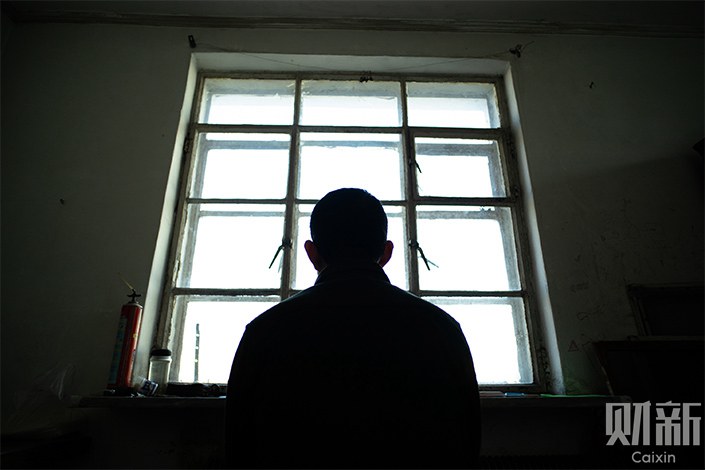 De Xiang, who has lived with HIV for a decade, stares at the sky from his home in Shenyang. Photo: Liang Yingfei/Caixin
HIV carrier Liu Kang takes care of potted flower in front of a window at his home in Shenyang. Photo: Liang Yingfei/Caixin
Liu's folded dance attire on a table. Liu was deeply influenced by a high-profile ballet called "White-Haired Girl" when he was a child. After he retired, he began performing with a dance troupe, which took up most of his time. Photo: Liang Yingfei/Caixin
Contact reporter Wang Xintong (xintongwang@caixin.com) and editor Yang Ge (geyang@caixin.com)
Download our app to receive breaking news alerts and read the news on the go.
You've accessed an article available only to subscribers
VIEW OPTIONS
Share this article
Open WeChat and scan the QR code

China Stories: Strict Rules at Home Push Chinese Metaverse Entrepreneurs, Investors Overseas