Two Decade Run on Wall Street Nears End for Internet Trailblazer Sina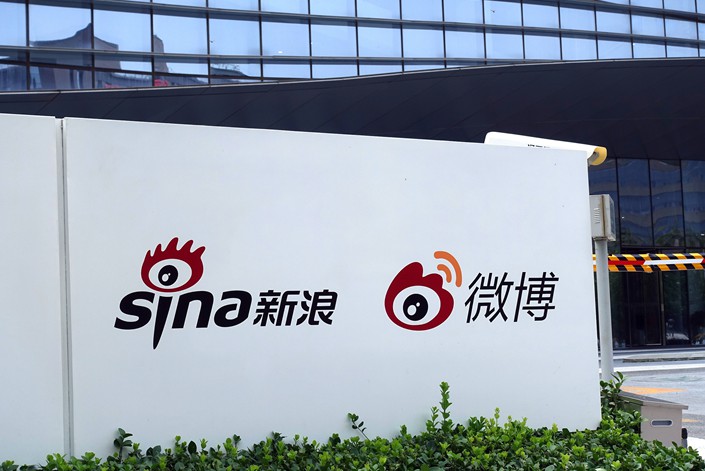 Sina's Beijing headquarters on Aug. 7.
Shareholders of internet portal Sina Corp. have approved a management-led plan to take the company private by a large margin, moving China's oldest U.S.-listed internet company one step closer to ending its life as a publicly traded name.
Sina was a pioneer when it made its Nasdaq IPO in April 2000, using an unusual structure at the time to get around China's unease over foreign ownership of internet companies. Since then nearly all of China's hundreds of venture-backed tech companies that have floated in New York and Hong Kong have used a similar structure, called variable interest entity (VIE).
But while newer, more nimble names have emerged over the years, Sina has remained relatively stagnant despite its reputation as one of the nation's leading web portals. Its one notable success was the Twitter-like Weibo it launched about a decade ago, which is now a separate publicly traded company with a market value about four times that of its parent.
As its relevance faded and stock price stagnated, Sina announced in July it had received a plan led by the company's management to take it private. It later raised the buyout price from an initial $41 per share to $43.30. But even at that level, the company's market value of about $2.6 billion was far less than the $4.6 billion that its 45% holding in Weibo was worth.
At a special shareholder meeting on Wednesday 62% of the company's total shares had voted in favor of the deal as of 5 p.m. Cayman Islands time, Sina said in a statement. The deal was approved by an even larger 93.6% of voting shares when factoring in the larger voting rights of some shares, most of those held by Sina managers.
"If and when the (plan) is completed, the company will become a private company and its shares will no longer be listed or traded on any stock exchange," Sina said, without providing an expected timetable for such a delisting.
One analyst and long-time company watcher at a mid-sized brokerage, speaking on condition of anonymity due to company policy, said he wasn't surprised that Sina had decided to go private.
"Despite being an early pioneer in China's internet space and the first to list in the U.S., it hasn't been able to keep up with the pace of change in recent years, and its core business isn't doing well," he said. "The stock's value is largely defined by the company's investments, mostly in its Weibo subsidiary, because the core business has been languishing since mobile Internet overtook the legacy PC web."
Founded in 1998 by a group of software engineers, Sina became a trailblazer with its April 2000 IPO. It was followed three months later by peers NetEase Inc. and Sohu.com Ltd. when China's internet was in its infancy. The trio all used the VIE structure to get around Beijing's uneasiness about foreign ownership of its internet companies. Such a structure allows stock buyers to own equity in a company, and thus share in its profits, without actually having any management control.
Sina, Sohu and NetEase all focused on services like internet-based news and email in their early days, and struggled initially to find profits. They would go on to find such profits several years later, banking on services tied to China's budding love affair with mobile short messaging or SMS on mobile phones.
But they would later diverge, with NetEase becoming the most successful due to its focus on online games. By comparison, Sina's biggest success came in 2009 with Weibo, a copycat of the popular U.S. social media Twitter, which was blocked in China starting that year. But even Weibo's influence has waned in recent years, overtaken by more nimble services like ByteDance's popular Toutiao news platform and its Douyin short video service.
Sina's buyout price represented a 154% gain from its IPO price 20 years ago, a relatively small amount compared with some of the more meteoric gains for names like Alibaba and Tencent. Some had criticized the company for stagnating under the domination of major shareholder and CEO Charles Chao, who controls 61% of Sina's voting rights. That kind of situation is common at many Chinese internet startups, with the founder calling most of the shots and often refusing to leave even when it performs poorly.
The analyst said he doubted Sina would try to relist in China, even as many other U.S.-listed Chinese internet companies that have privatized have followed that path in pursuit of higher valuations from investors in Hong Kong and on the Chinese mainland.
"I think management has deliberately created a situation where they are buying assets at distressed prices to enrich themselves at the expense of minority shareholders," he said, repeating a sentiment often expressed by frustrated corporate governance experts and fund managers who invest in U.S.-listed Chinese technology stocks.
Contact reporter Yang Ge (geyang@caixin.com) and editor Joshua Dummer (joshuadummer@caixin.com)
Download our app to receive breaking news alerts and read the news on the go.
You've accessed an article available only to subscribers
VIEW OPTIONS
Share this article
Open WeChat and scan the QR code