In Depth: The 1,000 Kilometer Target Driving China's Electric Car Industry Into a Frenzy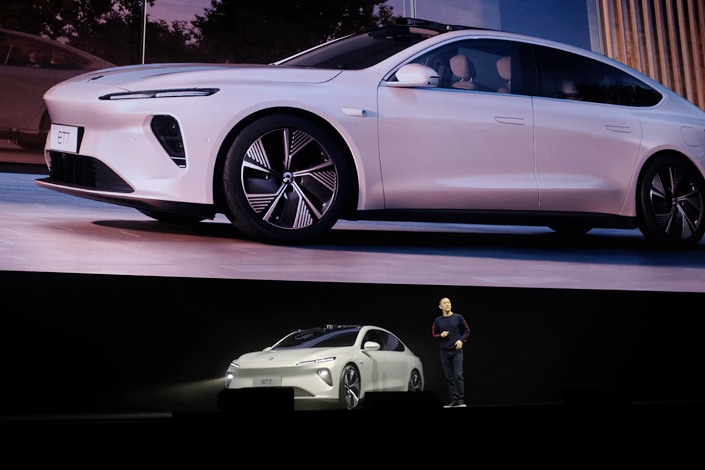 William Li, founder and CEO of Nio Inc., unveils Nio's ET7 sedan at a launch event in Chengdu, Sichuan province, on Jan. 9.
As China's electric vehicle (EV) manufacturers struggle for their share of the world's biggest market, a new target has emerged as they look to win over drivers wary of abandoning gas-powered engines — a driving distance of 1,000 kilometers (620 miles) on a single charge.
That would take an EV from East China's financial hub of Shanghai all the way to Wuhan without having to stop to top up the battery. It's the equivalent of driving non-stop from London to Leipzig, or New York to Cincinnati.
Players in the industry — from the much-hyped Tesla Inc. to domestic upstarts like Nio Inc. — know that consumers value driving range They also know that electric cars have been generally found wanting in this regard, at least in the eyes of consumers.
In the last few months, as China faced a particularly cold winter, local media ran reports on how some EV models were running half as far as normal on a single charge, with some drivers taking to social media to complain that they had to turn off their car's heating to keep the wheels turning.
EV companies have been talking a big game. Nio has promised that its new ET7 sedan will come equipped with cutting-edge "solid-state" batteries that will be able to hit the 1,000 km target. The president of top battery-maker CATL claimed at a recent Beijing conference that it is now developing a battery pack that will be able to hit the 1,000 km target after just 10 minutes of charging. Traditional carmakers such as SAIC and Guangzhou Automobile Group have made similar claims.
However, experts have poured cold water on such claims, saying that with current technology, this goal can only be reached with major tradeoffs in other areas.
"If someone says that his car can run 1,000 km, can finish charging within minutes, is extremely safe and doesn't cost much — no one should believe him," said Ouyang Minggao, a scholar at the Chinese Academy of Sciences at the same Beijing conference. "These things cannot be achieved at the same time."
An industry expert told Caixin that driving range is only part of the picture when it comes to assessing batteries — alongside safety, battery lifetime, performance under extreme temperatures, charging speed and price.
Tradeoffs
At present, batteries are a balancing act between energy density and safety. Lithium-ion batteries, which contain liquid solutions, can pose safety risks due to temperature changes or leakages. The result can be fires or even explosions — a fact that quite a few EV-companies have had to deal with in recent years.
The problem has required regulatory action, with China's Ministry of Industry and Information Technology telling carmakers that if a short circuit does occur, the car must be prevented from catching fire or exploding for at least five minutes, to give passengers enough time to escape.
The two main kinds of batteries used for EVs — LFP and NMC — face this potential problem. LFP batteries, also known as lithium iron phosphate or lithium ferrophosphate batteries, are considered to be safer — though they have a comparatively lower energy density.
NMC batteries, also known as "ternary" batteries for their use of a trio of nickel, manganese and cobalt, have higher energy density, but this comes at the cost of stability.
A solution to this dilemma could come in the form of solid-state batteries, which as the name implies, use replace the liquid solutions in current batteries with solid components.
They're expected to be safer and have a higher energy density than the batteries commercially available now, however this technology is not yet mature and putting these batteries into commercial operation isn't possible at present.
After it made its claims of a 1,000 km single-charge drive in January, Nio clarified that the solid-state battery that would facilitate this achievement would enter mass production in about a year. However industry professionals continue to question this claim, pointing out that Nio's planned battery is half-solid and half-liquid — and may not actually constitute a "solid-state" battery.
"The batteries at present are the result of materials we understand," Huang Xuejie, a researcher at Institute of Physics of the Chinese Academy of Sciences, told Caixin. It takes a long time to study a new material, so it'll be many more years before new types of batteries are commercially produced, he said, adding that true solid-state batteries are seen as a disruptive technology.
Competition to bring these batteries to market is fierce. Japan's Toyota Motor Corp. is leading the pack with over 1,000 patents, and aims to soon begin performance tests, according to a December report from Nikkei Asia. There are also a handful of startups working on solid-state technology, such as the U.S.-based QuantumScape, which counts Volkswagen AG as a backer.
On Jan. 19, CATL announced that it has two patents related to solid-state batteries. Two days later, Volkswagen Group China's CEO Feng Sihan predicted that solid-state batteries would go into mass production sometime between 2023 and 2025.
Tesla has made the typically bold claim that its under-development 4680 battery, which isn't solid-state but rather uses an innovative "tabless" design, will outperform solid-state batteries. But even according to a company known for downplaying technical challenges it faces, it won't be mass-produced for at least two years.
Why 1,000 kilometers?
In a hotly contested and capital-rich field, EV-makers are under a lot of pressure to distinguish themselves — and being the first to deliver a 1,000 km driving range would be a great way to do that.
However, given the technical barriers, some experts have said that the one-eyed pursuit of this goal may not benefit the industry's development.
Chen Qingquan, a scholar at the Chinese Academy of Engineering, said in January that carmakers should offer vehicles with a variety of driving ranges. Speaking to local Chinese outlet NetEase News, he drew an analogy with mobile phones, saying that many people buy handsets with hundreds of gigabytes of storage, but only ever fill a fraction of that.
In the meantime, a boom in mini EVs is proving to the market that as long as there's convenient charging and competitive pricing, a short driving range is more than enough for some consumers. Last November, monthly sales of Tesla's Model 3 sedans hit a new high of over 20,000. The same month, SAIC-GM-Wuling Automobile Co. Ltd. sold 33,094 Hongguang mini EVs, according to the China Passenger Car Association. With prices starting from 28,800 yuan, around one-tenth of that for a Model 3, the Hongguang can last 120 kilometers on a single charge.
Read More
In Depth: Meet the Cheap Chinese Electric Car Selling Twice as Fast as Tesla's Model 3
The aforementioned industry expert said that focusing research and development on a 1,000 km driving range, rather than energy consumption or cost-effectiveness, might even undermine the industry's eco-friendly credentials. Achieving this goal with current battery technology will require more batteries and heavier cars, and ultimately more indirect carbon emissions, even to the point where it may work out to be as polluting as a traditional gas-powered car. "If so, what's the point of having an electric vehicle?" they asked.
As China phases out its subsidies for the EV industry, cost effectiveness is becoming a more prominent issue. The market share of LFP batteries was previously declining, but it staged a comeback in 2020 because they're about 15% cheaper than their NMC counterparts.
Volkswagen China's Feng believes that the concern for long driving ranges is due to a shortage of public charging stations. "You never see gasoline or diesel-powered cars claiming how they can run 800 km or 1,000 km, because gas stations are everywhere," he said.
He added that while 1,000 km is plausible in the near future, a more sustainable solution is to improve the country's charging infrastructure along with battery technology.
By the end of 2020, there were around 1.68 million charging stations compared to about 5 million EVs on the country's roads, according to statistics from the China Electric Vehicle Charging Infrastructure Promotion Alliance and the Ministry of Public Security. That's a long way from the target of a 1:1 ratio the government announced five years ago.
At the end of the day, the pressure is not solely on EV-makers, but also on the government, which has included charging stations and battery replacement stations in its "new infrastructure" investment plan. It remains to be seen whether or not the government can replicate its success in boosting the market for EVs when it comes to the chargers needed to power them.
Bao Lei and Luo Guoping contributed to this story.
Contact editor Joshua Dummer (joshuadummer@caixin.com)
Download our app to receive breaking news alerts and read the news on the go.
You've accessed an article available only to subscribers
VIEW OPTIONS
Share this article
Open WeChat and scan the QR code

Caixin China Biz Roundup: New 'Langya' Virus Detected in China