Exclusive: Idle Cranes, Unfinished Buildings Are All That's Left in China's Former Field of Chip Dreams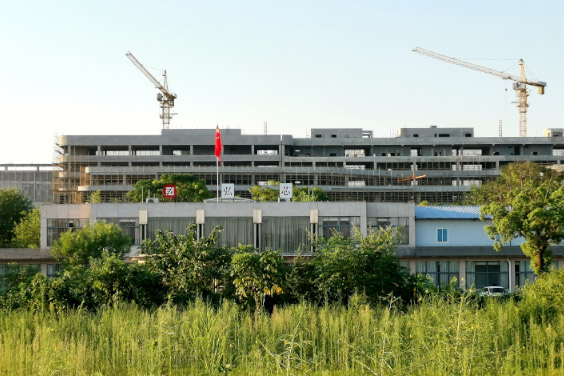 In an industrial park outside the central Chinese city of Wuhan, the site of chipmaker HSMC is now populated only by several idle cranes and three buildings in various stages of construction. Photo: VCG
Located in an industrial park outside the city of Wuhan, Hongxin Semiconductor Manufacturing Co. Ltd. (HSMC) was meant to become a $19.8 billion showcase and central plank in China's plans to create a homegrown microchip industry capable of challenging the West.
Today that same land parcel is mostly quiet, populated only by several idle cranes and three buildings in various stages of construction. One was meant to house the company's administrative offices, while the other two were meant to produce chips using 14- and 7-nanometer technology, putting them at the cutting edge of the global chip-making industry.
A recent visit to the compound showed the Hongxin name, once a badge of honor, had been removed from nearly all buildings and other structures inside. The name was even covered up on signage at a nearby public bus stop that had incorporated the company's name.
During a recent visit to the site, many employees told Caixin that Hongxin signage was removed just after the recent Lunar New Year holiday. An employee from one of the company's partners who was living in the compound said the area has been completely cleared out for now, and people won't be allowed back in until after March 8.
"We have no idea what will happen after March 8," the person said. "We'll just have to wait to be notified."
High hopes
The air of uncertainty is a far cry from the high hopes that many had for Hongxin at the project's inception in 2017. With a planned investment of 128 billion yuan ($19.8 billion), the complex was conceived at a time when China was trying to build up a homegrown chip-making sector to wean itself from heavy reliance on imports for the chips that are the brains and memory of most modern electronic devices.
Read more
Four Things to Know About China's $18.5 Billion Failed Chip Champ
That campaign has taken on extra urgency in the aftermath of an earlier campaign by former U.S. President Donald Trump to cut off China's access to many of the most cutting-edge technologies in a bid to stymie its technological development.
HSMC originally received strong backing from the local government in Wuhan. At the pinnacle of its rise, it even managed to snag a high-profile industry veteran who had served as chief technology officer at Taiwan's leading chipmaker as its new chief.
But the project never proceeded as expected and was shaken by a series of troubles since last year. In November 2019, a local court suspended HSMC's right to use the land where it was building a factory amid a dispute with one of the engineering firms involved. A person close to the project said HSMC started experiencing a cash crunch in June 2020 with difficulty paying suppliers.
The company began letting workers go after the project was halted more than a year ago. It once had as many as 400 or 500, but the number was about half that many by the time employees were finally told late last month to tender their resignations by Feb. 28.
Many employees interviewed by Caixin at the site expressed satisfaction at the way the winding-down process was handled. Others were less content and said they declined to accept severance packages that included one month's salary, opting for labor arbitration instead.
A number of employees told Caixin that even after the project ground to a halt more than a year ago, the company never failed to pay their salaries and didn't cut anyone's pay. Nor did it take away any of their other benefits. "The company has been quite kind and fair," one said.
Many also praised the company for the orderly and fair way in which it handled the shutdown. "At the most, it delayed most of our plans for a year because its outlook wasn't good," said another departing employee. "Whenever you come to a new project, you always need to consider the risks."
But others were unhappy about only being given a week to tender their resignations and the size of their severance. "They did things too resolutely," said one such worker.
Another who refused to go through the severance process told Caixin that ever since the government took over the project, which was announced toward the end of last year, employees were given the impression that new investors would be brought in and the project would continue. "Some people even gave up looking for other opportunities because of this," the employee said. "But now the government's position is very firm: either accept the severance package or seek labor arbitration."
Government officials from Wuhan's Dongxihu district where the project is located declined numerous requests for comment on what was next for Hongxin, saying they weren't authorized to discuss the topic.
Questions still remain about the company's many partners still waiting to be paid, including equipment suppliers and construction companies. One of those told Caixin that the local government was continuing to look for new partners to resume the project, and that it had some initial thoughts on how to pay back the company's outstanding debts. "Hopefully those thoughts will turn into solutions," the person said.
Tian Yuchen, Qin Min, Luo Guoping, Zhai Shaohui and Han Wei contributed to this report.
Contact reporter Yang Ge (geyang@caixin.com) and editor Flynn Murphy (flynnmurphy@caixin.com)
Download our app to receive breaking news alerts and read the news on the go.
Follow the Chinese markets in real time with Caixin Global's new stock database.
You've accessed an article available only to subscribers
VIEW OPTIONS
Share this article
Open WeChat and scan the QR code