China's Cloud Firms Show How Big Tech Is Far From Green, Greenpeace Says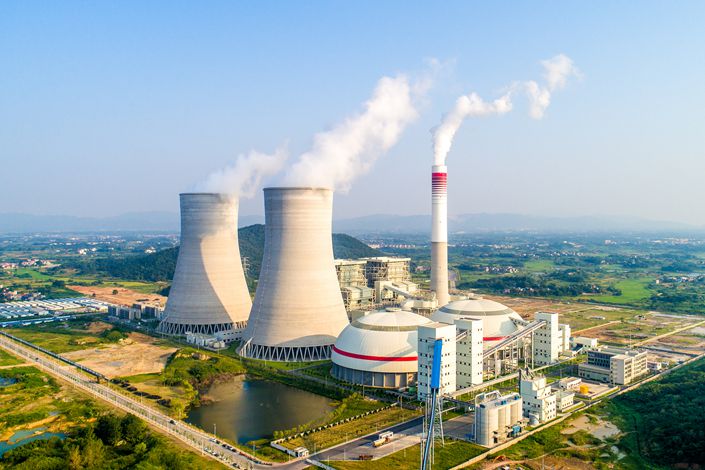 A coal-fired power plant in Shanghai. Photo: VCG
China's largest internet firms continue to rely mostly on polluting energy sources to power their cloud computing and data centers, according to a new scorecard on their green credentials published by an environmental group.
Tencent Holdings Ltd. ranked first among China's nine biggest cloud providers for its transparency and use of more renewable power, though its score of 61 out of 100 was little cause for celebration. The country's largest cloud provider Alibaba Group Holding Ltd. fell out of the top spot this year to slip to fourth.
While China's tech companies are gradually embracing green energy and reporting their emissions, their slow transformation means they're still emitting far too much planet-warming carbon dioxide, according to the report released Wednesday by Greenpeace East Asia, an environmental nongovernmental organization (NGO).
Data firm Chindata Group Holdings Ltd. was the lone outlier among the 22 firms surveyed, having pledged to reduce its carbon emissions to net zero by the end of the decade. It also topped the ranking of China's 13 largest data center operators with a score of 85.
"China's internet sector is powered primarily by coal, and the industry's energy consumption continues to rise," said Ye Ruiqi of Greenpeace East Asia, who singled out Alibaba and its data center operator GDS for having failed to issue renewable energy or carbon neutrality commitments.
A spokesperson for Alibaba Cloud said the firm had been developing "green data centers" since 2015 and was seeking to make "energy efficiency a core part of our technologies." They did not dispute that the company has not set emissions and renewables targets.
Cloud services and data centers may sound light and fluffy but their giant server farms' appetite for energy is voracious and growing. Chinese data centers consumed about 161 billion kilowatt-hours of electricity in 2018, more than Malaysia, according to the NGO.
The sector's energy consumption is poised to grow by two-thirds by 2023, when it will use roughly as much electricity as all of Australia.
Due to their high energy use, some data center operators build their own power generation facilities in addition to buying electricity directly from the grid.
Greenpeace's analysts used publicly available information to examine China's 22 largest cloud and data center firms and rate them by their energy use and embrace of renewables. Together, the companies accounted for around three-quarters of the country's cloud and data center markets in 2019.
Concentrated market
China's largest tech firms going green in a meaningful way — such as by using 100% renewable energy and being carbon neutral by 2030 — would "lend strong momentum to China's national climate commitments," said Ye.
China's cloud services industry is quite concentrated with just four firms — Alibaba, Tencent, Baidu Inc. and Huawei Technologies Co. Ltd. — controlling 80% of the market.
Tencent topped this year's list of cloud providers thanks to its "positive record" on energy transparency, increase in renewables procurement and recent commitment (link in Chinese) to working toward carbon neutrality.
Meanwhile, Alibaba's slump was due to its "poor performance on clean energy use and lack of transparency," the report says.
Nasdaq-listed Chindata outperformed rival data center operators in part due to signing contracts last year to develop wind and solar projects in China with a total generation capacity of 1.3 gigawatts, making it one of the top three buyers of renewables worldwide, according to the report.
In January, the Beijing-headquartered firm said all of its next-generation data centers in China would be carbon-neutral by 2030, three decades ahead of the country's national goal.
With 51% of its power already generated from renewables, Chindata is far ahead of China's next-greenest tech firm, search giant Baidu, whose share was 9%, the report said. The other surveyed companies get less than 3% of their energy from renewables.
Overall, 13 of the 22 companies had begun "actively" procuring renewable energy as of April, five more than in 2019, according to the analysis.
The report recommends that China's internet and data center operators commit to achieving 100% renewable energy use and carbon neutrality by the end of the decade, protect and restore ecosystems, scale up their procurement of renewables and "actively" disclose data on their energy use, greenhouse gas emissions and corporate environmental governance.
"Major tech companies are at risk of falling behind in the race to achieve carbon neutrality if they simply follow a business-as-usual approach to their operations," said Arunima Malik of the University of Sydney's Integrated Sustainability Analysis group, a multidisciplinary team that tracks carbon emissions through supply chains.
"With changing patterns and behavior due to Covid-19, our reliance on internet-based technologies has increased, thus it is ever more important to keep human demands and climate impacts in check," Malik said.
China, the world's largest greenhouse gas emitter, vowed in September to bring its carbon emissions to a peak by 2030 and achieve carbon neutrality by 2060, an ambitious pledge seen by climate scientists as critical for mitigating the worst effects of global heating.
The nation's latest five-year plan, which was published last month, aims to scale up renewable energy generation over the coming decade and invest in infrastructure improvements like power transmission and storage technologies.
But critics have pointed to the country's short-term plans to increase fossil fuel use, which include adding up to 200 gigawatts of coal power generation by 2025.
China said Wednesday that President Xi Jinping will attend a U.S.-led virtual summit that aims to urge dozens of the world's largest economies to act more decisively to cut emissions.
The announcement followed a joint statement on Saturday by Beijing and Washington following a visit to Shanghai by U.S. climate envoy John Kerry, in which the world's two largest economies "committed to cooperating" on climate change.
Contact reporters Matthew Walsh (matthewwalsh@caixin.com) and Flynn Murphy (flynnmurphy@caixin.com) and editor Michael Bellart (michaelbellart@caixin.com)
Download our app to receive breaking news alerts and read the news on the go.
Follow the Chinese markets in real time with Caixin Global's new stock database.
You've accessed an article available only to subscribers
VIEW OPTIONS
Share this article
Open WeChat and scan the QR code

China Stories: Illuminating the Silver Screen for the Visually Impaired