Energy Insider: China's Steelmakers Report 220% First-Half Profit Growth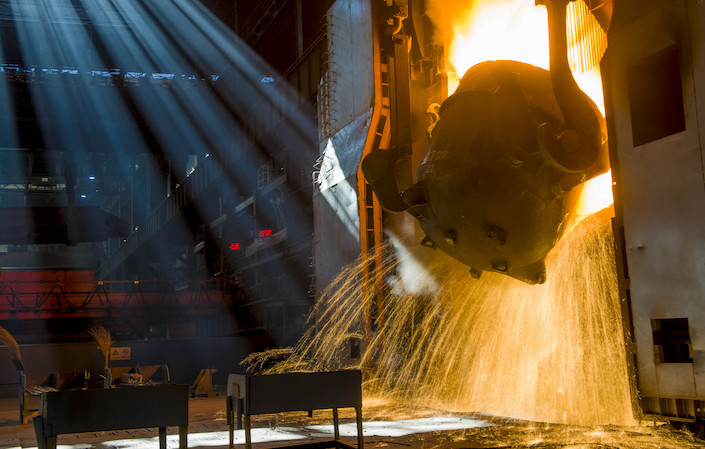 Major Chinese steelmakers reported a combined profit of $35.1 billion for the first half this year, up 220% from a year earlier.
In today's Caixin energy news wrap: Limited supply and high demand drive up lithium ore price; central bank guides financial institutions to step up support for carbon emission reductions; Li Auto and Xpeng report monthly delivery records; railways evacuated 1.56 million passengers stranded in Henan flooding.
China's steelmakers report 220% profit growth
Major Chinese steelmakers recorded a sharp rebound in profits for the first half this year with combined profit of 226.8 billion yuan ($35.1 billion), up 220% from a year earlier, according to the China Iron and Steel Association. Combined revenues reached 3.46 trillion yuan, 51.5% higher than a year ago. Steel prices are expected to stabilize after volatility in May and narrow-range fluctuation in June and July. However, the soaring costs of iron ore and other raw materials are expected to squeeze gross profit margins. China's crude steel production during the first six months reached 563 million tons, up 11.8% from a year ago.
Tight supply and surging demand drive up lithium ore price
Pilbara Minerals, an Australian lithium mining company, concluded world's first platform auction July 29 of concentrated spodumene, the most important mineral ore containing lithium. On Pilbara's Battery Material Exchange, the auction was for a cargo of 10,000 dry metric tons of spodumene concentrate with 5.5% lithium oxide content for mid- to late-August shipment. Pilbara Minerals accepted the top bid from 17 participants of $1,250 per ton, almost double the contract price and beating market expectations. Market participants said the strong buying interest in the ingredient for making car and electronic device batteries indicated limited spodumene concentrate supply, suggesting prices are likely to continue rising.
Global lithium giants plan to expand processing capacity
Global lithium giants are seeking to expand lithium salt processing capacity, according to a report from Minmetals Securities. Among them, Albemarle Corp.'s capacity increase will mainly take place next year, meaning it's unlikely to beat performance expectations this year. A subsidiary's lithium compound capacity is expected to jump to 175,000 tons next year from 85,000 tons at the end of 2020. Sociedad Quimica y Minera de Chile SA plans to expand annual lithium carbonate production capacity to 120,000 tons by the end of 2021 and further increase it to 180,000 tons by the end of 2022. The Chilean company's lithium hydroxide capacity is expected to expand to 21,500 tons by the end of 2021 and to 30,000 by the end of 2022.
Delong Holdings considers participating in Simandou iron mining
Ding Liguo, executive chairman and chief executive of China's Delong Holdings, said the company may be involved in the development of iron mining in the Simandou range of hills in West Africa's Guinea as iron ore prices soar. Delong Holdings and its subsidiary New Tianjin Steel performed well in the first half. Ding said the greatest achievement was the completion of mixed ownership restructuring of New Tianjin Steel. Simandou is considered to have the world's largest, highest-quality iron ore deposits, with some experts forecasting that annual production could hit 150 million tons.
Central bank guides financial institutions to back carbon emission reductions
China's central bank urged financial institutions to implement policy tools to cut carbon emissions and pledged it will provide eligible lenders with low-cost funds and encourage them to offer financing at preferential interest rates for projects with significant effects on carbon emission reductions.
Li Auto, Xpeng post record monthly deliveries in July
Li Auto Inc. and Xpeng Inc., two Chinese electric vehicle startups, set monthly delivery records in July in the face of fears that the semiconductor shortage may have spilled into the third quarter. Li Auto delivered 8,589 units of the Li ONE in July, the first time sales topped 8,000 in a single month, up 251.3% from a year earlier and 11.4% from June. XPeng reported deliveries of 8,040 vehicles in July, a 228% year-on-year jump and up from 6,565 deliveries in June. July sales included 6,054 P7s and 1,986 G3s.
NDRC calls for solid steps toward carbon neutrality
The National Development and Reform Commission in a briefing on first-half economic performance called for efforts to keep the economy operating within a reasonable range and tap the potential of the domestic market. The commission also urged strengthened innovation, coordination of development between urban and rural areas, solid steps toward carbon neutrality, deepening of reform and opening-up, further strengthening of food security and improvement of people's livelihoods.
Railways evacuated 1.56 million passengers stranded by Henan flooding
Amid record rainfall last month in Central China's Henan province, the national railroad operator adjusted 3,500 railway lines, transferred more than 23,000 passengers to safety areas and evacuated 1.56 million stranded passengers, China State Railway Group reported. The flooding caused massive delays and cancellations as the provincial capital Zhengzhou is a transfer hub of the railway network. China's railways carried 306 million passengers since the peak summer transport period started July 1, an increase of 99.15 million from a year ago, the group said.
Download our app to receive breaking news alerts and read the news on the go.
Get our weekly free Must-Read newsletter.
You've accessed an article available only to subscribers
VIEW OPTIONS
Share this article
Open WeChat and scan the QR code

Caixin-Sinica Business Brief: China Resumes Issuing Visas to Foreigners