Weekend Long Read: How a Caixin Photo Starts Debate on the Value of NFTs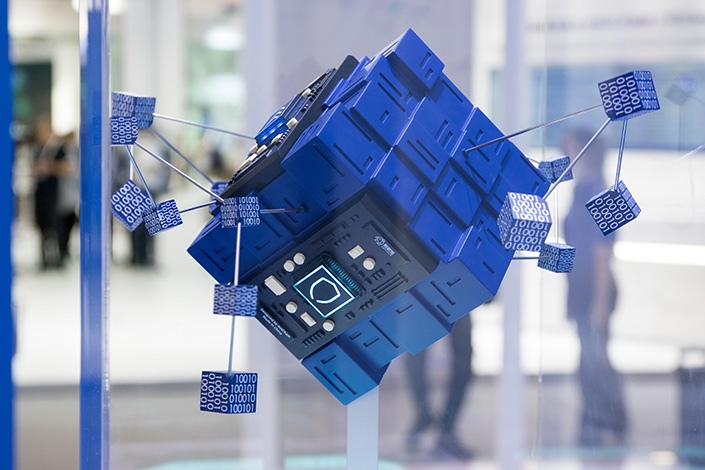 An all-in-one AntChain workstation on display at the 2021 World Artificial Intelligence Conference in Shanghai on July 7. Photo: VCG
A photo on cryptocurrency has captured much public attention in China.
The news of the shutdown of Bitcoin mining bases, published on July 12 by Caixin, featured a photo of a Tibetan woman clutching a bunch of computer cables for Bitcoin mining equipment, bringing to mind a painting by Jean-François Millet called "The Gleaners."
A Tibetan woman in Sichuan province's Heishui county holds a bunch of cryptocurrency mining parts on May 2. Such equipment has been decommissioned following China's recent ban on cryptocurrency mining. Photo: Ding Gang/Caixin
The article and the photo caught the attention of people in digital currency and blockchain circles. Some said they would turn the photo into a nonfungible token (NFT) work of art.
No soon had this been mentioned than an edited version of the photo was indeed uploaded to OpenSea, the world's largest NFT market, with a price tag of $6 million. Of course, Caixin Media, as the copyright owner, firmly opposed its secondary creation and sale. But that did not stop the image yet again drawing readers' attention to NFTs and the curious mixture of farce and speculation that surrounds the phenomenon.
What is an NFT?
NFT stands for nonfungible token, with the emphasis on "nonfungible."
As original digital works, especially digital works of art, can be very easily copied, it is difficult to protect "authentic rights," making it hard to prove the verifiable commercial value of anything produced digitally.
With NFT technology, digital works can be tokenized and a digital certificate of ownership can be obtained. This certificate of ownership can be transferred, and this allows digital works to reclaim some commercial value. To make the technology even more useful, the original owner can claim a share of the profit for every subsequent transaction.
The most famous transaction in the NFT world took place on March 1 this year. An NFT work created by the artist Beeple was sold for a record-breaking $69.3 million at Christie's auction house. The NFT represented the ownership of a digital collage of 5,000 individual images. This was the third most expensive work by a living artist ever sold at auction, causing a sensation in the art world.
Are NFTs actually digital works?
No. NFTs are certificates that authenticate a claim of ownership based on blockchain technology and certain other principles. The current Chinese translation (非同质化通证) focuses on the token aspect, while an earlier translation (非同质化代币) described them as a kind of cryptocurrency.
Such certificates of ownership are not a digital work per se, but rather a way to protect the copyright of digital works, and to activate the creation and consumption of digital works.
China's financial regulatory authorities have now noticed NFTs, and are unlikely to let them become currencies or tokens, according to an article by Wang Yongli (link in Chinese), former vice president of the Bank of China, on June 26, who stated that NFTs cannot be used as the general equivalent or unified unit of account due to their nonfungible and indivisible nature.
The stance of the regulatory authorities is thus quite clear. Wang did however recognize NFTs role in copyright protection. As encrypted digital certificates of ownership, NFTs are unique and cannot be duplicated or divided.
NFT trials in China
According to incomplete statistics from a domestic think tank, more than 80 NFT projects worldwide received financing in the first half of this year, totaling over $780 million. Many startups in China have begun dabbling in NFTs, with NFT trading platforms being a popular way in. And while these companies vary greatly in quality, most are looking to take advantage of a new and exciting opportunity.
Furthermore, large companies are also carrying out exploratory activities in the field, but in a more conservative and cautious manner. The AntChain, owned by China's Ant Group Co. Ltd., is one of these explorers, and it has already made two attempts this year.
In June, the "NFT payment code skins" of four of Imperial Palace intellectual property, including the Dunhuang Flying Apsaras and Nine-Colored Deer, were sold in limited quantities on the "AntChain Fan Grain" mini program in the Alipay app. They were only allowed to be used for such application services as displaying, studying, researching, appreciating and downloading compressed images of corresponding digital works in the interface of specific business scenarios. For example, they can be used as the skin for Alipay payment codes. However, these NFT works cannot be used for other commercial purposes, nor for hyping transactions.
In July, AntChain, as a global partner of the Union of European Football Associations (UEFA), was authorized to launch a top scorer trophy in which the winner's score sheet will be uploaded to a blockchain ledger for permanent storage. The company has distributed 1,600 digital collections of its UEFA Euro digital trophies. A holder can only keep the collection as an investment and may not transfer it or use the NFT work for any commercial purpose except with the written consent of the copyright owner.
A man takes a photo at the AntChain workstation at the 2021 World Artificial Intelligence Conference in Shanghai on July 7. Photo: VCG
AntChain regards NFTs as a tool for authenticating rights to a digital works, but does not support subsequent transactions. However, compared with prudence in transactions, AntChain has taken steps to authenticate ownership. Whether it is the Dunhuang Flying Apsaras or the UEFA Euro Top Scorer trophy, AntChain turns real objects into NFT works stored on a blockchain.
Uncertainties abound
NFTs can be used imaginatively. For example, anyone can issue an NFT and thereby build a token-like system. However, this aspect also brings a lot of uncertainties.
There is still a strong sense of speculation in the field, and in the absence of a key pricing mechanism for NFT works, the market may go crazy. For example, a pair of socks on the Uniswap platform was sold for $150,000, while the first five words posted by Twitter's founder on the site were sold for $2.5 million. The phenomenon of NFTs, which were supposed to be used for copyright protection, is now openly used for piracy (as shown by the case of the Caixin photo mentioned at the beginning of this article), with its role in authenticating copyright liable to be hijacked.
Copyright is of course created for profit. But first we need to figure out in whose interests this profit is made. Secondly, we need to locate the point of interest (pricing mechanism). The issue that AntChain will try to solve first is the former. As for the latter, it may take more time to discover.
AntChain not only introduces NFT to original digital works, but also tries to connect it to real, physical objects. The company is gradually cultivating and exploring pricing mechanisms through one-time auction transactions — users may only use and preserve, but not resell the digital works they acquire.
This is a prudent and tentative approach, and of course, in line with China's national goals, as the authorities firmly oppose the tokenization of NFTs, though they remain interested in exploring NFTs for copyright protection.
NFTs can be used to clarify ownership and usage rights over certain assets. In the field of creation, this can at long last give authentic creators control over their copyright, which I personally find most fascinating thing about the technology. With NFTs, you can claim the digital rights to your sofa from the physical world — the sofa will be yours, but you can parcel up certain rights, such as the right to sit on it, or plaster it with advertisements.
"All rights reserved" has never really meant that all rights belong to the actual creator. With NFTs, such a thing does become possible, and with that in mind, it's high time to upgrade the copyright system.
Wei Wuhui is a popular tech blogger and lecturer at the School of Media and Design at Shanghai Jiao Tong University.
Contact editor Heather Mowbray (heathermowbray@caixin.com)
Download our app to receive breaking news alerts and read the news on the go.
Get our weekly free Must-Read newsletter.
You've accessed an article available only to subscribers
VIEW OPTIONS
Share this article
Open WeChat and scan the QR code

Caixin China Biz Roundup: New 'Langya' Virus Detected in China