Southbound Bond Connect May Funnel $46 Billion a Year to Hong Kong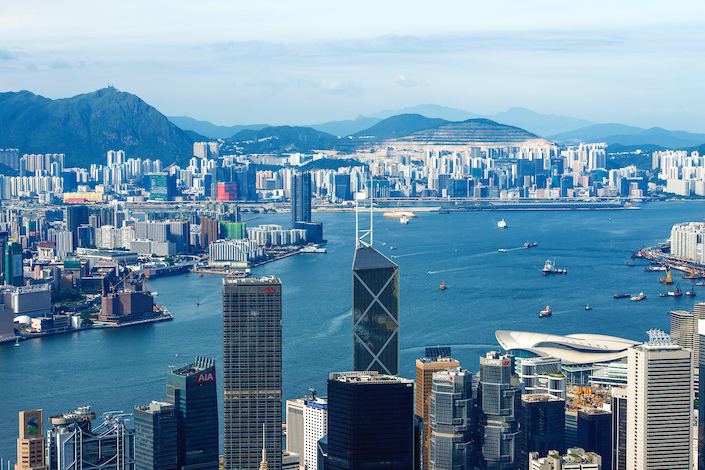 China will launch the so-called southbound leg of the bond connect program Sept. 24
The long-awaited expansion of a bond connect program to allow China's mainland investors to trade offshore bonds in Hong Kong will bring as much as 300 billion yuan ($46 billion) to the Asian financial hub a year, a state-owned lender predicted.
China will launch the so-called southbound leg of the bond connect program Sept. 24, giving mainland investors access to Hong Kong's bond market, according to a statement jointly released last week by the People's Bank of China (PBOC) and the Hong Kong Monetary Authority.
Under the program, net capital flows from the mainland to Hong Kong will be subject to a daily cap of 20 billion yuan-equivalent and a yearly limit of 500 billion yuan-equivalent, the PBOC said.
In the first year, the new investment path is expected to have capital flows of between 200 billion yuan and 300 billion yuan, Bank of China (Hong Kong) Ltd. projected.
The opening of the new bond investment channel is the latest step in Beijing's efforts to free up the domestic financial market. Last week, the government also kicked off a cross-border wealth management connect trial program in the Greater Bay Area, allowing mainland residents of nine Guangdong cities to invest in certain products sold by banks in Hong Kong and Macao, and vice versa.
Launched in July 2017, the bond connect program initially opened only the northbound channel, allowing overseas investors to trade bonds on the mainland through Hong Kong. The southbound connect will finally complete the two-way opening of the program, enrich investment alternatives for mainland investors, bring more mainland capital to Hong Kong and attract more companies to issue bonds on the market.
The launch of the southbound channel will offer an important addition to mainland investors' options for offshore investments, which totals around 174.2 billion yuan in net value, mainly through investments in mutual funds and stocks, said E Zhihuan, Bank of China Hong Kong's chief economist, in an interview with Caixin.
E said he expected the new investment path to enjoy a similar growth of capital flows as the northbound channel, which expands steadily by 2% to 3% monthly.
Overseas investors have made 12.3 trillion yuan of transactions through the northbound channel in the four years since it was launched, according to the central bank. Outstanding bond holdings via the program currently stood at around 1.1 trillion yuan.
In the initial stage of the southbound channel, only a few types of investors will be allowed to participate, including 41 banks and investors in the Qualified Domestic Institutional Investor program and its yuan-denominated sibling, the Renminbi Qualified Domestic Institutional Investor program, according to the PBOC.
Tang Ziyi contributed to this story.
Contact reporter Han Wei (weihan@caixin.com) and editor Bob Simison (bobsimison@caixin.com)
Download our app to receive breaking news alerts and read the news on the go.
Get our weekly free Must-Read newsletter.
You've accessed an article available only to subscribers
VIEW OPTIONS
Share this article
Open WeChat and scan the QR code

Caixin-Sinica Business Brief: China Overhauls IPO Rules