Sep 25, 2021 06:08 AM
CHINA
Huawei CFO Freed by Judge, Ending Two-Year Extradition Case
Meng Wanzhou leaves her home in Vancouver on Sept. 24.
(Bloomberg) — A Canadian court scrapped a long-running extradition case against a top Huawei Technologies Co. executive on Friday, a major step toward resolving an unprecedented diplomatic tussle between the U.S., China and Canada.
Supreme Court of British Columbia Associate Chief Justice Heather Holmes discharged Meng Wanzhou, Huawei's chief financial officer, after Meng struck a deferred prosecution agreement with U.S. authorities to resolve criminal charges against her.
"Canada is a rule of law country. Meng Wanzhou was afforded a fair process before the courts in accordance with Canadian law. This speaks to the independence of Canada's judicial system," Canada's Justice Department said in a statement following the decision.
Meng — who has been under house arrest in Vancouver since December 2018 — is now free to return home to China. She may already be packing her bags: when a court decision in May 2020 presented her with her first shot at release, a China Southern Airlines jetliner was chartered, ready to whisk the 49-year-old executive back to China if the decision had gone in her favor.
Meng hugged her colleagues after the news was announced and thanked her supporters, the Chinese consul and the Canadian people. She apologized "for the inconvenience," before speeding off in a black SUV.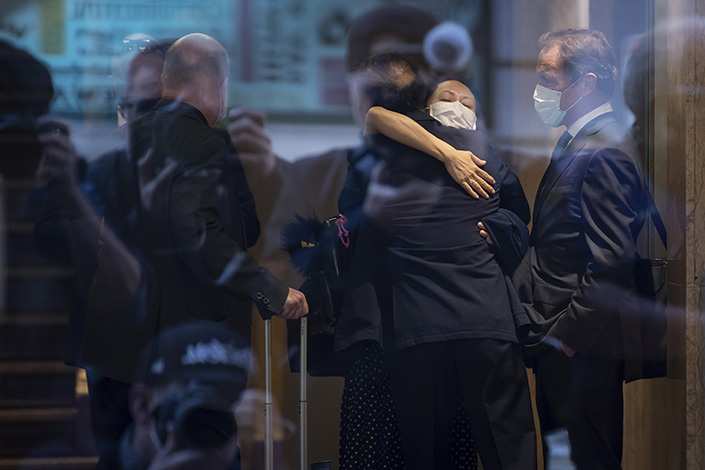 Meng Wanzhou, Huawei's chief financial officer, hugs one of her lawyers Friday as she leaves a law office after attending a U.S. court hearing remotely in Vancouver. Photo: VCG
The long-running case became a symbol of the intensifying geopolitical rivalry between the U.S. and China, throwing into stark relief the risk faced by those who get caught in the middle.
Prosecutors in Brooklyn, New York, had charged Meng with fraud, accusing her of lying to HSBC Holdings Plc about Huawei's business dealings in Iran as part of an attempt to violate U.S. trade sanctions. Meng had denied any wrongdoing and accused the U.S. of overreach.
Appearing by video on Friday, Meng pleaded not guilty in a Brooklyn courtroom but subsequently admitted to misleading a financial institution about Huawei's business operations in Iran. U.S. government lawyers said they will defer prosecution in the matter and dismiss the charges entirely by Dec. 1, 2022 if Meng complies with terms of the agreement, which include refraining from saying anything that contradicts U.S. prosecutors' states facts about the case.
Since Meng's arrest during an airport stopover in Vancouver, her case has emerged as part of a broader effort by the U.S. government to contain Huawei, which Washington has designated a national security threat. China, in turn, saw the pursuit of Meng — the eldest daughter of Huawei's powerful founder — as a politically motivated attack on one of its chief technology champions.
Contact editor Bob Simison (bobsimison@caixin.com)
Download our app to receive breaking news alerts and read the news on the go.
Get our weekly free Must-Read newsletter.
You've accessed an article available only to subscribers
VIEW OPTIONS
Share this article
Open WeChat and scan the QR code

China Stories: Illuminating the Silver Screen for the Visually Impaired