China Wants Local Governments to Speed Up Annual Special Bond Borrowing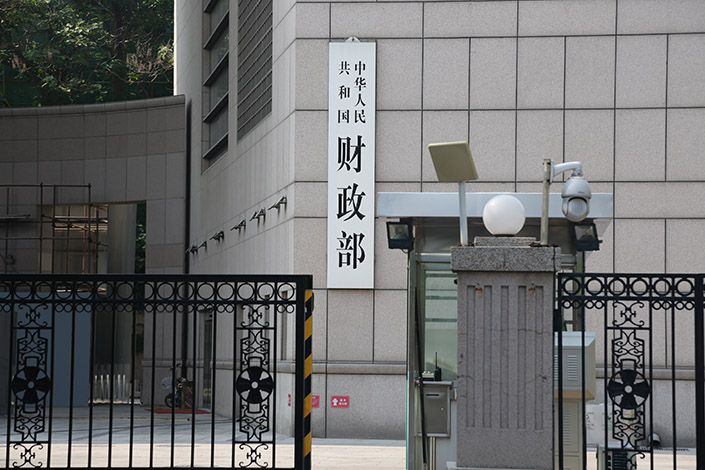 The headquarters of China's Ministry of Finance in Beijing in 2018. Photo: VCG
China will direct local governments to speed up borrowing via special purpose bonds (SPBs) and meet the annual quota by November, according to the Ministry of Finance, a move that could see a boost in infrastructure investment and support economic growth.
Issuance of these special bonds, which are key instruments that partially pay for investments in government infrastructure projects, have been relatively slow this year and only quickened since August. In the first three quarters of this year, local governments have sold 2.22 trillion yuan ($348 billion) in special bonds, accounting for 61% of the quota, senior ministry official Li Dawei said at a press conference Friday. And in the first two weeks of October, 128.9 billion yuan worth of bonds have been issued, according to Zhongtai Securities bond analyst Zhou Yue.
By comparison, at the end of October last year, 94.6% of the quota had been completed, finance ministry data showed, as authorities ramped up spending to revive the pandemic-hit economy.
With this year's SPB quota standing at 3.65 trillion yuan, this means that cities and provinces could be issuing as much as 1.3 trillion yuan of remaining special bonds in the next five weeks, according to Caixin calculations.
The slow pace of bond sales is mainly attributed to tighter rules from the finance ministry that require local governments to be more discerning in the screening of projects, and balance the amount of financing against expected revenue, according to a Caixin analysis.
Under new rules published in late June that sought to ensure proper returns from projects and reduce repayment risk, a project operator or supervisor must carry out a performance evaluation and set a performance target prior to applying for the bonds. Performance targets should be as detailed and quantitative as possible to reflect an underlying project's expected output, cost of financing and risk of insolvency, the ministry said.
In August, the ministry announced that it will step up the monitoring of projects and organize regular checks on the use of bond funds. Projects that seriously deviate from their performance targets will have their fund allocations suspended.
At the same time, the finance ministry this year had been focusing on keeping a steady pace of issuances, unlike in 2018 and 2019 when local governments were encouraged to quicken issuances. Between July and August this year, some local governments considered saving a portion of this year's bond quota for sale in December to ensure adequate investment next year. But this arrangement may change under the new directive.
Read more
China Reviews Special Bond Projects to Improve Fund Efficiency
About half of the newly issued bonds in the first three quarters were used to fund infrastructure such as transport, government offices and industrial parks, Li said at the press briefing, while 30% went to affordable housing projects as well as health, education, senior care, and culture and tourism sectors. The rest was allocated to projects related to agriculture and forestry, water conservancy, energy, and urban and rural cold chain logistics.
These special bonds have played an important role in driving the expansion of effective investment and maintaining the stability of the economy, Li added.
If the timetable for borrowing is advanced, this could bring about extra funding for projects at the end of the year and early next year, thereby driving a rebound in infrastructure investment. This is also consistent with the new "cross-cyclical approach" announced by the Communist Party's top decision-makers in July, with the new policy strategy targeting economic stability and seeking to better guide the pace of local bond issuance and budgeted investment.
SPBs were introduced in 2015 to fund commercially viable infrastructure and public welfare projects. They are meant to be paid off from income generated by the projects they fund, in contrast with general bonds which can be retired from general fiscal revenue. In 2020, local governments had quotas totaling 3.75 trillion yuan, almost 75% higher than the 2019 allocation.
Investment in infrastructure in the first nine months went up by 1.5% year on year, an average two-year growth of 0.4%, according to the National Bureau of Statistics.
Contact reporter Kelsey Cheng (kelseycheng@caixin.com) and editor Michael Bellart (michaelbellart@caixin.com)
Download our app to receive breaking news alerts and read the news on the go.
Get our weekly free Must-Read newsletter.
You've accessed an article available only to subscribers
VIEW OPTIONS
Share this article
Open WeChat and scan the QR code