Nov 18, 2021 08:15 PM
TECH
Chinese Streaming Giants' Losses Grow Along With Their Revenues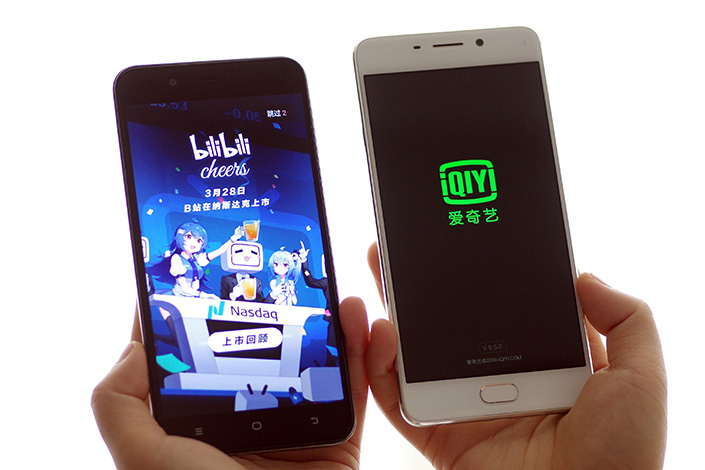 Bilibili mainly makes money from value-added services, mobile games and advertising. Photo: VCG
Streaming media giants Bilibili Inc. and iQiyi Inc. have reported widening losses despite growing sales in the third quarter of this year, as both Chinese online video platforms grappled with a tighter regulatory landscape.
In the three months through September, Bilibili's net loss attributable to shareholders swelled to 2.7 billion yuan ($416.9 million) from 1.1 billion yuan a year ago, even as total revenue grew 61% year-on-year to 5.2 billion yuan, according to its unaudited quarterly earnings report released Wednesday.
Its rival iQiyi's net loss attributable to shareholders widened to 1.7 billion yuan from 1.2 billion yuan a year ago, despite growing its total revenue 6% year-on-year to 7.6 billion yuan, according to its unaudited quarterly earnings report, also released Wednesday.
Bilibili's expanding net loss is partly attributable to rising sales and marketing expenses, which grew 37% year-on-year to 1.6 billion yuan, its earnings report said. The cash was mainly used for marketing Bilibili's app in areas such as increasing brand awareness, promoting its mobile games, and hiring sales and marketing staff.
Expenses on research and development (R&D) rose by 97%, while administration cost increased by 87% year-on-year. This amounted to 788.3 million yuan and 474.9 million yuan, respectively, according to the report.
Alibaba-backed Bilibili mainly makes money from value-added services, mobile games and advertising, which generated revenues of 1.9 billion yuan, 1.4 billion yuan and 1.2 billion yuan in the third quarter, up 95%, 9% and 110% year-on-year, respectively. Value-added services include premium membership programs and livestreaming services.
This year, the Chinese government has tightened its scrutiny of the livestreaming and online gaming sectors to curb what they deem as 'disorderly growth.' In August, the Ministry of Commerce released draft rules that banned items including sex toys, medicines, spy devices and foreign newspapers from being sold during livestreaming sessions. In the same month, the National Press and Publication Administration issued new guidelines that limited minors' online gaming time to a maximum of three hours a week in order to combat online gaming addiction.
Expansion plans
During an earnings conference call, Bilibili CEO Chen Rui said that the company has made the Bilibili platform available on smart TVs, to complement its presence on mobile phones and personal computers. The company has also made persistent efforts in expanding content categories for users including animation fans, moviegoers and gamers.
In terms of performance, the smart TV terminal has already outperformed the PC terminal in attracting monthly active users (MAUs), becoming Bilibili's second-largest user source after the mobile terminal, Chen said, without providing specifics.
In the third quarter, Bilibili's MAUs totaled 267.2 million, representing a year-on-year rise of 35%, while monthly paying users (MPUs) grew 59% to 23.9 million.
For iQiyi, the Baidu-backed company attributed its quarterly revenue growth largely to a moderate increase in income from membership services — its largest revenue stream. In the third quarter, revenue from membership services hit 4.3 billion yuan, representing a year-on-year increase of 8%, a performance that came as its subscribers fell by 1.2 million to 103 million by the end of September, when compared with the end of the same quarter of 2020, according to its report.
Online advertising and content distribution services were iQiyi's other major revenue sources in the third quarter, accounting for 22% and 8%, respectively, of the total, the report said.
However, the spike in iQiyi's quarterly total revenue was partly offset by its growing content cost, which jumped 13% year-on-year to 5.3 billion yuan.
In an attempt to turn a profit, iQiyi has set its sights on overseas markets with a goal of increasing the number of paying subscribers based outside of China to as many as half of its total by 2024. During an earnings conference call, Yang Xianghua, president of membership and overseas business group at iQiyi, said that the company has taken steps to grow its market share in Southeast Asia and East Asia, regions which are culturally similar to China.
iQiyi's financial results came out a month after it scrapped a controversial business practice which allowed VIP members to pay an extra fee to see upcoming episodes ahead of their normal release schedule, a move seen as a response to criticism by the China Consumers Association which said the advance screening tactic was "playing tricks on consumers" and "lacking sincerity."
Contact reporter Ding Yi (yiding@caixin.com) and editor Bertrand (bertrandteo@caixin.com)
Download our app to receive breaking news alerts and read the news on the go.
Get our weekly free Must-Read newsletter.
You've accessed an article available only to subscribers
VIEW OPTIONS
Share this article
Open WeChat and scan the QR code