Polysilicon Price Hits 11-Year High on Surging Solar Panel Demand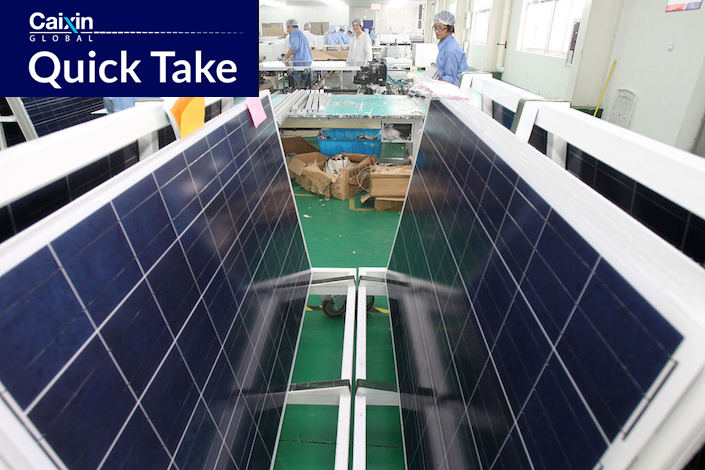 What's new: The price of polysilicon, a key material for producing solar panels, touched the highest level in China in 11 years, reflecting strong demand amid the country's clean energy push.
The average cost of the most expensive grade of polysilicon climbed 20 consecutive weeks to reach 273.1 yuan ($40.62) per kilogram Wednesday, according to the China Silicon Industry Association. The price gained 25.8% from a year ago and is the highest since 2011.
Prices of polysilicon have recorded robust growth since 2011 as demand expanded. The growth accelerated this month amid limited supplies and production halts at some producers caused by power rationing and other factors, the association said. Supply and demand for the material generally remains balanced this year, it said.
The context: Demand for solar panels has expanded quickly as China pushes forward clean energy development to meet its climate goals. From January to May, China added 23.71 gigawatts of solar power capacity, an increase of 139.3% from a year ago.
Encouraged by strong demand, a number of Chinese polysilicon developers have unveiled plans to expand production in 2022 and 2023.
By the end of 2023, China's total polysilicon production capacity will reach 2.25 million tons, quadruple the 520,000 tons at the beginning of this year, experts said. The rapid expansion may result in oversupply and squeeze producer's profit margins, they said.
Quick Takes are condensed versions of China-related stories for fast news you can use.
Contact reporter Han Wei (weihan@caixin.com) and editor Bob Simison (bob.simison@caixin.com)
Download our app to receive breaking news alerts and read the news on the go.
Get our weekly free Must-Read newsletter.
Share this article
Open WeChat and scan the QR code