CX Daily: What's in Store for China GDP, Fiscal Policy in 2023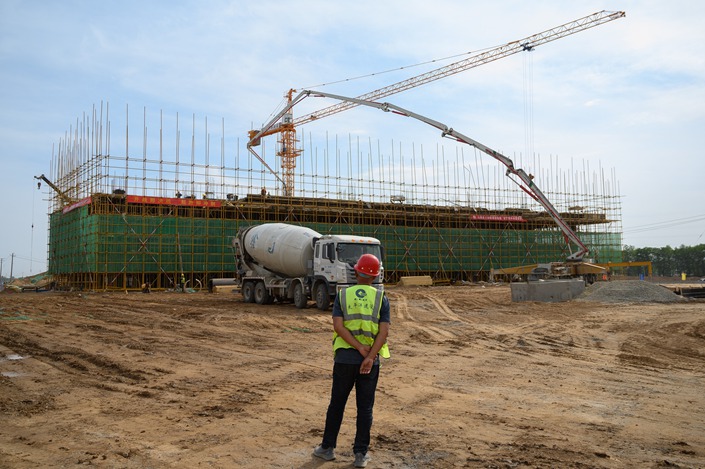 Outlook /
In Depth: What's in store for China GDP, fiscal policy in 2023
Getting the Chinese economy back on track is the government's main priority for 2023 after three years of sluggish growth caused by the impact of stringent controls to contain Covid-19 and a slump in the property market.
Leading officials and policymakers held their annual Central Economic Work Conference (CEWC) Thursday and Friday to set policy priorities for 2023. They agreed to stabilize growth and expand domestic demand, confirming the tone set by the Politburo, China's top decision-making body, at its meeting on Dec. 6.
Covid-19 /
Hong Kong approval expands mainlanders' access to mRNA Covid shots
Two messenger RNA-based Covid-19 vaccines developed by Germany's BioNTech were officially registered in Hong Kong as regularly available treatments in the city, elevating the shots' previous emergency-use approval.
The registration means the vaccines will be accessible to nonresidents of Hong Kong, including visitors from the mainland and other countries, medical professionals in the city told Caixin.
Online searches for 'fever' peak in Beijing, Baidu data shows
FINANCE & ECONOMY
Cargo containers sit in rows on Dec. 6 at the Port of Rizhao in East China's Shandong province. Photo: VCG
Trade /
Chinese exporters lose some of their edge from a weakening yuan
It's often said that a weakening currency is a boon for a country's exporters because it can make the products they sell overseas cheaper for buyers paying in another, stronger currency. But as China's experience with the recently weakening yuan illustrates, that's not always the case.
So far this year, the onshore spot yuan has depreciated by about 9% to around 7 per dollar, weakening to 7.3200 per dollar in early November — the lowest since December 2007.
"The fluctuation in the exchange rate … hasn't affected order volume," said Wang Lei, executive vice president at Safewell Group Holdings (China) Co. Ltd., a manufacturer and exporter of safes and telecom products.
Corruption /
China's former industry minister expelled from Communist Party
Xiao Yaqing, a former minister overseeing China's industry and technology development, was expelled from the Communist Party for bribery, the country's top graft buster said.
Xiao, the minister of industry and information technology from 2020 to July this year, was accused of "accepting banquet invitations that might have affected the fair execution of his official duties" and "taking a large amount of cash bribes," the Central Commission for Discipline Inspection (CCDI) said Monday in a statement.
Quick hits /
Chinese investors set to trade foreign stocks via Hong Kong links
Chinese funds dump record amount of bonds amid redemptions
BUSINESS & TECH
Vanke Chairman Yu Liang. Photo: VCG
Property /
China policy support for property 'exceeds expectations,' Vanke chief says
The head of China's second-largest property developer by sales said he sees "positive signs" in the real estate industry even as the slump in housing sales persists, with recent policy support expected to have a "positive effect" on the sector and resolve the liquidity problems facing builders.
"The policy (environment) is gradually improving, and the strength and breadth (of support) has completely exceeded our expectations," Yu Liang, chairman of China Vanke Co. Ltd., told shareholders at a meeting Friday to approve the company's plans to issue more shares and sell more debt. However, he warned that in the short term, the market would still face disruption despite the lifting of Covid-19 curbs as spreading infections deter potential buyers from visiting sales offices.
Deliveries /
China's parcel deliveries slow to a crawl as Covid hamstrings labor force
Orders taken and delivered by China's postal and delivery companies both dropped to their lowest points since the end of November. The industry is struggling with a labor shortage as Covid outbreaks spread nationwide and the Lunar New Year holiday nears.
On Sunday, the country's postal and delivery operations received 262 million parcels, down 8.1% from the previous day, and delivered 282 million, down 6%, according to data provided by the Ministry of Transport.
Movies /
'Avatar' sequel boosts sluggish Chinese box office
The sequel to the American sci-fi blockbuster "Avatar" has fueled an upswing in Chinese cinema sales with moviegoers flocking to theaters after the government eased Covid-19 restrictions on public venues.
Released Friday, "Avatar: The Way of Water" booked 451 million yuan ($64.5 million) in box office as of Tuesday, about 61% of nationwide ticket sales this month, according to data from Dengta, an industry intelligence provider.
Quick hit /
New House panel on China to scrutinize U.S. investments in country
Tech Insider /
Foxconn unit offloads China chipmaker, Boss Zhipin operator approved for dual listing
Long Read /
There is more to China's drop in consumer spending than Covid-19
GALLERY
Recommended newsletter for you /
Caixin Must-Read Newsletter brings you the best of our coverage and stories you can't miss. You can opt-in now and get hand-picked news coverage delivered to your inbox each week for free.
Thanks for reading. If you haven't already, click here to subscribe.
Share this article
Open WeChat and scan the QR code

China Stories: Strict Rules at Home Push Chinese Metaverse Entrepreneurs, Investors Overseas