CX Daily: Five Things to Know About China's Latest IPO System Overhaul
After testing the registration-based mechanism in China's three smaller markets, regulators are now planning to roll it out to the two main boards in Shanghai and Shenzhen.
IPO /
Five things to know about China's latest IPO system overhaul
China is about to take a major step forward in the overhaul of the country's $12.7 trillion stock market with plans to roll out its registration-based IPO system to the country's two biggest boards in Shanghai and Shenzhen, completing a shift that began in 2019 when the new mechanism was first used.
The long-awaited change will give markets and investors a bigger say in deciding on the value of companies seeking to raise funds on the main bourses, make the IPO system more transparent, and put more responsibility for ensuring applications comply with regulations onto the shoulders of sponsors and the stock exchanges. The top securities regulator will no longer decide on pricing or approve listings, with its role becoming more supervisory.
China rolls out registration-based IPO rules across market
Missing /
Police say student missing for 100 days hanged himself
Local police confirmed that a 15-year-old high school student missing in East China for more than 100 days had died by suicide by hanging himself with his shoelaces, establishing an official cause of death in the high-profile case.
At a press conference Thursday, Jiangxi province police said an investigation, autopsy and physical evidence analysis determined that Hu Xinyu hanged himself from a tree in a grain depot compound on Jinji Mountain, about a five-minute walk from his school dormitory.
FINANCE & ECONOMY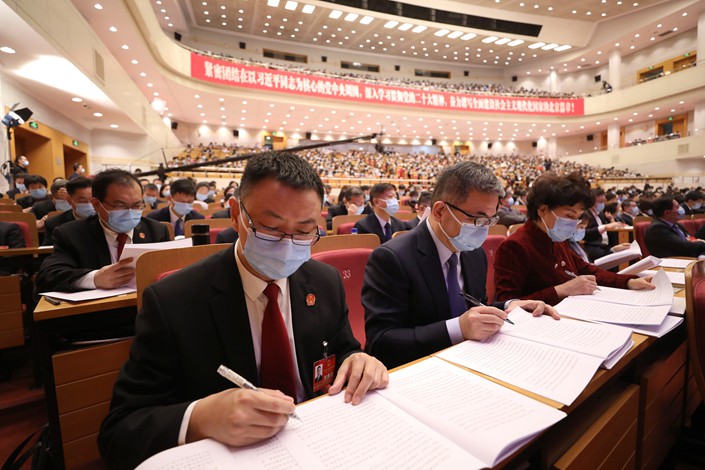 The first session of the 16th Beijing Municipal People's Congress opens on Jan. 16. Photo: VCG 
Politics /
China completes provincial leadership reshuffle ahead of 'Two Sessions'
China wrapped up its provincial leadership reshuffle ahead of the annual national political gathering known as the "Two Sessions" in March, electing local governments' top officials, including governors, legislators, political advisers and judiciary chiefs.
During the plenary sessions of provincial legislatures and political advisory bodies last month, 20 of the 31 province-level regions named new directors of the standing committees of their people's congresses while 18 ushered in new chairs for their political advisory bodies.
Index /
Caixin New Economy Index slips for second straight month
The contribution of high value-added industries such as biotech and new energy to China's total economic inputs declined in January as labor, capital and technology inputs all slipped, a Caixin index showed Thursday.
The Caixin BBD New Economy Index (NEI) came in at 28.3 last month, indicating that monitored new economy industries accounted for 28.3% of China's overall economic input activities. The gauge fell 1.4 points from 29.7 in December, marking the second straight monthly decline.
Quick hits /
Hong Kong's economy contracted in 2022 amid Covid and slowing demand
Opinion: To capitalize on reopening, China needs to rebuild foreign investor confidence
BUSINESS & TECH
A deliveryman examines an express package in Beijing on Jan. 24. Photo: VCG
Logistics /
China's express couriers deliver rebound in earnings
China's express courier firms estimated bumper profits for the 2022 financial year, even as their business volume scaled more slowly due to the pandemic and the country's strict "zero-Covid" policy.
China's listed couriers have all published estimates of their 2022 earnings and each show marked increases in profits. Among the top performers are STO Express Co. Ltd., YTO Express Group Co. Ltd., JD.com Inc.'s Deppon Logistics Co. Ltd., and SF Holding Co. Ltd.
BHP /
BHP eyes broader partnerships in China as demand picks up
Australian mining giant BHP Group Ltd. aims to broaden collaboration with Chinese partners to drive the global energy transition as China, the world's leading minerals consumer, leads a resurgence in global commodity demand this year after its Covid pivot.
BHP is engaging in more multifaceted partnerships in China including cooperation with local steelmakers, research institutes and government think tanks to push forward decarbonization and green energy use, Chief Executive Officer Mike Henry told Caixin during the World Economic Forum's annual meeting in Davos, Switzerland.
Robot /
Robotics firm UBTech files for Hong Kong IPO
UBTech Robotics Corp. Ltd., a loss-making developer of artificial intelligence-powered humanoid robots, filed for a Hong Kong IPO in a renewed effort to seek more funding to finance its expansion amid growing investor interest in AI technologies. The firm had previously explored listing in the Chinese mainland, though it's unclear why the offering didn't proceed.
In an IPO prospectus submitted to the Hong Kong Stock Exchange Tuesday, the Shenzhen-based company, whose investors include Tencent Holdings Ltd., said that the proceeds will be used to boost its R&D capabilities, fund potential acquisitions and investments, and expand its global sales channels.
Quick hits /
Macao's gaming revenue jumps 82.5% as China travel resumes
Singapore property market braces for surging Chinese demand
Long Read /
What Jack Ma taught me in 1999
GALLERY
Recommended newsletter for you /
Caixin Must-Read Newsletter brings you the best of our coverage and stories you can't miss. You can opt-in now and get hand-picked news coverage delivered to your inbox each week for free.
Thanks for reading. If you haven't already, click here to subscribe.
Share this article
Open WeChat and scan the QR code

Caixin-Sinica Business Brief: China Resumes Issuing Visas to Foreigners