Property Developers Scramble for Funding After Clampdown on Domestic Bonds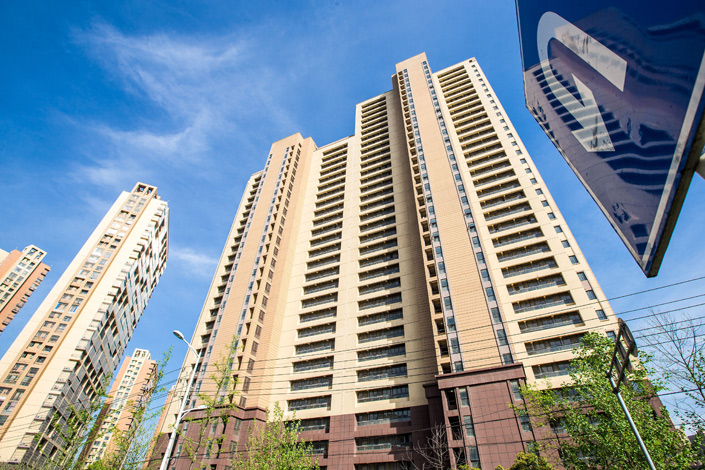 Chinese developers invested 1.3 trillion yuan in residential housing in the first quarter, turning to new fund-raising channels after the government restricted bond issuance and private stock placements. Photo: IC
(Beijing) – Property developers in China bought more land and built more homes during the first quarter compared with the same period last year, but they've been forced to turn to new fund-raising channels after the government restricted key sources such as bond issuance and private stock placements.
Real-estate companies acquired nearly 38 million square meters of land in the first three months of the year, a 5.7% year-on-year increase, compared with a drop of 11.7% in the same period in 2016, data from the National Bureau of Statistics (NBS) show. They invested 1.3 trillion yuan ($190 billion) in residential housing, an 11.2% year-on-year jump that was more than double the pace of the same period last year.
But developers are increasingly relying on loans, offshore debt and deposits from buyers to fund their investment, after the government curbed their ability to issue domestic corporate bonds in late 2016 as part of efforts to rein in an overheated property market. They have also been caught by restrictions imposed by regulators on private stock placements to prevent companies from abusing the equity financing tool by selling shares cheaply to selected investors.
NBS data on the sources of funding for real-estate development show that in the first quarter, domestic loans to real-estate developers rose by 10.7% to 689 billion yuan, jumping from a 6.5% increase in the same period last year. Deposits and advance payments jumped by 27%, up from 25.9% a year earlier. In contrast, funds raised by companies through methods including bond and stock sales, fell by 7.2%, after a 4.7% increase in the same period last year.
In March, 27 real-estate firms monitored by independent property research company China Index Academy, raised a combined 127 billion yuan, an increase of nearly 27% year on year, through loans and other debt instruments such as short-term commercial paper.
Onshore bond issuance has slumped since regulators clamped down on real-estate financing in October and bond yields jumped amid volatility in the interbank market triggered by concerns over defaults and rising money-market interest rates.
Among the 51 Chinese developers rated by Moody's Investors Service, there were only eight onshore bonds issued in the first quarter totaling 15.8 billion yuan, down from 41 issues in the same period a year ago that raised 116 billion yuan, the company said in a report this week.
Coupon rates on bonds issued by Chinese developers during the first quarter averaged 5.26% for onshore bonds and 6.04% for offshore bonds, according to Bloomberg data. Wu Dingjin, chief analyst at Guangzhou-based Poly Real Estate Group Co. Ltd., a state-owned real-estate developer, said some companies were able to issue bonds with coupons as low as 2% to 3% in 2015 and 2016.
Many firms have turned to the offshore bond market for funding, in spite of the currency risks and the higher interest rates they have to pay. The government has been encouraging Chinese companies to raise money overseas in foreign currency and bring the funds back onshore to change into yuan to help boost the country's foreign-exchange reserves.
Chinese developers issued $10.54 billion in U.S. dollar-denominated bonds in the first quarter, compared with $1.46 billion in the first quarter of 2016 and $14.07 billion for all of last year, according to Bloomberg data.
Some companies have also started to raise funds by issuing asset-backed securities (ABS), a relatively new debt instrument in China which involves pooling assets into a bond or note, with the interest paid from cash flow generated by the underlying assets such as down payments for apartments, property management fees and rental income.
China Vanke Co. Ltd., the country's second-largest developer, has issued 6 billion yuan in asset-backed securities, while Country Garden Holdings Co. Ltd. has raised 10 billion yuan from ABS. Shimao Property Holdings Ltd. and Ronshine China Holdings Ltd. are among other major property groups to have issued such securities backed by underlying assets including revenue from property sales.
Contact Liu Xiao (liuxiao@caixin.com)
You've accessed an article available only to subscribers
VIEW OPTIONS
Share this article
Open WeChat and scan the QR code