Boutique Smartphone-Maker Smartisan Eyes Comeback With New Funding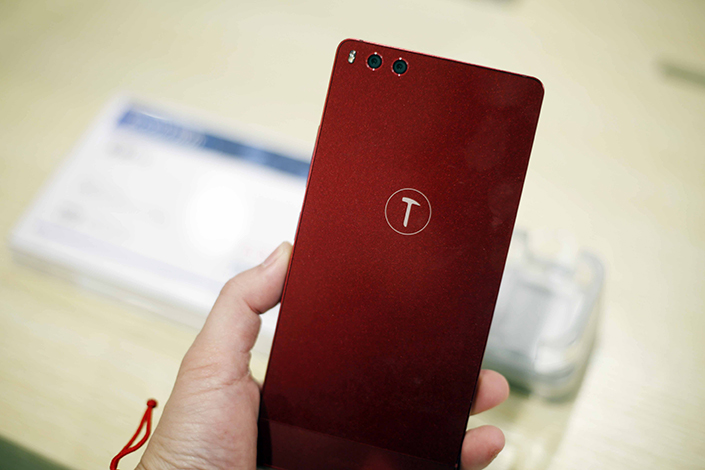 Smartisan founder Luo Yanghao says $149 million in fresh funding will put the struggling smartphone-maker back on track. Photo: IC
A fledgling Chinese smartphone-maker that many thought had been clobbered by competition to the point of no return is apparently ready for a comeback.
Smartisan, a darling in China's breakneck smartphone market, is reportedly being resuscitated by a fresh round of funding worth nearly 1 billion yuan ($149 million) from undisclosed investors, the company's founder said Sunday.
Created by charismatic public personality and former English teacher Luo Yonghao, Smartisan has suffered multiple setbacks since its founding in 2012, and was even bracing for collapse at the time it gained a reprieve by unveiling a new flagship phone last year.
But now Luo says the funding will put Smartisan back on track, and the company will launch five or six devices — from budget handsets to flagship phones — every year.
"If all goes according to plan, we will have 1.9 billion yuan in cash flow this fall," Luo said.
"With the funding from investors, the company now has a team to build up its channels and increase sales," said Tay Xiaohan, an analyst at IDC research. However, she said, she still believes that the company's target-consumer segment is too small a niche.
The brand has largely appealed to a narrow audience consisting mostly of tech-savvy men interested in art and culture — like Luo himself. Smartisan's success in these circles is owed to its marketing certain "ideals" that resonate with users, such as pragmatism and craftsmanship. (The name Smartisan is a combination of "smart" and "artisan.")
The firm's Chinese name translates literally as "Hammer," possibly in reference to Luo's well-known stunt of defiantly smashing malfunctioning Siemens appliances in front of that company's China offices as a protest against poor quality.
To his fans, Luo is often hailed as a rock-star-like public figure. A few words from him on stage at product launches are enough to get audiences' roaring approval. Several of his lines — for instance, "A tough life needs no explanation" — have become catchphrases.
But support from its modest fan base has been insufficient to keep the brand afloat. In the second quarter of last year, Smartisan sold a paltry 250,000 units, a negligible amount in a time period in which 110 million sets were sold in China.
Even with substantial progress over the past year, the company only sold 1 million sets in the second quarter of this year, accounting for 1% of the China market, according to IDC figures.
Smartisan is also working on a smart speaker, and is recruiting a team in Chengdu to develop a voice-recognition system.
Upon announcement of the new funding, Luo acknowledged the deep financial trouble Smartisan experienced over the past year. At one point, the company did not have the money to pay employee salaries, and Luo was forced to lie to buy time, telling staff that there was a glitch in their bank accounts.
He also admitted that previous rumors that the company was almost taken over by Alibaba Group Holding Ltd. or the now-struggling LeEco were accurate.
"It's true we were close to going bankrupt," Luo said. "But looking back, it's all just a fun story we can tell."
Contact reporter April Ma (fangjingma@caixin.com)
You've accessed an article available only to subscribers
VIEW OPTIONS
Share this article
Open WeChat and scan the QR code